Search found 6 matches for Party
by Towafan7

on June 9th 2020, 2:51 pm
Search in: Headline News Stories
Replies: 14
Views: 256
~~~~~~~~~~~~~~~~
Plunging Into The Depths
~~~~~~~~~~~~~~~~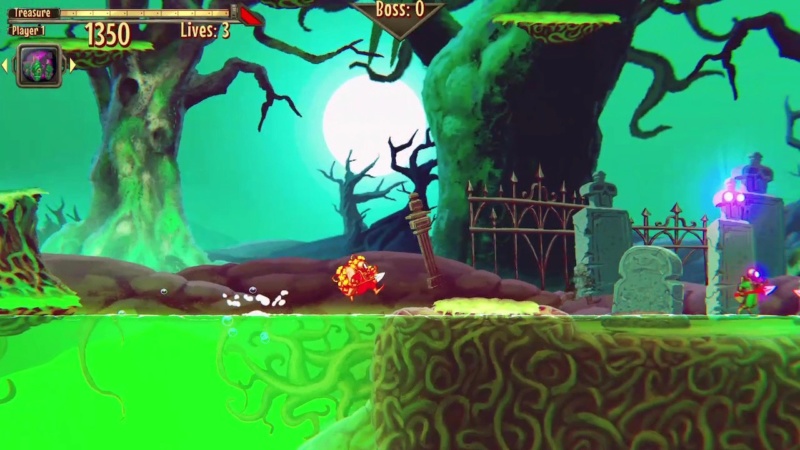 Developed and Published by WarpedCore Studio Aqua Lungers is a couch co-op platformer for up to 4 players that will provide both a sufficient challenge as well as good fun, but does that mean it's worth a download? We think so and here's why:
The gameplay is split up between solo and multiplayer modes and each with their own nuances and challenges. To start off let's talk about the general gameplay as you'll be fighting tons of enemies during the course of the game's many stages and collecting treasures to beat the "boss" of each stage. The normal enemies, especially during the first stage are an absolute joke with one or two stabs you can do away with them, but in later stages the difficulty ramps up to insanely challenging levels. The bosses also require intelligent strategies otherwise they will literally one-hit kill you. This was both a good thing and bad depending on your skill-level, however the bosses are never truly unfair because with enough practice you can breeze through the battles. There are a few types of power-up's as well which will help players out in a pinch!
The solo campaign is actually a fair bit more difficult than multiplayer assuming your friends aren't saboteurs, there are more enemies and the levels don't scale-down either so expect a serious challenge while playing alone, but fear not it is by no means impossible to beat the game solo, you'll just need a lot of practice to accomplish this feat!
In multiplayer you and up to  three friends can compete against each other to see who can get the most treasure each round. Multiplayer also adds the necessity to keep an eye out for your friends who may decide to go rogue and attack you to steel your treasure which can be quite the task. As for the rest of the aspects of the game, the controls are quite decent and are a breeze to learn. The audio-visual presentation is also quite enjoyable with vibrant colors, excellent music, and a decidedly retro world design!
Bottom -Line: With superb gameplay, an excellent audio-visual presentation, and decent controls that are easy to pick up, Aqua Lungers is a great game at its core and its multiplayer can be a blast to play! As such we give Aqua Lungers for the Nintendo Switch a good level of recommendation!
~~~~~~~~~~~~~~~~
Score: ★★★★★★★★☆☆ 8/10
~~~~~~~~~~~~~~~~
~~~~~~~~~~~~~~~~
#Review
#WarpedCoreStudio
#Switch
#eShop
#Party
#Multiplayer
~~~~~~~~~~~~~~~~
by Towafan7

on January 25th 2019, 11:03 am
Search in: PS4 PSN Reviews
Replies: 16
Views: 1195
~~~~~~~~~~~~~~~~
Nipp-On Track To Greatness?
~~~~~~~~~~~~~~~~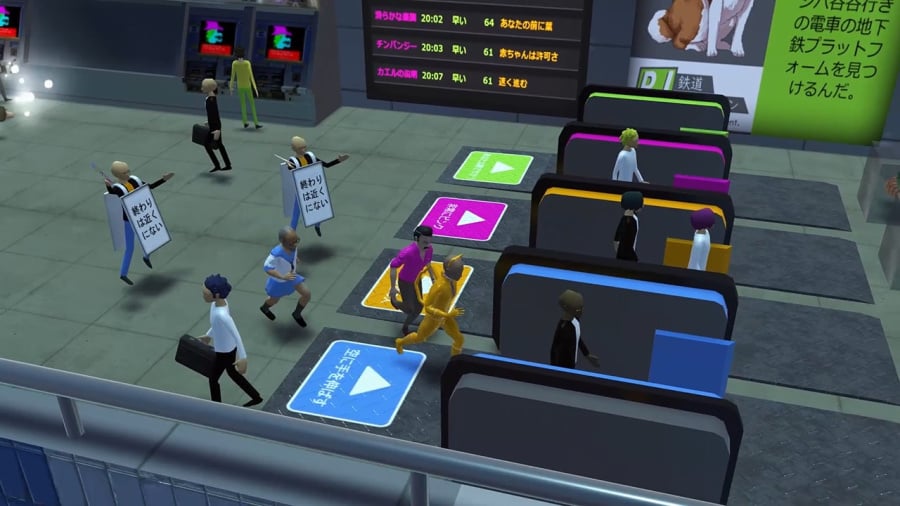 Developed by Onion Soup Interactive and published by PQube, Nippon marathon is a sort of marathon racing game that takes place in a semi-fictitious version of Japan where you and several other contenders race through lengthy courses filled with hazards such as watermelon canons, open sewage manholes, and pitfalls among other things as well as obstacle courses. If this concept sounds fun you'll probably want to continue reading our review to find out what we think of the game!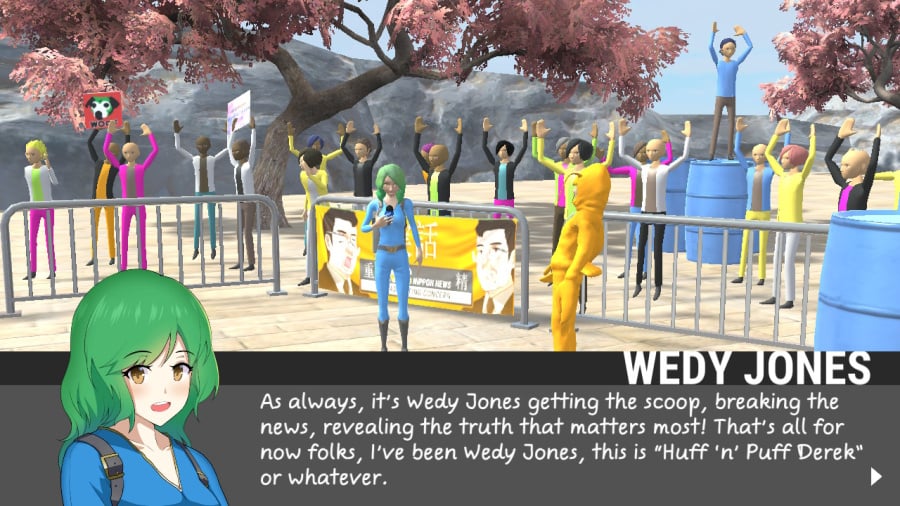 The gameplay in Nippon Marathon is reasonably enjoyable with a fun concept and refreshingly unique gameplay mechanics, you'd think it'd be a home-run, but some shortcomings really hold the game back. Firstly the positives are that Nippon Marathon has a large assortment of courses, fun hazards that aren't unfair in nature, and excellent multiplayer modes including four-player multiplayer races, a unique bowling style mini-game, and an obstacle course competition for up to eight players for crazy multiplayer fun!
The negatives are the really unresponsive and hard to master controls which can be flat-out frustrating at times and the ridiculously dumb A.I. which is so easy to beat that it essentially makes the single player story absolutely pointless and boring. This of course seriously hurts the game's overall score.
The audio-visual presentation of Nippon Marathon is meh, it certainly gets the job down and isn't terrible, but overall is quite forgettable. The graphics are 3D, look passable, while the music is there and doesn't sound bad, it's just kind of there which isn't good for the game if the audio-visual presentation feels this bland. Overall this hurts the overall score of the game.
Bottom-Line: With unique and often enjoyable gameplay, at least in multiplayer and a decent amount of content, Nippon Marathon could have been absolutely amazing, however atrocious controls, a lacklustre single player story mode, and a forgettable audio-visual presentation really hold the game back. We give Nippon Marathon for the PS4 a decent level of recommendation.
~~~~~~~~~~~~~~~~
Score: ★★★★★★☆☆☆☆ 6/10
~~~~~~~~~~~~~~~~
~~~~~~~~~~~~~~~~
#Review
#PQUBE
#OnionSoupInteractive
#Racing
#Unique
#Party
#PS4
#PSN
~~~~~~~~~~~~~~~~
by Towafan7

on October 18th 2017, 6:28 pm
Search in: 3DS Reviews
Replies: 14
Views: 1329
~~~~~~~~~~~~~~~~
Revolutionary Party!
~~~~~~~~~~~~~~~~
Developed by Omiya Soft and published by Nis America, Culdcept Revolt is a
party
game that fuses together gameplay elements from trading card games, board games, and other forms of entertainment. The game is actually very similar to Fortune Street which was released on the Wii and became somewhat of a cult hit in the West. So does Culdcept Revolt hold a candle to other
party
games such as Mario
Party
or Fortune Street? Continue reading our review to find out!
This isn't the first time a game in the Culdcept series has been released in the West as the first entry on the Sega Saturn did release outside of Japan. This is a definite step-up from its Saturn predecessor with a ton of new cards, boards, and gameplay features.
The rules can be pretty daunting at first, but the game's single player campaign does an excellent job at easing players into the nuances and intricacies of the game. You basically earn territories and buy and upgrade guardian monsters to guard your territory your opponents have to pay a toll when they land on your territory with an unlucky roll of the dice, however they can opt to attack your guardian and steal your property. There are much more crazy rules and points of interest such as gates that when passed earn you magic "in-game currency" as well which can be used to upgrade various things such as guardians and territories.
There are other rules typical of card games that apply such as card fusion and evolution which adds another layer of strategy to the game. The multiplayer is as fun as you'd expect from a AAA
party
game which is a must. The contols are also solid and easy to learn.
The audio-visual presentation is quite good. As you'd probably imagine the graphics are nothing that'll blow your mind, but they're still quite pleasing while the sound-track is very enjoyable and fits the mood of the game like a glove!
Bottom-Line:
With excellent gameplay, frantically amazing multiplayer, solid controls, and a rather enjoyable audio-visual presentation, Culdcept Revolt for the 3DS is a great game that any fan of the
party
genre should thoroughly enjoy as such we give the game a great level of recommendation!
~~~~~~~~~~~~~~~~
Score: ★★★★★★★★★¼ 9.25/10
~~~~~~~~~~~~~~~~
~~~~~~~~~~~~~~~~
#Review
#CuldceptRevolt
#NisAmerica
#Party
#3DS
#Retail
#Gaming
~~~~~~~~~~~~~~~~
by Towafan7

on May 19th 2016, 2:50 pm
Search in: Latest Nintendo News
Replies: 3
Views: 1187
~~~~~~~~~~~~~~~~~~~~~~~~~~~~~~~~~~~~~~~~~~~~~~~~~~~~~~~~~~~~
Multiplayer Mayhem!
~~~~~~~~~~~~~~~~~~~~~~~~~~~~~~~~~~~~~~~~~~~~~~~~~~~~~~~~~~~~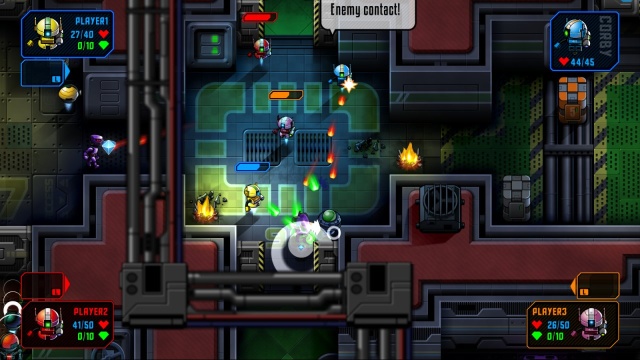 Indie developer Gray Fin Studios has announced that their upcoming multiplayer Wii U eShop shooter / adventure title, Dual Core will be hitting the North American Wii U eShop next week and will cost $9.99! Dual Core is a co-op shooter with adventure and RPG elements and can be played by four players simultaneously!
You can view the official trailer below:
What do you think of the trailer? Will you be downloading this game when it hits the North American Wii U eShop next week? As always be sure to share your thoughts with us in our comment section below!
Source: Nintendo Life.
~~~~~~~~~~~~~~~~~~~~~~~~~~~~~~~~~~~~~~~~~~~~~~~~~~~~~~~~~~~~
#WiiU
#eShop
#DualCore
#GrayFinStudios
#Shooter
#Multiplayer
#Party
~~~~~~~~~~~~~~~~~~~~~~~~~~~~~~~~~~~~~~~~~~~~~~~~~~~~~~~~~~~~
by Towafan7

on May 17th 2016, 1:41 pm
Search in: WiiWareWave Exclusive Features
Topic: Developer's Interview: Our Discussion With Utopian World of Sandwiches Regarding Their Upcoming Wii U eShop Title Chompy Chomp Chomp Party!
Replies: 10
Views: 2214
~~~~~~~~~~~~~~~~~~~~~~~~~~~~~~~~~~~~~~~~~~~~~~~~~~~~~~~~~~~~
Party Like A Chomp!
~~~~~~~~~~~~~~~~~~~~~~~~~~~~~~~~~~~~~~~~~~~~~~~~~~~~~~~~~~~~
We recently had the opportunity to interview the developer, Utopian World of Sandwiches regarding their upcoming Wii U eShop title Chompy Chomp Chomp
Party
and we learned quite a bit regarding the developer themselves and the game! So without further ado here's our interview in its entirety:
~~~~~~~~~~~~~~~~~~~~~~~~~~~~~~~~~~~~~~~~~~~~~~~~~~~~~~~~~~~~
The Interview wrote:

Hello! Thanks for joining us to take part in this interview![UWoS]:

No problem guys, thank you for interviewing us! 

Could you tell us a little about your team?[UWoS]:

We are a husband and wife team. Sarah and James (Woody) Woodrow, based in Cambridge UK. Woody works full time in the shed at the bottom of the garden doing all of the things (coding, animating, modelling). Sarah helps in her spare time with things like designing the characters and interfaces. Our friends Team Doyobi helped us with the amazing soundtrack. 

How long did it take to develop Chompy Chomp Chomp Party?[UWoS]:

As there was only one full time person we were impressed that it only took us about 2 years! It was a huge learning curve and we needed to iterate on the game design a lot.

Why did you decide to develop a party game for the Wii U?[UWoS]:

We made the original Chompy Chomp Chomp for up to 4 players on Xbox 360 and PC. To us a Nintendo console was always our ultimate dream of what to develop for and when we figured out we could have up to 9 players we just HAD to make Chompy Chomp Chomp

Party

. 

What is the objective in Chompy Chomp Chomp Party?[UWoS]:

Each player is a Chompy. Under the feet of your Chompy is a target that is the colour of another Chompy. That indicates who you need to run towards and CHOMP. There are 3 different modes; one where you each chase one other person while being chased called Chase and Chomp, one called Zone Dash where one player runs from zone to zone to gain points while everyone else chases them and one called Keep the Thing where one player has to keep the thing for as long as possible while everyone else tries to chomp them to get the thing.

We'll be adding more modes as we invent them! It is a simple yet crazy and intense game that anyone can pick up and play and you can all sit around and scream and shout at each other. 

How many players can play the game at a given time?[UWoS]:

Up to 9 Players, you can share your controller attachments with another player. You can even get up to 5 players with just 2 controllers and 2 nunchuks. It works with any controller combo really. It really appealed to us that it would be so easy for Wii U owners to play it multiplayer as with any other platform you would need to buy a lot of controllers to be able to play.

What games were your biggest inspirations for Chompy Chomp Chomp Party?[UWoS]:

When we talked about making a game we wanted to create something that reflected the best times we've had playing games and we realised that it was getting a bunch of random people together to play something. We loved the multiplayer games of the Gamecube/Dreamcast era, we would play them with our friends all the time. So games like Billy Hatcher, Bomberman, Chu Chu Rocket and Super Monkey Ball are big inspirations for us.

We like the simplicity and accessibility of retro games like Pac-Man and ended up wondering about what a multiplayer Pac-Man might be like. So really we've ended up making a Pac-Man/Bomberman hybrid with our own twists and crazy brains.

Are there currently any plans to release DLC for the game in the future?[UWoS]:

We will be updating the game with new game modes and levels. We have no plans to sell DLC, we just want to update it for the players for free. 

What do you think of the Nintendo Wii U?[UWoS]:

We love playing on our Wii U. It has the best games of this generation, especially for playing with friends and family. We love Splatoon and we've been playing lots of Captain Toad. 

Do you have any other Wii U or 3DS projects in development at the moment?[UWoS]:

Not right now, we have lots of plans to develop on Chompy Chomp Chomp

Party

and make it even better

Thanks for answering our questions! Hopefully we'll have the opportunity to do this again sometime![UWoS]:

No worries it was a pleasure, get in touch any time! 

Take care!
~~~~~~~~~~~~~~~~~~~~~~~~~~~~~~~~~~~~~~~~~~~~~~~~~~~~~~~~~~~~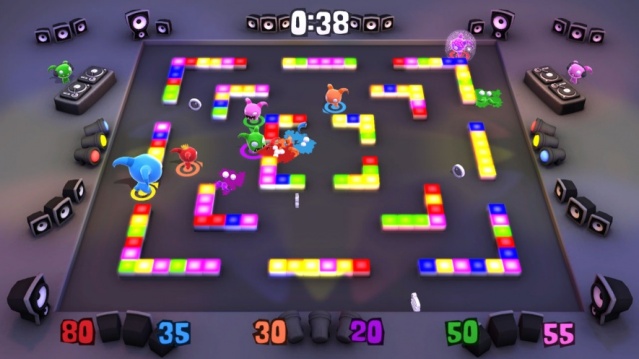 What did you think of our 40th developer's interview? As always be sure to let us know your thoughts regarding our article in our comment section below!
~~~~~~~~~~~~~~~~~~~~~~~~~~~~~~~~~~~~~~~~~~~~~~~~~~~~~~~~~~~~
#DevelopersInterview
#Exclusive
#Feature
#UtopianWorldOfSandwiches
#ChompyChompChompParty
#Party
#Pacman
#Bomberman
#WiiU
#eShop
~~~~~~~~~~~~~~~~~~~~~~~~~~~~~~~~~~~~~~~~~~~~~~~~~~~~~~~~~~~~
by Towafan7

on March 1st 2016, 7:21 pm
Search in: Wii U eshop Reviews
Replies: 2
Views: 1287
~~~~~~~~~~~~~~~~~~~~~~~~~~~~~~~~~~~~~~~~~~~~~~~~~~~~~~~~~~~~
Mashing And Burning...
~~~~~~~~~~~~~~~~~~~~~~~~~~~~~~~~~~~~~~~~~~~~~~~~~~~~~~~~~~~~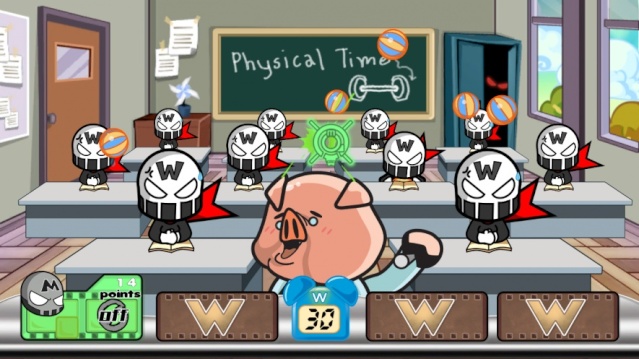 Wicked Monsters Blast: HD Plus was developed and published by Corecell Technology and is a shooting gallery
party
game where you and up to three other players can take part in hectic mini-games to determine who's the best gunner in the neighborhood! This sounds fun in theory however poor execution and even worse balancing issues make this game one to avoid and here's why:
Wicked Monsters Blast: HD Plus has three different modes of play, Arcade, Family, and survival. You can play solo or against your friends in any of the three game modes which is nice for those who don't have anyone to play with. In Arcade Mode you must rack up as many points as you can in a series of mini-games before facing-off against a boss in the ultimate free-for-all experience. In Family Mode you get to choose the mini-games and there's no boss battle so it's perfect for quick bursts of play! And Survival Mode has you face-off against an endless onslaught of mini-games until you fall and is only recommended if you have plenty of free time.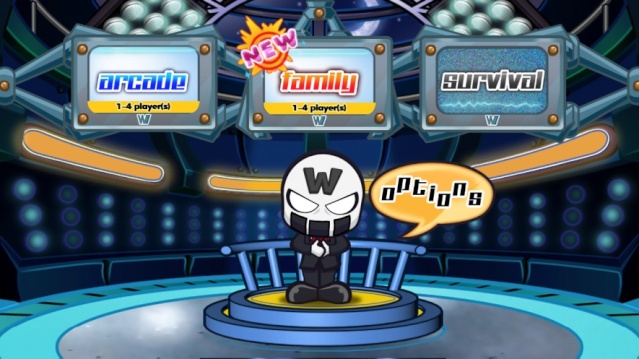 Regardless of your mode of choice the game has really bad balancing issues as the person using the Gamepad will always win thanks to the easy touch screen controls. The Wii Remote players just can't compete with the precision of the Wii U Gamepad which is a serious oversight on the developer's part. The controls are simple and easy to learn, but again the balancing issue between the Wii Remotes and Wii U Gamepad are painfully apparent.
Visually the game looks every bit as good as the famous WarioWare titles with nice backgrounds and characters that are both colorful and detailed! The audio is decent enough as is the music, but overall the audio presentation is forgettable.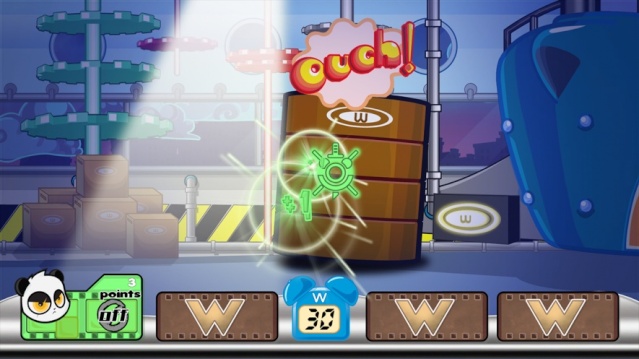 Bottom-Line:
With good gameplay, great controls in single-player mode, and excellent visuals, Wicked Monsters Blast: HD Plus had potential to be a solid
party
game, however horrendous balancing issues in multiplayer and a forgettable audio presentation really hurt the game's overall score and to be honest we just can't recommend this game to our viewers. Wicked Monsters Blast: HD Plus receives a poor recommendation from us.
Price: £7.19/€7.99/$7.99
~~~~~~~~~~~~~~~~~~~~~~~~~~~~~~~~~~~~~~~~~~~~~~~~~~~~~~~~~~~~
Score: ★★★☆☆☆☆☆☆☆ 3/10
~~~~~~~~~~~~~~~~~~~~~~~~~~~~~~~~~~~~~~~~~~~~~~~~~~~~~~~~~~~~
~~~~~~~~~~~~~~~~~~~~~~~~~~~~~~~~~~~~~~~~~~~~~~~~~~~~~~~~~~~~~~~~~~~~~~~~~~~~~~~~~~~~
#WiiU
#eShop
#Review
#CorecellTechnology
#ShootingGallery
#Shooter
#Party
~~~~~~~~~~~~~~~~~~~~~~~~~~~~~~~~~~~~~~~~~~~~~~~~~~~~~~~~~~~~~~~~~~~~~~~~~~~~~~~~~~~~