Search found 4 matches for DevelopersInterview
by Towafan7

on March 30th 2019, 10:57 am
Search in: PlaystationWave Exclusive Features
Topic: Developer's Interview: We Talk With Thylacine Studios About Their Recently Released Siralim 3 Now Available On PS4 & Vita!
Replies: 26
Views: 1221
~~~~~~~~~~~~~~~~
Gotta Catch 'Em All!
~~~~~~~~~~~~~~~~
~~~~~~~~~~~~~~~~
We hope you guys and gals have been enjoying your weekend so far and we've got a special treat for you all as we recently interviewed Thylacine Studios about the then upcoming Siralim 3 and are now publishing the feature, which is our first developer's interview in more than two years. We plan to publish more developer's interviews in the upcoming months as well. Without further ado here's our interview:
~~~~~~~~~~~~~~~~
[WWW]:
Hello! Thanks for taking the time to answer our questions!
[Thylacine Studios]: Thanks for the interview![WWW]:
What games were your biggest inspirations for creating the Siralim series?
[Thylacine Studios]: Siralim was primarily inspired by an old Gameboy Color game called Dragon Warrior Monsters. DWM is all about capturing and breeding monsters and using them to fight in randomly generated dungeons, which is the core of Siralim's gameplay as well. Additionally, ARPGs like Diablo, Path of Exile, and Grim Dawn inspired Siralim's depth of gameplay and itemization.[WWW]:
What's new in your third installment in the Siralim series?
[Thylacine Studios]: More than I can realistically list here, but I'll try to name just some of the new features:

- New story featuring a set of 15 new boss fights.
- Over 100 new creatures to collect, for a total of nearly 800 creatures. All creatures now have rare "Singular" versions as well, which have unique color palettes.
- New type of end-game content called Itherian Realms. These are randomly generated dungeons that have randomized properties which affect the enemies you'll find there. If you defeat the boss of an Itherian Realm, you can upgrade a new type of item called "Talismans" which grant you passive effects. This is the richest end-game content the series has ever had, and it's where players spend most of their time in the game.  
- Nether Crucibles, which is sort of a "boss rush mode" in which you can unlock exclusive abilities for your creatures.
- Asynchronous player-versus player battles.
- There's a new Knowledge System in which you will gain an increasing amount of knowledge about each creature over time. As you gain more knowledge, you'll unlock creature-specific perks such as being able to view an enemy's health bar in battle or increase that creature's chance to drop rare items when you kill it.
- Detailed lore has been written for all ~800 creatures in the game, totaling over 60,000 words. That's roughly the size of an average novel.
- Breeding has been overhauled and is a lot more accessible than it was in Siralim 2.  
- Major quality of life improvements, including a revamped user interface and faster battle system.[WWW]:
Just how long do you think a typical playthrough of Siralim 3 will take most players?
[Thylacine Studios]: The game is intended to last players for as long as they wish to continue playing. There's no true endpoint in the game, which is why so many of our players are still enjoying the game past the 1000 hour mark. Some people stop playing after 40 hours, while others will probably continue to play indefinitely. There's no level cap, and there's no limit to how difficult the content can become.[WWW]:
Can you tell us more about your studio?
[Thylacine Studios]: Technically, Thylacine Studios is a one-man operation. I'm the designer and programmer for all our games, but I hire freelancers to create things like graphics, music, sound effects, and more. Recently, I've been hiring people who are avid Siralim players. For example, the two people who wrote the creature lore for the game (Mario and Sergio) have been playing the Siralim series for several years now. My ultimate goal is to work with people who are passionate about the game rather than someone who is merely looking to treat their work as a routine job.[WWW]:
When you're done with the Siralim series is there a dream project that you folks would like to work on?
[Thylacine Studios]: I have several dream projects, and I'm working on one of them right now! It's called "The Negative". The Negative has the monster catching gameplay and complexity of the Siralim series mixed with the environment and feeling of hopelessness that you might feel in games like Dark Souls or Bloodborne. It's a much higher-budget game than Siralim, and I think some of its features are going to blow people away. I'm excited to reveal more about the game soon!

Also, I've always wanted to work on a game similar to Final Fantasy Tactics. There aren't many games out there with FFT-style gameplay, and I have several exciting ideas to deliver a fresh experience to this genre. 

There's definitely a lot more to come for the Siralim series as well.[WWW]:
Thanks for allowing us to interview you! Hopefully we can do this again sometime!
[Thylacine Studios]: Thanks for the interview, and thanks to everyone who reads it!
~~~~~~~~~~~~~~~~
#Exclusive
#Feature
#DevelopersInterview
#ThylacineStudios
#Siralim3
#JRPG
#MonsterCollection
#PS4
#Vita
#PSN
~~~~~~~~~~~~~~~~
by DigiDestined

on June 5th 2016, 11:44 am
Search in: WiiWareWave Exclusive Features
Topic: Developer's Interview: Our Discussion With Sean Garland From Righteous Weasel Games Regarding His Recently Released Wii U eShop Title, 8-Bit Hero!
Replies: 13
Views: 2051
Nice
#DevelopersInterview
@Ichigofan
. =)
These exclusives are so enjoyable to read, but
#WhatHappenedToeshop72
?
by Towafan7

on May 17th 2016, 1:41 pm
Search in: WiiWareWave Exclusive Features
Topic: Developer's Interview: Our Discussion With Utopian World of Sandwiches Regarding Their Upcoming Wii U eShop Title Chompy Chomp Chomp Party!
Replies: 10
Views: 2289
~~~~~~~~~~~~~~~~~~~~~~~~~~~~~~~~~~~~~~~~~~~~~~~~~~~~~~~~~~~~
Party Like A Chomp!
~~~~~~~~~~~~~~~~~~~~~~~~~~~~~~~~~~~~~~~~~~~~~~~~~~~~~~~~~~~~
We recently had the opportunity to interview the developer, Utopian World of Sandwiches regarding their upcoming Wii U eShop title Chompy Chomp Chomp Party and we learned quite a bit regarding the developer themselves and the game! So without further ado here's our interview in its entirety:
~~~~~~~~~~~~~~~~~~~~~~~~~~~~~~~~~~~~~~~~~~~~~~~~~~~~~~~~~~~~
The Interview wrote:

Hello! Thanks for joining us to take part in this interview![UWoS]:

No problem guys, thank you for interviewing us! 

Could you tell us a little about your team?[UWoS]:

We are a husband and wife team. Sarah and James (Woody) Woodrow, based in Cambridge UK. Woody works full time in the shed at the bottom of the garden doing all of the things (coding, animating, modelling). Sarah helps in her spare time with things like designing the characters and interfaces. Our friends Team Doyobi helped us with the amazing soundtrack. 

How long did it take to develop Chompy Chomp Chomp Party?[UWoS]:

As there was only one full time person we were impressed that it only took us about 2 years! It was a huge learning curve and we needed to iterate on the game design a lot.

Why did you decide to develop a party game for the Wii U?[UWoS]:

We made the original Chompy Chomp Chomp for up to 4 players on Xbox 360 and PC. To us a Nintendo console was always our ultimate dream of what to develop for and when we figured out we could have up to 9 players we just HAD to make Chompy Chomp Chomp Party. 

What is the objective in Chompy Chomp Chomp Party?[UWoS]:

Each player is a Chompy. Under the feet of your Chompy is a target that is the colour of another Chompy. That indicates who you need to run towards and CHOMP. There are 3 different modes; one where you each chase one other person while being chased called Chase and Chomp, one called Zone Dash where one player runs from zone to zone to gain points while everyone else chases them and one called Keep the Thing where one player has to keep the thing for as long as possible while everyone else tries to chomp them to get the thing.

We'll be adding more modes as we invent them! It is a simple yet crazy and intense game that anyone can pick up and play and you can all sit around and scream and shout at each other. 

How many players can play the game at a given time?[UWoS]:

Up to 9 Players, you can share your controller attachments with another player. You can even get up to 5 players with just 2 controllers and 2 nunchuks. It works with any controller combo really. It really appealed to us that it would be so easy for Wii U owners to play it multiplayer as with any other platform you would need to buy a lot of controllers to be able to play.

What games were your biggest inspirations for Chompy Chomp Chomp Party?[UWoS]:

When we talked about making a game we wanted to create something that reflected the best times we've had playing games and we realised that it was getting a bunch of random people together to play something. We loved the multiplayer games of the Gamecube/Dreamcast era, we would play them with our friends all the time. So games like Billy Hatcher, Bomberman, Chu Chu Rocket and Super Monkey Ball are big inspirations for us.

We like the simplicity and accessibility of retro games like Pac-Man and ended up wondering about what a multiplayer Pac-Man might be like. So really we've ended up making a Pac-Man/Bomberman hybrid with our own twists and crazy brains.

Are there currently any plans to release DLC for the game in the future?[UWoS]:

We will be updating the game with new game modes and levels. We have no plans to sell DLC, we just want to update it for the players for free. 

What do you think of the Nintendo Wii U?[UWoS]:

We love playing on our Wii U. It has the best games of this generation, especially for playing with friends and family. We love Splatoon and we've been playing lots of Captain Toad. 

Do you have any other Wii U or 3DS projects in development at the moment?[UWoS]:

Not right now, we have lots of plans to develop on Chompy Chomp Chomp Party and make it even better

Thanks for answering our questions! Hopefully we'll have the opportunity to do this again sometime![UWoS]:

No worries it was a pleasure, get in touch any time! 

Take care!
~~~~~~~~~~~~~~~~~~~~~~~~~~~~~~~~~~~~~~~~~~~~~~~~~~~~~~~~~~~~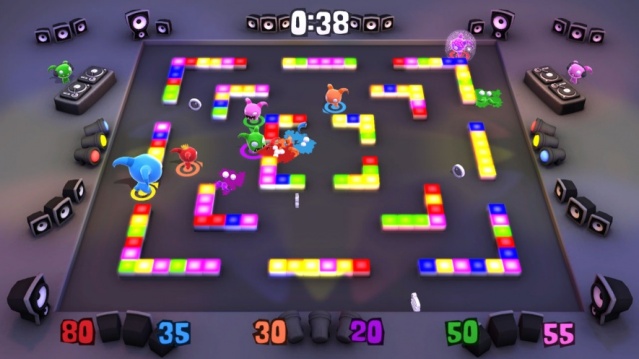 What did you think of our 40th developer's interview? As always be sure to let us know your thoughts regarding our article in our comment section below!
~~~~~~~~~~~~~~~~~~~~~~~~~~~~~~~~~~~~~~~~~~~~~~~~~~~~~~~~~~~~
#DevelopersInterview
#Exclusive
#Feature
#UtopianWorldOfSandwiches
#ChompyChompChompParty
#Party
#Pacman
#Bomberman
#WiiU
#eShop
~~~~~~~~~~~~~~~~~~~~~~~~~~~~~~~~~~~~~~~~~~~~~~~~~~~~~~~~~~~~
by Towafan7

on January 28th 2016, 12:07 pm
Search in: WiiWareWave Exclusive Features
Replies: 30
Views: 2669
~~~~~~~~~~~~~~~~~~~~~~~~~~~~~~~~~~~~~~~~~~~~~~~~~~~~~~~~~~~~
Roleplaying Utopia!
~~~~~~~~~~~~~~~~~~~~~~~~~~~~~~~~~~~~~~~~~~~~~~~~~~~~~~~~~~~~
We recently had the opportunity to interview Mike Gale from Disaster Cake Games about their upcoming JRPG Soul Saga which will be hitting the Wii U eShop later this year! And we managed to learn quite a bit more about the game! Without further ado here's the interview in its entirety:
Interview wrote:

Hello! Thanks for taking the time to answer our questions, we really appreciate it![DisasterCake]:

No problem!  I'm excited to be able to share Soul Saga's progress with you!

How long has Soul Saga been in development?[DisasterCake]:

"The idea of me wanting to make an RPG started when I was in elementary school. I pondered many different stories over time, but I got very serious about it 6 years ago and started Soul Saga. I was a very young developer at the time, and I used Soul Saga as motivation as I taught myself about every aspect of game development so I could act as the lead programmer, producer, and director on my own game project one day. In 2013 Soul Saga had a successful Kickstarter campaign that allowed me to reboot the production and make it significantly better.

Even though the Kickstarter was successful, the amount it raised was only a fraction of the cost it took to make a professional, polished, 3D JRPG like Soul Saga, so a lot of sacrifice had to go into the development. Personally, I've worked ~100 hours a week for almost 3 years now. After a lot of hard work and sacrifice, Soul Saga is finally reaching the finish line of production, and I'm hoping to share it with everyone in the middle of this year."

Can you tell us a bit about the unique gameplay features of Soul Saga?[DisasterCake]:

"Oh boy, where do I begin?!

Well there's the airship exploration, which takes place in a 3D roaming environment and is very Skies of Arcadia inspired. I spiced it up a bit by adding a boosting effect that allows the player to travel much faster after they've progressed through the game and upgraded their airship. I haven't talked a lot about that yet, but I'll be getting into it more in the next update soon.

The airship combat is done in a live-action style from a side view where you'll be able to actively dodge the enemy attacks while firing off your own weapons. It's paced a little differently from a normal shooter game, and your airship and the enemies have HP instead, so it's more akin to an Action RPG styled combat, but in an airship. Your airship can be outfit with different shielding, engines, boosters, and your weapon rack can carry up to 3 different weapons so you can cycle in combat to use the weapon best for the situation. 

For example, a Grumplin balloon will bounce projectiles back at the player, but not the flame thrower. Or an enemy might have an attack that's very dangerous close up, so you'll have to use a rail gun to fire from a distance. At the moment there's about 10 weapon types planned for the airship in total, and this number may adjust as testing progresses.

On the field, combat is very classic turn-based JRPG inspired. The difference between older RPGs is that in Soul Saga when it's your turn you can choose the exact order your members act in so you can have the flexibility for maximum strategy. There's some really cool additions I'll be making to the combat system that will be announced later on.

On the field there's also the lunchbox system, which allows each character to fill their own lunchbox up at a cooking point, and then they use those items for healing in and out of combat. This helps limit the amount of healing items available so you can strategically decide which you carry and adds in the fun of crafting and customization.

There's the "shenanigan" system, which allows you to take different actions under certain circumstances. It's used often in boss battles for extra features related to defeating the boss, and it's also used to revive party members when they fall. So instead of just throwing a reviving item on them, you use Shenanigan to help them get back up. If they keep falling, then you'll need to use the Shenanigan skill more times to revive them.

There's also difficulty modes that can be changed at anytime for both Airship Combat and Field Combat. The 3 modes are: Cake, Vanille, and Jacked. There's a 4th locked mode that is reserved for a New Game+ tailored for the most experienced players.

There's weapon crafting and enhancements. Right now in the beta there's just a placeholder system, but a more robust one will be announced and implemented soon.

Another unique thing outside of the game is with the actual development of Soul Saga. Soul Saga's backers have a forum at

http://forums.disastercake.com

where they can create polls to suggest gameplay features. I'm VERY open to fan feedback and am constantly communicating with fans to make sure their needs are met to the best of my abilities. I wouldn't be where I am without Soul Saga's amazing fans, so I care about them deeply!

There's even more features in Soul Saga I'll be revealing later. I can't wait to share them with you!"

We've heard that you've got some talented voice actors/actresses and
talented musicians that have been working with you on Soul Saga. Who
are these talented individuals?[DisasterCake]:

"Soul Saga's soundtrack is one of its most endearing qualities. I feel that music is one of the most important things for a JRPG, so I spent a lot of time working with several very talented composers to make sure you only get the best tunes!

We have a lot of music from the famous Steven's Universe composers Aivi Tran and Surasshu. Here's some of their contributions:

Home Above The Clouds: https://www.youtube.com/watch?v=pXERGlTPabs

Journey of the Flying Koi: https://www.youtube.com/watch?v=TaWw5KWNrZI

Into the Wild: https://www.youtube.com/watch?v=M0e0dgYeRQ4

Victory!: https://www.youtube.com/watch?v=l6x8ttZ4K2o

Our biggest contributor to the music is Ryan Camus, who is working hard on fleshing out a robust soundtrack for you. Some examples of his contributions to Soul Saga are the airship battle themes and world map music:

Rough Sailing: https://www.youtube.com/watch?v=oH1EQL6hfmE

To Adventure!: https://www.youtube.com/watch?v=bMGwPADjd1s

Max Altitude: https://www.youtube.com/watch?v=iUY7hEtuLp8

Right now we're still planning to utilize the original Mithos and Elise voice actors: Todd Haberkorn (Natsu from Fairytail) and Kira Buckland. Voice acting is one of those things you deal with at the very end of game development. It's really the final seal of quality placed. 

The reason you deal with it at the end is because once the Voice Acting is done, it's very difficult to go back and redo it if any dialogue gets touched up or scenes adjusted. Once I'm closer to the end of development we'll get all the other actors cast and announced. Very exciting times!"

Approximately how long would you say the main story of the game will be?[DisasterCake]:

This is something that is constantly increasing as I add more content to Soul Saga. I'll definitely let you know closer to release how much I was able to squeeze in for you!

Can you tell us anything new regarding Soul Saga?[DisasterCake]:

"Soul Saga fans have recently voted on a goblin-like species race name in the forums. Their voices have been heard and we're now calling this race "Grumplin"! A clever portmanteau between grump and goblin which fits well with their overall demeanor. Great work, guys! Here's some concept art of the Grumplins:

http://www.disastercake.com/dev/soulsaga_goblin_lowres.pnghttp://www.disastercake.com/dev/Soul-Saga-Goblin-Balloon.JPGhttp://www.disastercake.com/wp-content/uploads/2013/10/soulsaga_goblintown_concept.jpg

And their musical theme by Aivi Tran:

https://www.youtube.com/watch?v=LbBf9naupnk

"

What games are your inspirations for Soul Saga?[DisasterCake]:

Wow, that's quite a list! Breath of Fire, Skies of Arcadia, Chrono Trigger, Final Fantasy, Suikoden, Super Mario RPG, and the list really just goes on and on to all those awesome classics. Soul Saga is a love letter to all the classics that I grew up with, and I think you'll see a lot of that inspiration in here when you get to play it.

When can we expect the Wii U port of Soul Saga to hit the eShop?[DisasterCake]:

The Wii U port should be coming a few months after the Desktop version is complete. I'm hoping to release the Desktop version in June, so hopefully the Wii U version will be out within a few months after that! I'll definitely let you know more details as I get closer to those dates.

We enjoyed interviewing you, hopefully we'll get the opportunity to do
it again sometime![DisasterCake]:

Thank you very much for your time! I'm super excited to share Soul Saga with you and can't wait to hear what you think! If you're a JRPG fan, please give me a follow on Twitter @Disastercake or on Facebook at

http://facebook.disastercake.com.

I love to chat with other fans!
What did you think of our interview with Disaster Cake Games? Did you learn anything new about Soul Saga? Will you be downloading the game when it hits the Wii U eShop later this year? Be sure to let us know in our comments section below!
~~~~~~~~~~~~~~~~~~~~~~~~~~~~~~~~~~~~~~~~~~~~~~~~~~~~~~~~~~~~
#DevelopersInterview
#SoulSaga
#DisasterCakeGames
#WiiU
#eShop
~~~~~~~~~~~~~~~~~~~~~~~~~~~~~~~~~~~~~~~~~~~~~~~~~~~~~~~~~~~~