KeAfan7

Admin

Super Poster!

This member has made a splash by posting over 10,000 messages and comments in our community!

Mega Coinage!

This kind user has earned over 50,000 Coins! Happy posting!
~~~~~~~~~~~~~~~~
A Journey That Any Archeologist Would Absolutely Love!
~~~~~~~~~~~~~~~~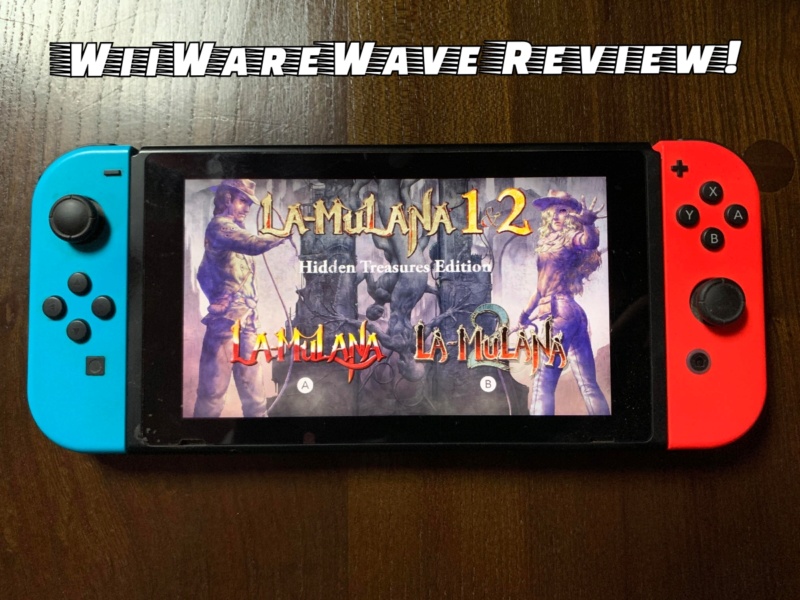 Developed by Nigoro Games and published by NIS America, La-Mulana is a remake of a 2005 freeware pc title with vastly improved graphics and music and is an enhanced port of the WiiWare and Vita versions of the game. The WiiWare version of the game saw many delays and the previous publisher even cancelled the North American and European releases, luckily EnjoyUp games picked up the game and it was finally released in North America and Europe in 2012. Is this game worth checking out? Continue reading our review to find out!
Story and Gameplay
The story in La-Mulana is fairly important despite how it feels, the story and events often uncover clues to difficult puzzles so the difficulty of the game can vary depending on how well you pay attention to what's going on around you. The game is a platformer that feels a lot like an Indiana Jones meets Metroid style of game with tricky puzzles, platforming, and treasure hunting this game will never leave you bored!
The bosses in the game can be nightmarishly difficult or very easy depending on your weapon choices so be sure to not use up all of a particular sub weapon before fighting the boss of a temple.
A word to the wise collect the item near the start of the game because without it you may need to backtrack or worse yet could end up stuck in a pit or other trap with no way out forcing you to reset the game!
Also avoid a particular item in The Temple of The Giants that will literally tell you not to open it and if you don't heed this warning the game will unleash Anubus like reapers everywhere that are virtually immortal and can one-hit K-O you regardless of how much health you possess and it will remain like this for the rest of the game making it nigh impossible for all, but the most skilled players to beat. We left this out in our previous reviews of La-Mulana, but we thought to ourselves, who doesn't like a free tip?
A unique feature in La-Mulana is the .EXE system that grants you power-ups from .EXE files that can be found, but your cpu memory is limited so don't expect to use every good .EXE file you find at the same time.
The game is very long and can easily take more than 40 hours to beat, but can take over 80 hours for completionists to collect every item and fully explore every area in the game which is absolutely incredible!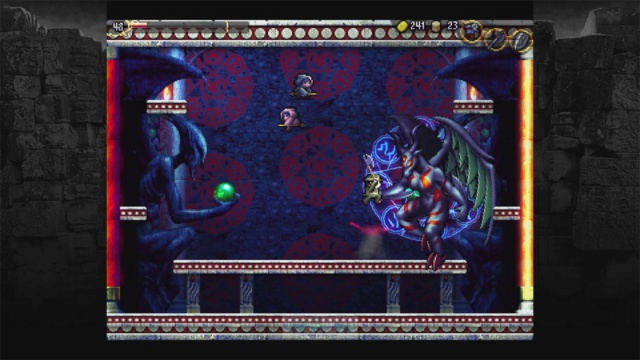 Graphics and Music
The graphics in the Nintendo Switch port have been slightly improved over the WiiWare and Vita versions of the game as the details are breath-taking as every single area looks not only beautiful, but also completely unique with so many background objects and enemy designs you'll wonder how Nigoro put so much detail into a retro-styled MetroidVania!
The soundtrack is quite possibly the most impressive feature of La-Mulana as there are easily 50+ music tracks in the game and every one of them sounds like something straight from a PS1 platformer! How Nigoro managed this we'll never know, but you won't hear a better sounding CD quality 8-bit soundtrack very often on the eShop!
The Switch Difference: The Switch version comes with the usual handheld mode upgrade which is done really well with little to no difference in frame-rate or visual quality. There is a negative and that is the Joycons' abysmal d-pad which is extremely cumbersome in this game. If you play on Switch either the handheld exclusive Switch Lite or Switch Pro Controller is recommended.Bottom Line

With fun, yet challenging gameplay and unrivaled retro graphics and soundtrack, La-Mulana is as fun as ever and with the added features as well as a boss rush and time trials mode as well as great arcade borders to replace the black bars on your screen, and the handheld mode on Switch is superb with little to no drops in frame-rate or graphical quality, however the Joycon d-pad will prove frustrating to those without a Switch Pro Controller or Switch Lite. The addition of being able to play on-the-go with no reduction in the quality of the gameplay is what really gives this version a leg-up over the others and as such we give La-Mulana for the Nintendo Switch a nearly perfect level of recommendation to all Switch owners who enjoy a challenging MetroidVania!
~~~~~~~~~~~~~~~~
Score ★★★★★★★★★½ 9.5/10


~~~~~~~~~~~~~~~~

~~~~~~~~~~~~~~~~

#Review #NISA #Nigoro #Switch #eShop #PS4 #PSN #Platformer #MetroidVania #Adventure #Action

~~~~~~~~~~~~~~~~

This review can also be viewed here
Staroceancrazy, Megatron2000, DigiDestined, Navi, XenobladeYuki, Kain, Aqua Cherry Blossom and like this post
Permissions in this forum:
You
cannot
reply to topics in this forum