KeAfan7

Admin

Super Poster!

This member has made a splash by posting over 10,000 messages and comments in our community!

Mega Coinage!

This kind user has earned over 50,000 Coins! Happy posting!
~~~~~~~~~~~~~~~~
The Final Frontier...TWO!
~~~~~~~~~~~~~~~~
Developed by Granzella and published by NIS America, R-Type Final 2 is the latest game in the long-running R-Type series with updated gameplay mechanics and fresh new visuals. Is this new game as good as its predecessors? No, but it is a solid game in its own right and here's why:
The gameplay in R-Type Final 2 is fantastic even by sidescrolling Shoot em' up standards. There are plenty of game modes and options to give players quite a few ways to play the game. The game itself is more refined than its predecessors with additional upgrades, more responsive controlls, and more which makes the game feel fresh, and while the game has a decent amount of content, a huge chunk is also locked as paid dlc, which is rather unfortunate. The game also suffers from a bit of stuttering and several second loading times between deaths which is a bit jarring and lowers our overall score of the game by a bit.
As for the audio-visual presentation the game looks amazing with gorgeous level backgrounds, excellent ship and enemy models as well as great looking UI's and menus. The soundtrack is also absolutely incredible and fits the mood of the game well as do the myriad of sound effects in the game!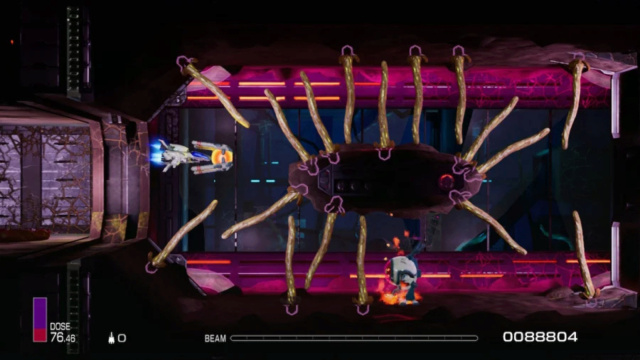 Bottom-Line:
With good gameplay, excellent controls, and a top-notch audio-visual presentation, R-Type Final 2 is an enjoyable romp through a new entry in a beloved series, however technical issues and long loading times hold this game back quite a bit. We still give R-Type Final 2 a solid level of recommendation despite its flaws!
~~~~~~~~~~~~~~~~
Score: ★★★★★★★☆☆☆ 7/10
~~~~~~~~~~~~~~~~
~~~~~~~~~~~~~~~~
#Review
#Switch
#Retail
#eShop
#PS4
#PSN
#Granzella
#NISAmerica
#SHMUP
~~~~~~~~~~~~~~~~
Last edited by Pyrafan7 on August 21st 2022, 7:57 pm; edited 1 time in total
Amufungal, Megatron2000, Akatsuki, Otaku, Zatchbell, Kain, Aqua Cherry Blossom and like this post
Permissions in this forum:
You
cannot
reply to topics in this forum