KeAfan7

Admin

~~~~~~~~~~~~~~~~
Bubble Busting Fun Featuring Baron Von Blubba!
~~~~~~~~~~~~~~~
Developed by Taito and ININ Games and published by PR Hound, Bubble Bobble 4 Friends: The Baron Is Back is an expansion to the previously released, Bubble Bobble 4 Friends that adds a new mode with 50 additional stages to the base-game. What do we think about the new content? Continue reading our review to find out the answer to that question!
Bubble Bobble 4 Friends has frantic and highly enjoyable gameplay for 1 to 4 players where you must encase enemies in bubbles and then pop them to defeat said enemies much like in the arcade game back during the 80's. Bonus rounds are back and just as fun as ever, and there are tons of new power-ups to help you defeat your enemies. All in all, the game is a blast that faithfully recreates the nostalgic feel of the original Bubble Bobble. That said as good as the game is, the game is SUPER short and clocks in at less than half the length of the original "game-time not the number of stages" which is the main reason why this game isn't receiving a perfect score.
The entire Bubble Bobble classic arcade game is included in this title which we highly recommend playing! The difficulty is pretty easy and the controls are intuitive and easy to learn which is always a good thing in our opinions. As for the audio-visual presentation, Bubble Bobble 4 Friends has colorful and detailed retro themed graphics that feel like a perfect blend between retro charm and modern flare and it really stands out. And the soundtrack is bubbly and cheerful which fits the game perfectly!
The new tower arcade game featuring Baron Von Blubba, the indestructible bone whale is a nice addition that adds a great deal of extra content to the game. It's basically a challenge mode and is far more difficult than the standard levels in the game. This new mode can be accessed from the arcade machine in the world hub, but only in hard mode. This new mode is also free for those of you who previously purchased BB4F on Nintendo Switch!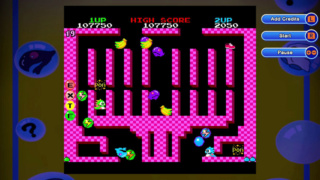 Bottom-Line: With great gameplay, flawless controls, and an excellent audio-visual presentation, Bubble Bobble 4 Friends will have you hooked from the get-go, while the inclusion of the original 80's arcade game will keep you coming back for more! The only negative aspect of this game is that the new content is pretty short due to quicker movement and other adjustments and can be finished in a half an hour which does hurt the overall score of the game, however the additional content corrects most of the problems we had with the base-game so we give the game a great level of recommendation!
~~~~~~~~~~~~~~~~
Score: ★★★★★★★★★☆ 9/10
~~~~~~~~~~~~~~~~
~~~~~~~~~~~~~~~~
#Review
#Taito
#PRHound
#BubbleBobble
#Arcade
#Platformer
#Action
#Switch
#Retail
#eShop
#PS4
#PSN
~~~~~~~~~~~~~~~~
Staroceancrazy, Megatron2000, DigiDestined, Zatchbell, OrionJZed, Kain, FM_Alchemist and like this post
Permissions in this forum:
You
cannot
reply to topics in this forum