KeAfan7

Admin

~~~~~~~~~~~~~~~~
A Unique Game Makes A Splash on The Switch!
~~~~~~~~~~~~~~~~
Developed and published by Team Reptile, Megabyte Punch is a unique platforming, beat em' up, brawler that plays like a hodgepodge of classics such as Megaman, Final Fight, and to a lesser extent Smash Bros. Does this make for a good combination? Not necessarily, but it's not all bad and here's why:
The gameplay in Megabyte Punch is quite solid with good course layouts, no huge spikes in difficulty, and a wide-array of enemies that all have unique behavior and mechanics. There aren't any unfair hazards either, so why did we say the mechanics don't blend well if there isn't anything inherently wrong with the individual parts?
Well the fact of the matter is that the platforming has pretty precise sections that don't work with the game's floaty physics, the enemies have too much health for a slow-paced beat em' up, etc. It's not broken so much as it doesn't feel quite right or comfortable together. The upgrades in the form of parts for your machine is a great mechanic that we did thoroughly enjoy however.
As for the audio-visual presentation the game's blocky 2.5D visuals feels like it belongs back in the 90's in a good way, it's got a thoroughly nostalgic touch that is absolute eye candy! The techno soundtrack also fits the game perfectly! As for the controls, they are easy to learn and are quite serviceable, mind you they aren't perfect, but they are still good.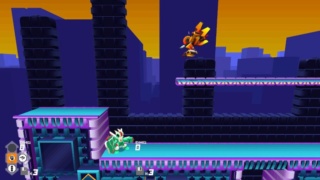 Bottom-Line: With solid gameplay, good controls, and a mostly superb audio-visual presentation, Megabyte Punch for the Nintendo Switch is a great game on the surface, however the game's mechanics don't mesh well together and some of the sound effects are weaker than they should be which does knock a few points from the game's final score. Overall we give Megabyte Punch for the Nintendo Switch a decent level of recommendation.
~~~~~~~~~~~~~~~~
Score: ★★★★★★☆☆☆☆ 6/10
~~~~~~~~~~~~~~~~
~~~~~~~~~~~~~~~~
#Review
#TeamReptile
#Switch
#eShop
#Platformer
#BeatEmUp
#Brawler
~~~~~~~~~~~~~~~~
OrionJZed, Kitty Cat Meow Meow and RWBY_Red like this post
Permissions in this forum:
You
cannot
reply to topics in this forum