KeAfan7

Admin

~~~~~~~~~~~~~~~~~~~~~~~~~~~~~~~~~~~~~~~~~~~~~~~~~~~~~~~~~~~~
No Not The Character From Dragon Ball Z!
~~~~~~~~~~~~~~~~~~~~~~~~~~~~~~~~~~~~~~~~~~~~~~~~~~~~~~~~~~~~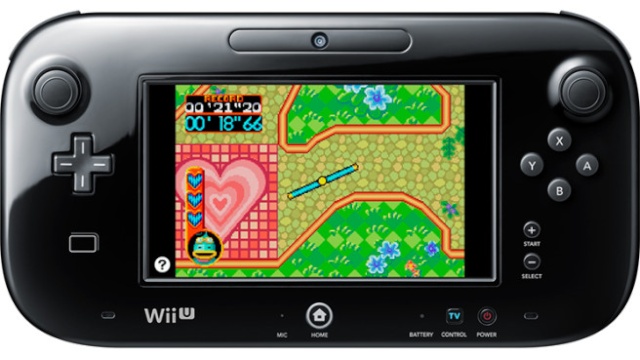 It looks like the import title Kuru Kuru Kururin for the Gameboy Advance will be hitting the Wii U Virtual Console service tomorrow according to a listing on Nintendo of America's official website! This is the first time that Kuru Kuru Kururin has been made available officially in the North American region so the gameplay is a secret to everyone in the region "at least for those of you who haven't imported the game". Sorry we couldn't resist a bit of Zelda humor!
Here's some information regarding the game:
Overview wrote:"Kururin's brothers and sisters are lost across 10 different worlds! In his special helicopter, the Helirin, navigate through mazes as quickly as you can while avoiding obstacles such as walls, pistons, and cannons.

You can also customize your Helirin by using items acquired in Adventure mode."

Are you looking forward to this upcoming Wii U Virtual Console import title? Will you be downloading the game when it hits the eShop tomorrow? As always be sure to let us know in our comments section below!
Source: Nintendo.A special thanks goes to @Minato for the news tip!
~~~~~~~~~~~~~~~~~~~~~~~~~~~~~~~~~~~~~~~~~~~~~~~~~~~~~~~~~~~~
#WiiU
#VC
#eShop
#import
#KuruKuruKururin
#GBA
~~~~~~~~~~~~~~~~~~~~~~~~~~~~~~~~~~~~~~~~~~~~~~~~~~~~~~~~~~~~
Permissions in this forum:
You
can
reply to topics in this forum