KeAfan7

Admin

Super Poster!

This member has made a splash by posting over 10,000 messages and comments in our community!

Mega Coinage!

This kind user has earned over 50,000 Coins! Happy posting!
Kick To The Beat!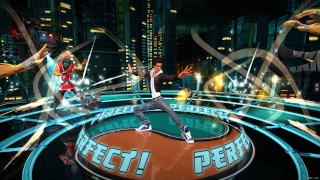 KickBeat - Special Edition (Wii U eShop)
(C) Zen Studios
PAL Review by
SKTTR
Hungarian developer Zen Studios fourth Wii U eShop game (after Zen Pinball 2, CastleStorm, and Star Wars Pinball) is KickBeat - Special Edition, an innovative rhythm game where you defend yourself from hordes of enemies coming to attack you from all four sides.
If you know other Zen Studios games you come to expect a sleek presentation, nice audiovisuals, and expansive highscore lists. KickBeat is no different in providing a professional look and full-fledged online leaderboards, and the in-game graphics look even better and shinier than in earlier Zen Studios releases. The high music quality really comes through with some bass-pumping speakers, and the song selection is more like Guitar/DJ Hero than Just Dance.
Before you get into the game there are in-depth instructions for everything the game has to offer as well as a 3-Level Training mode that are a big help for newcomers and beginners. When you get familiar with the mechanics (which is advised as there's some depth to be found) you can hop into the Story Mode.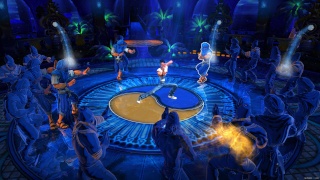 There are 24 stages to unlock and 4 difficulties to choose from anytime. This makes a total of 96 challenges and you can earn up to five stars on each of them depending on your score. After a slightly animated, parodic comic-style story intro, you'll get to your first battle. And that's where you find if you've got rhythm, or not.
You're always standing in the middle of the bulk (a dojo, a wrestling arena, a dancefloor, etc.) trying to counter attacks with the representative X (up), B (down), Y (left), and A (right) buttons. So the basic premise is to press the right buttons in tune with the music that is playing, as enemies always attack in rhythmic patterns from all four directions.
There are 3 different enemy types per stage, yellow being the standard slow units, blue enemies being faster, and red enemies always attacking in groups of two. Often the enemies hold an item above their heads like extra points, health, shield, etc. To acquire items you have to "double-click" that enemy with your counter attack: One hit to counter and one hit to grab that item. You can only hold one item at a time, so use them often by pressing R or ZR. Performing good moves is charging up your Chi Energy that multiplies your points for a while. Use it strategically by pressing L or ZL. Every 4th song is a boss battle stage with cool new mechanics and more action. New cutscenes and locations are unlocked after every boss fight as well. You also unlock achievements, new modes, characters and costumes by winning stages and earning stars.
While the Normal difficulty gets you prepared, the Hard mode takes away the button notifications, the Expert mode adds more enemies, and the Master mode is randomizing enemy patterns, so there's a real challenge even for rhythm pros.
All stages you unlock in Story Mode will be added to the other modes as well: Splitscreen Mode, Visualization Mode, Free Mode, and Survival Mode. Splitscreen Mode is a 2-player versus battle mode. Despite its name it's not really a splitscreen mode because Player 1 has his own full screen on the GamePad and Player 2 (Wii U Pro Controller only) has his own full screen on the TV. There are new battle items in this mode, and it's great to challenge friends to see who's got more rhythm. We encountered a bug in this mode though, where the game wouldn't show the results at the end of the match. Fortunately it only appeared once.
Visualization Mode is a demo mode where you can watch the cpu playing a song of your choice perfectly. Survival is always being played on Hard and is an endless test of your rhythm skills. In most of these modes you can select a character and a costume and play to your own custom playlist.
While the basic game seems to be extremely polished, the cutscenes in Story mode have glitchy music that sounds like coming from a scratched CD, and once you unlock the second character Mei the cutscenes even have weird graphical errors: Mei's head disappears in the first cutscene and other animations are missing, and some pictures don't seem to be zoomed in correctly with multiple thumbnails of other cutscenes scrolling in on the sides and below the main scene. I've never seen such a bug before, and I stopped making progress on Story mode because of this getting too distracting, but it seems it can be patched and updated easily, so there's hope to get that part of the game fixed soon.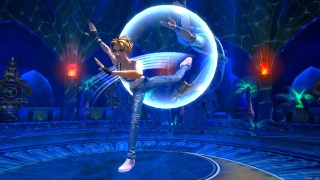 Anyway, if you're into rhythm games and like the music selection, KickBeat offers plenty of immersive rhythmic gameplay, content, and replay value. It's simply a very good music game on the Wii U, finally.
NA Opinion:
By Rukiafan.
Kickbeat: Special edition is indeed a great game, but one that is incredibly difficult to master as the rhythm and enemy patterns are difficult to learn, however once you figure that out the gameplay is incredible! Another thing that needs to be mentioned is that we cannot stress enough that you shouldn't have the volume set anywhere near maximum on your gamepad as the result would likely be that your speakers will be damaged.
The graphics are superb however, and the game's story is surprisingly deep. Overall Kickbeat: Special Edition is a solid title that any rhythm/music genre fan should download!
NA Opinion Score: ★★★★★★★☆☆☆ 7.9/10Tracklist:
01. Southpaw Swagger : It's Showtime
02. Styles of Beyond : Nine Thou (Grant Mohrman 'Superstars' Remix)
03. enV : Destination
04. Marilyn Manson : The Beautiful People
05. Celldweller : Switchback
06. Pre-fight Hype : It's Goin Down
07. enV : RPM
08. Blue Stahli : Takedown
09. Pendulum feat. In Flames : Self vs Self
10. Pendulum / Celldweller : Propane Nightmares (Celldweller Remix)
11. enV : Vee
12. Voicians : Fighters
13. Blue Stahli : ULTRAnumb
14. Shen Yi : War Dance
15. enV : Shakestopper
16. Rob Zombie : Scum of the Earth
17. Blue Stahli : Scrape
18. P.O.D. : Boom
19. enV : OCP
20. Celldweller : I Can't Wait
21. Papa Roach : Last Resort
22. Pre-fight Hype : Tug-O-War
23. enV : Bloom
24. Voicians : The ConstructPrice: £8.99/€9.99/$9.99

SKTTRSKORE:
★★★★★★★★☆☆ 8/10
Global Score:
★★★★★★★☆☆☆ 7.95/10
Last edited by Rukiafan on October 6th 2014, 12:32 pm; edited 4 times in total
Permissions in this forum:
You
cannot
reply to topics in this forum