Towafan7

Admin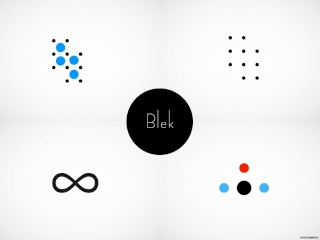 Blek
(2015)
kunabi brother

Developed by Broken Rules.
Price: 5,49€ / 4,49£
EU Release: 12th February 2015
Website
/
Trailer
Wii U eShop PAL Review by SKTTR for wiiwarewave.com
ARE YOU READY FOR THE NEXT PUZZLE INNOVATION?
Blek is a new touch puzzle game that was originally developed by kunabi brother for touchscreen devices last year.
To bring this fun and simplistic puzzler to Nintendo's audience the artistic and innovative Austrian development team Broken Rules - best known for their fantastic platformer And Yet It Moves (WiiWare), the multiplayer partygame Chasing Aurora (Wii U eShop), the Super Turbo Championship Edition of indie megahit Guacamelee! (Wii U eShop), and the beautiful adventure Secrets of Raetikon (unfortunately no Wii U release) – stepped in and ported over a technically perfect Wii U version!
The gameplay is simple: There are colored spheres and black orbs on the screen, and your goal is to get all colored ones while avoiding the black ones. To get it done you draw a line, a path, on the touchscreen. When you release the touchscreen or when you pick up the first colored sphere you lose control of your line - but it will continue to move on. It just copy-pastes the pattern you just drew 1:1 and loops it endlessly. If you're path was thoughtful, your line will collect all the spheres and move on to the next stage. If not, it will hit the black orbs or leave the area. There's no penalty though. You have as many tries as you wish.
It is a very casual and zen-like experience: No time limits. No scores. Just 60 stages that get harder gradually. The simple first levels gently tutor you into fun beginner levels, but it eventually leads to a few additional objects that add some variety and real brain workouts later on, culminating in a final stage with a special twist. It's a nice package but it's all over too soon! When I compare Blek to other innovative and fun puzzle games on the Wii U eShop, like Art of Balance (9/10) and Color Zen (8/10), it feels a bit short.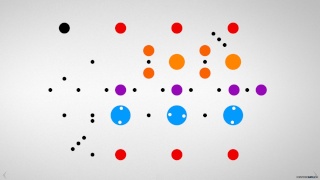 Blek is not an overpriced 30 minute game though. It took me 5 hours of gameplay to beat all 60 stages which is decent value for the price, but it could have easily been richer in content (more eye-candy and music would have been nice too).
The first stages are solved in a matter of seconds, but time sure flies by working out solutions for some of the later stages. You beat the stages one by one, and you can go back and select all the ones you previously won but there isn't much to come back for other than finding different solutions or doodling for fun. Yet there's a spark of magic seeing your drawings come to life while making the sounds of a soothing wind. The effect is really nice.
Blek is a fun pick-up & play game with great appeal for puzzle fans. It's a nice time-waster for multiple people taking turns as well. A group of people can enjoy watching it on the big tv screen as someone else is playing on the GamePad.
Everyone who can hold a pen and draw a line is able to play Blek. Try it!
SKTTRSKORE ★★★★★★★☆☆☆ 7/10
Permissions in this forum:
You
cannot
reply to topics in this forum