Towafan7

Admin

An Intergalactic Adventure!
Armillo is a 3D platformer developed by Fuzzy Wuzzy Games exclusively for the Wii U console and features a potentially iconic mascot named Armillo an Armadillo with alot of speed! But what did we think of the game itself? Well keep reading to find out!
Armillo feels like a mixture of many different classic games, but at the same time feels completely unique for instance the ball rolling mechanics feel like Marble madness, but some of the sections of the 3D levels feel like Pac-man, while Armillo's speed is reminiscent of Sonic The Hedgehog, and the planet hopping feels similar to Super Mario Galaxy! That's where the similarities end however as the game has very fresh mechanics and superb level designs. Each 3D stage has safe areas, alternate dimensions where you'll die if you stick around for too long, and Dark Moon zones where you try to collect as many orbs as you can within a given time limit, the Dark Moon zones aren't available in boss stages however.
The safe areas force you to collect orbs and help out your little friends that have been captured to open up locked areas and sometimes you must face bosses and tough obstacles in these safe areas, however there is no time limit in these areas! The alternate dimensions are poisonous to Armillo so you can't stick around for long or you'll lose a life, however sometimes items you need are located in these areas such as keys that you must collect to progress in the safe areas! There are also cubes to find in the alternate dimensions that unlock a 2D platforming stage which we'll talk about later in the review. Each 3D stage has one cube containing a 2D platforming level!
The Dark Moon stages begin after a level is finished and you get limited time which is based on how many of your animal friends that you save during the level to obtain more orbs! As for the 2D stages, they are very difficult compared to the 3D stages and have a very short time-limit to reach the goal at the end of the stage. Armillo possesses 20 3D levels and 25 2D levels meaning that the game has a whopping 45 stages to complete and will likely take first-time players 8-10 hours to beat completely! The game also has several power-ups such as an animal cannon to shoot enemies with and giant Armillo which causes Armillo to grow to massive proportions to destroy enemies that would normally harm him. There are other power-ups to find as well!
The orbs in the game can be used to purchase useful in-game effects in the store located at The Critter Corner such as extra health, more time in the Dark Moon Zone, etc. You can also access your 2D stages from The Critter Corner as well!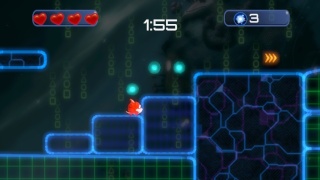 The controls in the game are easy to learn, but difficult to fully master however they are as smooth as butter and very responsive which is always a good thing, especially for platforming titles! The Off-TV play is also implemented flawlessly and doesn't have any visual or audio issues.
The graphics in Armillo are fantastic! The special effects really pop in HD and the level designs are breathtaking! The 3D stages have alot of variety and the character and enemy models like superb as well! The only negative thing to mention about the graphics is that all of the 2D stages look too similar, perhaps if they had a unique background in each stage it would give it more uniqueness, however it's only a minor complaint and doesn't affect our score of the game by very much.
The soundtrack in Armillo is simply amazing, especially during the 2D stages and the sound effects are also high quality. There is also some voice acting from some of the alien enemies which sounds pretty cool as well! Overall the game's presentation is nearly flawless!
Bottom-Line:
With incredible 3D and 2D platforming gameplay and 45 stages to conquer Armillo will keep you coming back for more, while the responsive controls and nearly flawless audio-visual presentation will immerse you in the game's amazing world! Armillo is a top-notch title that belongs in every person's Wii U library and we highly suggest downloading the game!
Introductory Price: $5.99Score:
9.5/10
Last edited by Ichigofan on February 11th 2016, 3:16 pm; edited 2 times in total
Permissions in this forum:
You
cannot
reply to topics in this forum