Towafan7

Admin

More Bad News!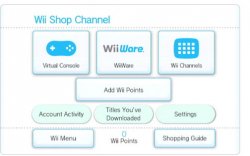 As you might already know, the Wii U eShop can be linked up to your Club Nintendo account, Which means that when you purchase a game it is automatically registered and you become eligible for surveys, which allow you to earn some coins.
Unfortunately it appears Wii Shop games downloaded on the Wii U's Wii Mode are not eligible for surveys and coins, even though the same games bought from a Wii console are. The reasons for this restriction are unknown at the moment, but Nintendo has stated the following in its Club Nintendo FAQ section:
"Due to certain system constraints, Club Nintendo accounts cannot be linked to the Wii Shop on the Wii U. Games downloaded through the Wii Shop on the Wii U (in Wii mode) do not qualify for surveys or Coins."
Nintendo is working on bringing the Virtual Console to the Wii U eShop itself, allowing all games to be played on the GamePad alone. It's strange that gamers are currently being punished in such a way for transferring their Wii gaming to Wii U.
What are your thoughts?
____________________________

Permissions in this forum:
You
cannot
reply to topics in this forum