KeAfan7

Admin

Super Poster!

This member has made a splash by posting over 10,000 messages and comments in our community!

Mega Coinage!

This kind user has earned over 50,000 Coins! Happy posting!
~~~~~~~~~~~~~~~~
Windy Sailing!
~~~~~~~~~~~~~~~~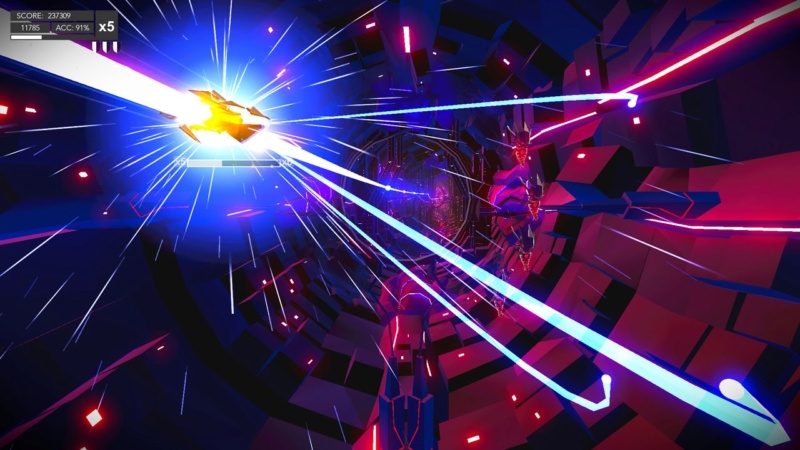 PR agency PR Hound has once again announced another upcoming pre-order on behalf of Strictly Limited Games, this time the announcement is for Aaero a rather interesting looking and stylish indie title that looks like a blast to play! Here's PR Hound's announcement:
PR Hound wrote:Official Logo

Official Logo

Go on an exhilarating, EDM-infused joyride with acclaimed indie music shooter Aaero

- Limited boxed versions available for pre-order -

Stuttgart, Germany - December 16th, 2021 - Strictly Limited Games, in partnership with two-man developer team Mad Fellows are proud to announce that the indie-hit Aaero: Complete Edition will receive a much deserved, limited boxed release on the Nintendo Switch. This rhythm rail-shooter synergizes high-speed sci-fi shooting action with an incredible licensed EDM soundtrack, to deliver a uniquely exhilarating audio-visual experience that received much praise from press and players at launch.

Aaero: Complete Edition contains all DLC content in one package and will be available as a boxed Limited Edition and Special Limited Edition, with pre-orders kicking off on Sunday, December 19th, at 12 AM CET (midnight), only at

Strictly Limited Games here:

About the Game

Speed through stunning, futuristic environments in a stylish spacecraft, tracing ribbons of light that visualize the EDM songs while evading obstacles, eliminating approaching enemies and overcoming epic boss battles. The game controls like a twin-stick shooter with the left stick controlling the ship, which has to grind along the musical ribbon and the right stick for targeting enemies. If you play well, your score multiplier will build up and you can chase that high score on the leaderboard, for an extra dose of adrenaline.

Dazzling action!

Key Features

Pilot your spacecraft through dynamic environments, negotiating obstacles and battling enemies and monstrous boss creatures, all synced to a banging soundtrack.

Experience a unique sensation of speed and tunnel-vision as the levels warp and twist around you, perfectly combining music, gameplay and visuals.

Vibe with licensed music from superstars of the EDM genre, including Noisia, Flux Pavilion, Katy B, Neosignal, Astronaut, Barely Alive and many more.

Soar through 21 different levels, each painstakingly crafted to match the music.

Four game modes - Normal, Advanced, Master, and Chill-out (a relaxed, practice-focused mode).

Aaero: Complete Edition for Nintendo Switch includes all additional DLC content in one package: the 1000DaysWasted: Drum & Bass Pack, the Monstercat Pack as well as the Comet, Phaser, and Sol ship skins.

Giant spider mech awaits!

Strictly Limited Editions for musical speed-demons

Strictly Limited Games is giving Aaero the immortal, boxed legacy it deserves, with two unique limited editions, available for pre-order exclusively via the Strictly Limited Games online shop.

The Limited Edition includes the Nintendo Switch game and a colorful game manual for 29.99€, limited to 2,200 copies.

LE Nintendo Switch box artCollector's Edition box art

The Special Limited Edition is limited to 1,800 copies for Nintendo Switch at a price of 49.99€, including lots of cool EDM-festival themed collectibles:

Nintendo Switch game

Special Limited Edition Box

Colorful Game Manual  

Stylish spaceship acrylic standee

EDM-festival-style wristband

EDM-festival-style ticket (replica, individually numbered)

EDM-concert-style poster (DIN A3)

Aaero logo fabric patch  

Bottle opener

Special limited edition contents
What do you think of this pre-order announcement and limited edition release? As always be sure to leave us a comment below!
~~~~~~~~~~~~~~~~
#News
#Nintendo
#Switch
#Retail
#LimitedEdition
#CollectorsEdition
#PRHound
#StrictlyLimitedGames
~~~~~~~~~~~~~~~~
Aqua Cherry Blossom likes this post
Permissions in this forum:
You
can
reply to topics in this forum