KeAfan7

Admin

An Empty Shell...
Mario's sports titles have always been great fun for the entire family and with the Wii U's lack of third party sports developers such as EA and 2K Sports who quickly abandoned the console after its launch these games have become integral to fill the void, however Mario Tennis: Ultra Smash fall's flat on its face in several key areas and here's why:
The game emphasizes on jump shots and the overall gameplay is actully quite solid with tight controls and the few modes it does have are decent enough such as the singles and doubles matches, however this game lacks any sort of tournament mode which is a shame as that was one of the best modes in the earlier console versions of the series. Another major letdown is the game's online mode which, while fun, is extremely archaic and only allows you to play with random players and also lacks a rematch feature as well which is unforgivable for a modern game that emphasizes on multiplayer.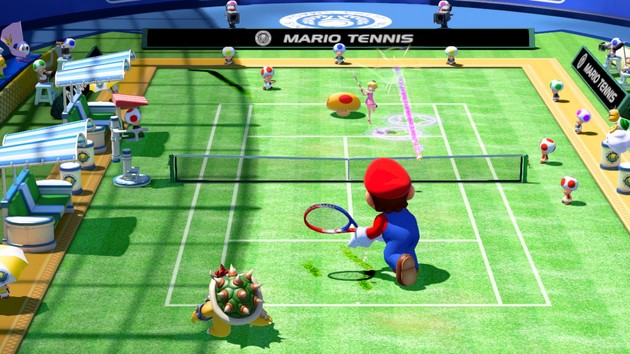 One mode in particular was especially fun where you and your opponent are tossed Mega Mushrooms to grow to gargantuan size to overpower your opponent!
Another huge disappointment is the lack of power-up's in the game, which were available in previous entries of the series. The court selection is quite good, however as we rather enjoyed several of the courses' nuances, but that doesn't make up for the many negative aspects of the game.
Not to sound like a broken record, but the cast of characters is also abysmal and is the weakest yet with less characters than the N64 entry.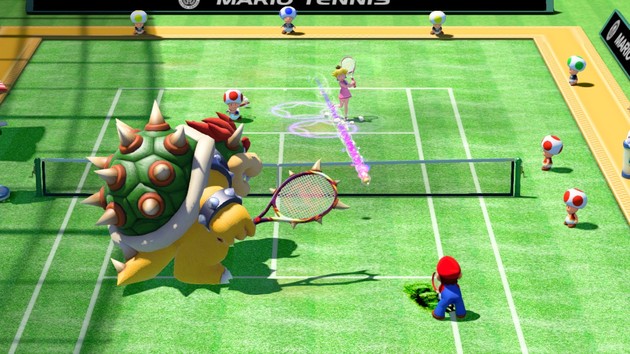 The Gamepad isn't utilized very well in the game, however the Classic Controller Pro, Wii U Pro, and Wii Remote Sideways are supported though we don't recommend using that last controller option listed. The game also supports Off-TV-Play which is a nice feature.
On to the good once again, the visuals are absolutely incredible, the character models and courts are so detailed that it'll feel like you really are hitting the courts! The soundtrack is also really good as well, but again we can't stress how bad this game's flaws are so this doesn't really make up for the game's shortcomings.
Bottom-Line:
Mario Tennis: Ultra Smash is extremely rough around the edges and to be bluntly honest should never have been released in the state that it's in. There's definitely fun to be had, but the lack of content and the more in-depth modes that previous entries possessed makes this game feel like a serious let-down. The audio-visual presentation is superb on the other hand, but overall we just can't recommend this game even to fans of the series.
Price: $49.99

Score: ★★★★☆☆☆☆☆☆ 4/10
Permissions in this forum:
You
cannot
reply to topics in this forum