Guest

Guest

Hi all!
Some may have noticed already, I've made some small cosmetic changes to the forum the last few days. Upcoming changes will be logged in the Administrator's Change Log I made from now on by staff members, I agreed with Rukiafan, so if something goes terribly wrong on the forum, anyone can restore it back to normal. In short:
- Made the Administrator's Change Log and procedures;
- Updated Word Censoring for forum posts. Lateron, regarding the chat, this may be activated, too;
- Updated the button position for Loging in and Logging out to a more obvious place on the forum;
- Solved the Overlapping Lines problem in the Chatbox (AWC);
- Added Chatbox (AWC) Translation coding to Java, so that configuration of the buttons for chat can be done more easily. As you may have noticed "Chat" has been modified into "Live Chat" now, which also makes it more visible to the members;
- Updated the Birthday Notifications to a proper sounding text;
- Managed to align the forum widgets and contents (right hand side bars);
- Corrected the colors on the forum to an equal state everywhere on the forum;
- Added CSS stylesheet coding to correct the wrong avatar sizes to be set to 150x150 px. for everyone. Rukiafan still needs to implement something to activate this, but can only be done as a founder (which I am not, obviously).
EDIT: Added CSS stylesheet coding to implement login icons to make the login box look like this: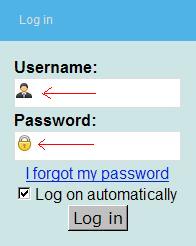 It didn't come easy and I've done extensive testing before going live, but I think all the effort paid off in the end.
I hope you're all going to enjoy these little changes, that made this forum slightly bigger and better!
Sincerely,
WiiWareWave Staff
P.S.: Don't forget to hit "Like" if you do!
Last edited by SamanthaMelissaS on December 15th 2012, 1:37 pm; edited 1 time in total
Permissions in this forum:
You
can
reply to topics in this forum