Towafan7

Admin

~~~~~~~~~~~~~~~~
Please Follow Social Distancing And Stay Safe At Home If At All Possible!
~~~~~~~~~~~~~~~~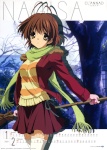 It's always sad to hear that the Corona Virus pandemic is costing many thousands of lives globally, but when it causes someone whom you know to pass away, it is by far more impactful. That said it pains me to say it, but our longtime moderator,
@Clαππαd
has passed away today at the age of 29. She and her husband who live in the Cleveland Ohio area noticed that they had both developed symptoms back in early March and both of them eventually were hospitalized in late March along with their then four year old child who has since turned five. Her husband and child both recovered, however she didn't and after a three day medically induced coma she passed away this morning. Natalia Yong a.k.a.
@Clαππαd
will be missed.
Be sure to leave your condolences and memories of her time here at WiiWareWave in our comments section below.
~~~~~~~~~~~~~~~~
#Obituaries
#WiiWareWave
#Staff
~~~~~~~~~~~~~~~~
Towafan7, Amufungal and NintendoPuristForever like this post
Permissions in this forum:
You
cannot
reply to topics in this forum