KeAfan7

Admin

Super Poster!

This member has made a splash by posting over 10,000 messages and comments in our community!

Mega Coinage!

This kind user has earned over 50,000 Coins! Happy posting!
~~~~~~~~~~~~~~~~
Amazing, But What Happened To Paper Mario?!
~~~~~~~~~~~~~~~~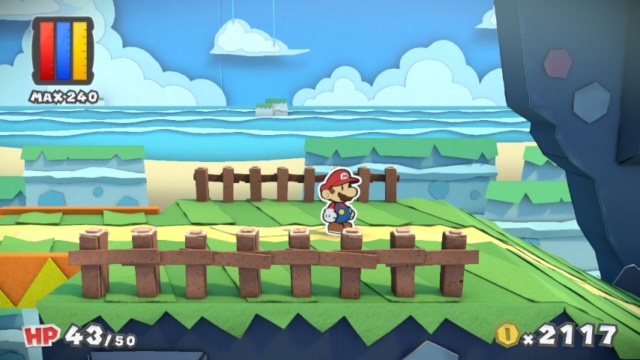 Developed and published by Nintendo, Paper Mario: Color Splash is an amazing 3-D platformer?! with JRPG and adventure genre gameplay elements, but does it live up to its true roots as a standout JRPG series? Not quite, but the game is still superb in its own rights and here's why!
The story in Paper Mario Color Splash for the Wii U is pretty funny albeit relatively non-existent which is the first of several disappointing aspects of the game, but in spite of these flaws the game is still absolutely superb! The gameplay in Color Splash is fairly straightforward, restore color to the world with you paint hammer, defeat enemies with cards, explore the various courses, and save the day. The battles are a blast to play unlike those in Sticker Star, with much more depth and strategy involved.
The world itself is separated into individual levels and there are dozens of courses in the game. Despite not being heavily story-driven, the game is still well over 25 hours in length which is pretty sizable. The controls are also silky smooth and easy to learn which is always a good thing! The game is well-balanced for the most part so don't expect any radical difficulty spikes. And lastly the Gamepad features include some touchscreen controls as well as off-TV play which is always welcome in our opinions!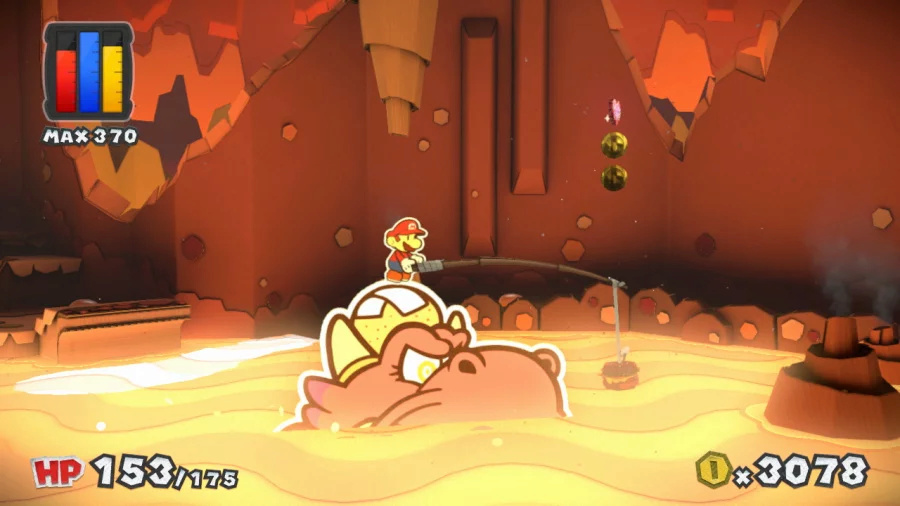 There's one more gameplay aspect we're dying to talk about and that is the boss battles which are an absolute blast to play and typically have some sort of gimmick associated with them. Usually gimmicks are not a positive when it comes to core gameplay elements, but the boss battles handle these very well in Color Splash! There is one thing that has left us scratching our heads though and that is the complete lack of unique characters and enemies in the game which has always been a staple of the franchise.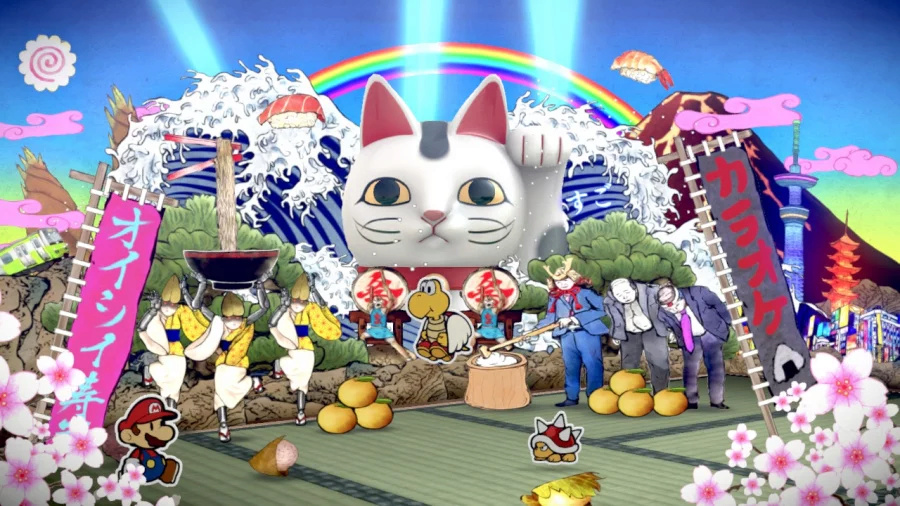 The audio-visual of in Paper Mario Color Splash is absolutely breathtaking with gorgeous character designs and unique and vibrant locations that look like they were taken straight from a gorgeous work of art or a vibrant picture book. The soundtrack is equally amazing with many iconic songs beautifully remixed in this game! Overall the audio-visual presentation is complete perfection!
Bottom-Line: With a simple yet funny story, excellent gameplay, intuitive controls, and an amazing audio-visual presentation, Paper Mario Color Splash for the Wii U is a superb game for the console that is only marred by the fact that it continues to be too different from its roots as a top-notch RPG series, but regardless we give the game a great level of recommendation to all Wii U owners!
~~~~~~~~~~~~~~~~
Score: ★★★★★★★★★¼ 9.25/10
~~~~~~~~~~~~~~~~
~~~~~~~~~~~~~~~~
#Review
#Nintendo
#3DPlatformer
#RPG
#Adventure
#PaperMario
#Mario
~~~~~~~~~~~~~~~~
Amufungal likes this post
Permissions in this forum:
You
cannot
reply to topics in this forum