KeAfan7

Admin

Super Poster!

This member has made a splash by posting over 10,000 messages and comments in our community!

Mega Coinage!

This kind user has earned over 50,000 Coins! Happy posting!
~~~~~~~~~~~~~~~~~~~~~~~~~~~~~~~~~~~~~~~~~~~~~~~~~~~~~~~~~~~~
Citadale Does What Castlevania Don't!
~~~~~~~~~~~~~~~~~~~~~~~~~~~~~~~~~~~~~~~~~~~~~~~~~~~~~~~~~~~~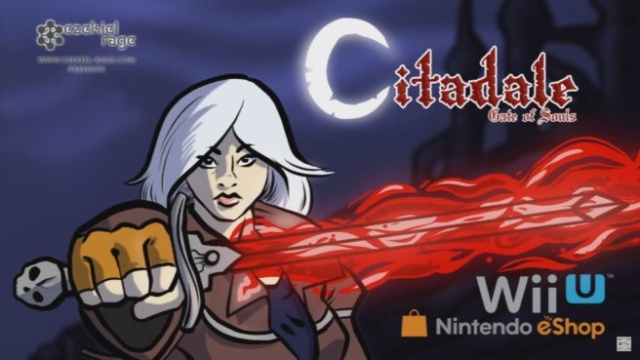 Ezekiel Rage has announced that their upcoming Castlevania-style platformer is at Nintendo's lot-check and should be releasing very soon! The game looks to utilize the Gamepad as an in-game map and also features Off-TV-Play!
Here's The Official Overview of The Game:
Official Overview wrote:Step into the hellouse once again. Citadale is a classic retro 8bit action game in the veins of so many NES classics. Vampires, zombies and other creatures of the night await. What a horrible night to have a curse.

You are Sonja Dorleac, a young woman on a mission to stop the local Dark Lord from plunging the lands into the darkness. Armed with the Shadow Blade, a legendary sword given to her by her husband and her wits, she sets out to restore peace to the lands.

Designed for use with the Wii U gamepad, this game gives you total control over your gameplay experience. The full level layout on the TV allows you to see hidden rooms and enemies that attack from above or below while the gamepad shows you the close surroundings of your character. Switch between different viewpoints to always see what you need to in order to survive the journey.

The game supports Off-TV play, the Wii U Pro Controller, The Wii Remote and the Wii Classic Controller as well as Miiverse posting.
What do you think of this upcoming Wii U eShop title? Are you excited? Be sure to checkout the trailer and as always feel free to leave your thoughts in our comment section below!
~~~~~~~~~~~~~~~~~~~~~~~~~~~~~~~~~~~~~~~~~~~~~~~~~~~~~~~~~~~~
~~~~~~~~~~~~~~~~~~~~~~~~~~~~~~~~~~~~~~~~~~~~~~~~~~~~~~~~~~~~
~~~~~~~~~~~~~~~~~~~~~~~~~~~~~~~~~~~~~~~~~~~~~~~~~~~~~~~~~~~~
#E3
#Nindie
#WiiU
#eShop
#CitadaleGoS
~~~~~~~~~~~~~~~~~~~~~~~~~~~~~~~~~~~~~~~~~~~~~~~~~~~~~~~~~~~~
Permissions in this forum:
You
can
reply to topics in this forum