Clαππαd

Moderator

Legendary DS kart joins the race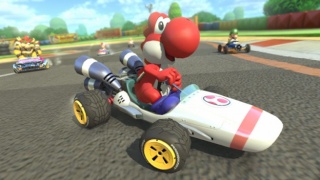 Nintendo has listed new details regarding the upcoming Mario Kart 8 dlc that releases in November. The details were announced on Miiverse and have confirmed that the B Dasher kart from Mario Kart DS will be released alongside the Blue Falcon as part of the first Mario Kart 8 dlc pack!
This is what Nintendo said on Miiverse:
Nintendo wrote:Mario Kart DS's popular vehicle, "B Dasher" will be available on DLC Pack 1. 4 vehicles will be included in the DLC Pack 1, and "B Dasher" will be one of them. "B Dasher" is a top speed oriented vehicle for circuit. Have fun!
We would love to see your thoughts in our comments below!
____________________________
I'm in love with love!
Permissions in this forum:
You
can
reply to topics in this forum