Search found 7 matches for Retro
by Towafan7

on March 3rd 2019, 10:40 pm
Search in: PS4 PSN Reviews
Replies: 15
Views: 637
~~~~~~~~~~~~~~~~
Decent Mechanics Make A Glacier-Solid Game!
~~~~~~~~~~~~~~~~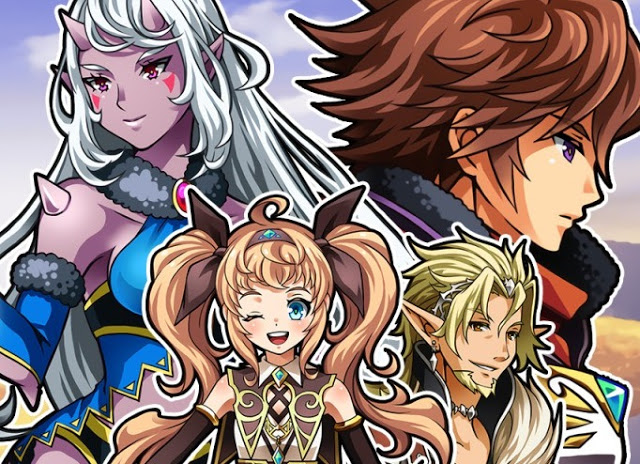 Developed by Exe-Create and published by KEMCO, Alvastia Chronicles is a decent attempt at recreating the greatness of the 16-bit era, however it falls short in many ways, but regardless is still a solid JRPG! Keep reading our review to learn more!
The story of Alvastia Chronicles is pretty straightforward and doesn't do much that we haven't seen before, but what's there is pretty good stuff. The gameplay on the other-hand is pretty unique. It's basically The Last Remnant in 16-bit form in the way it utilizes squads of characters who fight together as one with a united HP pool and multiple attacks, which is quite enjoyable, but the mechanics are definitely watered down so don't expect complex unit commands and such.
The game itself is somewhat short and can be beaten in 20 hours or less if you don't focus on side-quests and collecting all units in the game. The controls are easy to learn and the game's difficulty is a tad on the easy side. Another great thing is that the Vita version of Alvastia Chronicles is PSTV compatible which we commend the developer for continuing to support the niche device that has long been discontinued.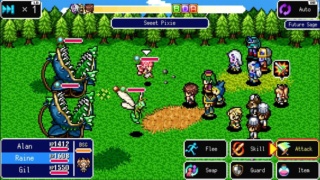 The audio-visual presentation is decidedly
retro
, but unlike previous 16-bit or is this 12-bit? KEMCO titles Alvastia Chronicles has a somewhat lacklustre art-style and feels off in a sense, because in some aspects it's 8-bit while in others it's 16-bit. It sort of ruins the game's nostalgia factor that KEMCO strives for. Luckily the soundtrack is much better and not only fits the game, but is quite memorable as well!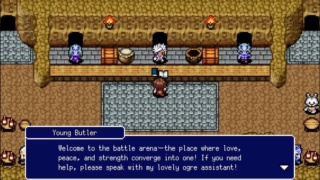 Bottom-Line: With great gameplay, flawless controls, and an excellent soundtrack, Alvastia Chronicles is commendable JRPG that has potential, however a somewhat erratic visual presentation and short story hold the game back quite a bit, though the PSTV compatibility really does help if you plan on purchasing the Vita version of the game. In any case we give Alvastia Chronicles for the PS4 a solid level of recommendation!
~~~~~~~~~~~~~~~~
Score: ★★★★★★★☆☆☆ 7/10
~~~~~~~~~~~~~~~~
~~~~~~~~~~~~~~~~
#Review
#ExeCreate
#KEMCO
#JRPG
#Retro
#PS4
#Vita
#PSN
#Switch
#eShop
~~~~~~~~~~~~~~~~
by Towafan7

on December 1st 2018, 12:45 am
Search in: PS4 PSN Reviews
Replies: 13
Views: 830
~~~~~~~~~~~~~~~~
A Refreshingly Decent Title!
~~~~~~~~~~~~~~~~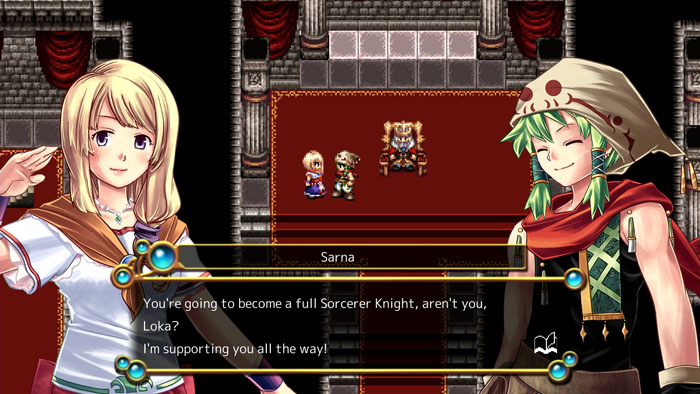 Developed by Hit-Point and published by KEMCO, Chronus Arc is a solid budget RPG in many ways, but is it worth the cost? We think so, continue reading our review to learn why!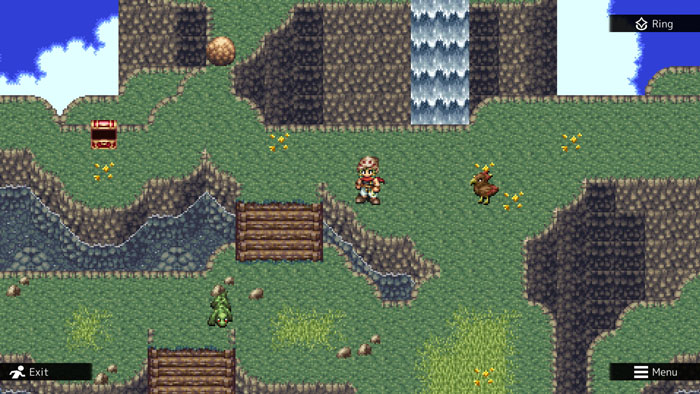 The story in Chronus Arc is relatively straightforward and cliche, however it is still quite enjoyable despite not doing anything in its story that hasn't been done before. The gameplay is also standard JRPG fare which oozes with
retro
goodness, between it's
retro
visuals and soundtrack as well as its turn-based battles and simplistic gameplay mechanics that would feel right at home on a home console of the early to mid 90's! The gameplay is superb, but does lose some points for playing it safe and not doing anything unique, but it's still highly enjoyable!
Item collection plays a big role in Chronus Arc and the game does a good job at making the grind to complete your collection quite fun! The controls in the game are also simple and easy to master as expected from a game that emulates the style of  the 16-bit classics we all know and love!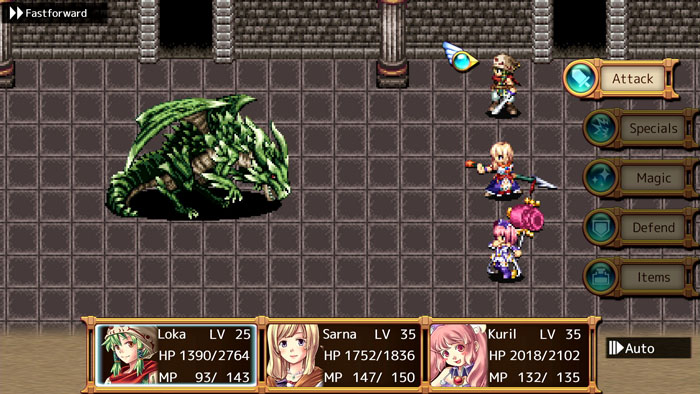 The game can be quite difficult later on though if you've played any major SNES JRPG this will hardly pose any trouble with beating the game! Also Chronus Arc is cross-buy and the Vita version PSTV compatible which is always good in our book!
Visually the game looks great in all of its 16-bit glory and the visual novel style story scenes look nice as well, but it's no SNES Final Fantasy or Chrono Trigger so don't expect it to look as good as the best games of the 90's, regardless it still looks nostalgic and should bring back memories of playing the classics of yesteryear.
The soundtrack on the other-hand is hit and miss and more so miss. It's easily the weakest aspect of the game . The sound effects can be quite annoying as well, so unfortunately overall the audio presentation is below average.
Bottom-Line:

With great visuals, excellent controls, and a good story that is fun to see play out, although it's somewhat cliche and predictable as well as gameplay that's great, but doesn't do anything new or unique, Chronus Arc is a worthy budget JRPG that's worth giving a shot if you enjoy JRPG's from the SNES era, but the annoying sound effects and lacklustre soundtrack do hold the game a bit, but overall we give the game a decent to solid level of recommendation!
~~~~~~~~~~~~~~~~
Score: ★★★★★★¾☆☆☆ 6.75/10
~~~~~~~~~~~~~~~~
~~~~~~~~~~~~~~~~
#Review
#KEMCO
#HitPoint
#PS4
#PSN
#3DS
#eShop
#JRPG
#Retro
~~~~~~~~~~~~~~~~
by Towafan7

on November 12th 2018, 11:36 am
Search in: PS4 PSN Reviews
Topic: Review: STAY (PS4 PSN)
Replies: 17
Views: 929
~~~~~~~~~~~~~~~~
STAY or LIVE With The Consequences of LEAVING!
~~~~~~~~~~~~~~~~
developed by Appnormals Team and published by PQube & Ratalaika Games, STAY is a horror visual novel with
retro
graphics that has you STAY in contact with an unfortunate person who has no clue where he is and how he can escape. This is a rather interesting plot and that alone is worth checking this title out, but there's much more to this game than that. Continue reading our review to learn more!
The story in STAY is pretty wild, an unfortunate man wakes up to unfamiliar surroundings with little more than his computer and the clothes on his back. In this dark place not all is as it seems and it's dangerous to attempt to escape without assistance. Luckily he has you! As the only person in his chatroom you must guide him to safety and stave off insanity from setting in by communication and giving him advice. You'll want to play the game frequently until finished as the game's time will progress without you so things can get pretty dicey if you take a long break between sessions.
The game also features a huge number of extremely difficult puzzles, which we admittedly had to rely on a guide to solve some of the more challenging ones. STAY features multiple endings which adds to the replayability of the game. The game can be exceptionally difficult at times, but is quite short clocking in at under 10 hours in length. The controls are intuitive and easy to learn which is always a good thing and best of all STAY is PSTV compatible!
STAY has a fantastic yet very
retro
art direction with great details, the menues are streamlined and look amazing as well. The soundtrack is pretty solid as well and fits the mood of the game quite nicely!
Bottom-Line:

With a great and unique story, solid gameplay, flawless controls, amazing visuals, and a fitting soundtrack, STAY is a great game worth checking out, but the puzzles in the game feel extremely unfair and difficult at times which really hampers the accessibility of the game, but overall we give STAY for the PS4 and PSTV a solid level of recommendation!
~~~~~~~~~~~~~~~~
Score: ★★★★★★★☆☆☆ 7/10
~~~~~~~~~~~~~~~~
~~~~~~~~~~~~~~~~
#Review
#STAY
#PQube
#RatalaikaGames
#VN
#Retro
#PS4
#PSN
#Vita
#PSTV
~~~~~~~~~~~~~~~~
by Towafan7

on October 9th 2018, 9:04 pm
Search in: Wii U Virtual Console Reviews
Replies: 24
Views: 1020
~~~~~~~~~~~~~~~~
A Baby Splash In Time!
~~~~~~~~~~~~~~~~
Developed and published by Nintendo, Mario & Luigi: Partners in time is the second title in the now long-running Mario & Luigi series and adds to the formula of Superstar Saga with time-travelling shananigans with the now-famous Baby Mario Bros. in tow. Is this zany title as good as its predecessor? We think so and here's why: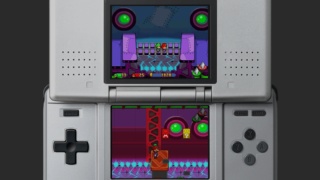 The story in Mario & Luigi: Partners in Time is just as epic as you'd expect from a true to form Mario RPG. Of course there's plenty of humour to be had, but unlike recent Mario RPG's Bowser is not the main focus as an antagonist, much like in Superstar Saga and Paper Mario: The Thousand Year Door there's a cast of refreshingly unique antagonists to tackle which is a breath of fresh air to be quite honest.
the gameplay is revamped from Superstar Saga, there's a time-travelling element, plus the baby bros. join the team, giving you four different allies at your command at once which adds alot of depth to the gameplay formula. Puzzle solving plays a big role in Partners in Time and ctn be challenging at times while the battles are substantially more difficult than those in Superstar Saga.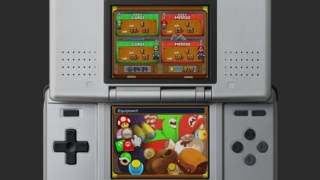 Mario & Luigi: Partners in Time is also quite a long game, clocking in at over 40 hours in length. The controls are also superb which is always a good thing. The audio-visual presentation while simple in nature are quite beautiful and fit the game like a glove, while the soundtrack is far better than the one in Superstar Saga. Overall the game looks and sounds like pure perfection!
Bottom-Line:

With a wacky and highly enjoyable story, superb gameplay, and flawless audio-visual presentation, Mario & Luigi: Partners in Time is the pinnacle of perfection and one of the best DS games we've had the opportunity to play and as such we give the game a perfect level of recommendation!
~~~~~~~~~~~~~~~~
Score: ★★★★★★★★★★ 10/10
~~~~~~~~~~~~~~~~
~~~~~~~~~~~~~~~~
#Review
#Nintendo
#WiiU
#VC
#DS
#Mario
#RPG
#Retro
~~~~~~~~~~~~~~~~
by Towafan7

on December 10th 2017, 2:33 pm
Search in: Vita PSN Reviews
Replies: 14
Views: 1317
~~~~~~~~~~~~~~~~
For The Castle And Glory!
~~~~~~~~~~~~~~~~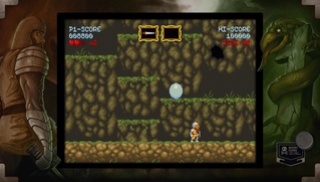 Developed by Locomalito and published by Abylight, Cursed Castilla (Maldita Castilla EX) for Vita is a throwback title that possesses traits and elements of many of the 80's and 90's Arcade greats, such as Ghosts & Goblins, Super Indiana Jones, Rygar, and many more! Is the game worth it though?! We think it's one of the best throwback titles in recent years and here's why: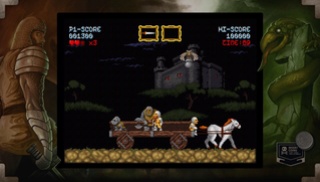 The gameplay in Cursed Castilla is superb to the max, the game is an action-platformer at its core and is not only a nostalgic trip down memory lane, but also provides superior gameplay to that of the titles the game is clearly inspired by! The game is also HARD, and we mean NES HARD! Expect to die alot before learning how to best tackle the game's many challenging stages!
The game has a ton of enemies and challenging bosses to tackle, there are plenty of power ups to be had, but the most interesting aspect of the game are the hazards. Some things that you wouldn't think dangerous are deadly, such as windmill blades in the background. There's even a stage where massive eggs roll by and you can kill them or dodge them, so you decide to dodge them and suddenly you find yourself surrounded by harpy enemies that hatch from those eggs! This clever stage design is just one example of many which really showcases the developer's talent!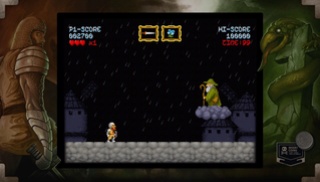 Cursed Castilla is PSTV compatible which is fantastic news! The controls are also easy to learn, but can take awhile to master. The audio-visual presentation is absolutely amazing in a true to history representation of 80's Arcade titles! The chip-tunes are fantastic, the characters and levels look groovy, overall you won't find much better even from the likes of Shovel Knight, though obviously the art-direction is completely different.
Bottom-Line:
With fantastic and challenging gameplay, excellent controls, PSTV compatibility, and nostalgic audio-visual presentation, Cursed Castilla for Vita is one game that no Vita owner should miss out on and because of this, we give the game a nearly perfect level of recommendation!
~~~~~~~~~~~~~~~~
Score: ★★★★★★★★★½ 9.5/10
~~~~~~~~~~~~~~~~
~~~~~~~~~~~~~~~~
#Review
#Abylight
#Locomalito
#Vita
#PSTV
#3DS
#CursedCastilla
#MalditaCastillaEX
#Arcade
#Retro
~~~~~~~~~~~~~~~~
by Gamergy

on August 4th 2016, 8:50 pm
Search in: Latest Nintendo News
Replies: 4
Views: 2721
~~~~~~~~~~~~~~~~~~~~~~~~~~~~~~~~~~~~~~~~~~~~~~~~~~~~~~~~~~~~
October 12th, actually
~~~~~~~~~~~~~~~~~~~~~~~~~~~~~~~~~~~~~~~~~~~~~~~~~~~~~~~~~~~~
In the early 1990s the Nintendo Power magazine published a series of comics featuring Mario and Luigi inspired by the now-classic game Super Mario World. Now the collection of said comics is coming in graphic novel form and will publish on October 12th 2016. If you're a fan of these comics, it should be worth the $14.99 it costs (and right now it's only $10.59!)
You can find the graphic novel here
Source via Nintendo Everything
~~~~~~~~~~~~~~~~~~~~~~~~~~~~~~~~~~~~~~~~~~~~~~~~~~~~~~~~~~~~
#Nintendo
#News
#General
#Retro
#Comics
#NintendoPower
~~~~~~~~~~~~~~~~~~~~~~~~~~~~~~~~~~~~~~~~~~~~~~~~~~~~~~~~~~~~
by Towafan7

on January 20th 2016, 12:04 pm
Search in: Wii U eshop Reviews
Topic: Review: N.e.o. (Wii U eShop)
Replies: 6
Views: 1107
~~~~~~~~~~~~~~~~~~~~~~~~~~~~~~~~~~~~~~~~~~~~~~~~~~~~~~~~~~~~
Asteroids On Steroids!
~~~~~~~~~~~~~~~~~~~~~~~~~~~~~~~~~~~~~~~~~~~~~~~~~~~~~~~~~~~~
Developed and published by Form Up Studios N.e.o. or Near Earth Objects as the game is known as is a love letter to the classic arcade shooter genre and is clearly heavily inspired by the Atari classic Asteroids!
The game does a good job at keeping players entertained with many modes, including an Endless Mode to rack up some incredibly high scores, a classic Arcade Mode with a set number of stages, three lives, and limitless continues and lastly Yolo Mode "You Only Live Once" which is an unforgiving mode where players are only given one life and zero continues to beat the Arcade Mode!
There's not a huge selection of enemies, but the ones that are there are quite varied. The game also features spreadshot and barrier satellite power-ups which will prove to be very useful when the going gets tough!
The controls are fairly good, though it takes a while to get used to. The Off-TV-Play is also a nice feature that we're always glad to see in a game!
Visually the game looks incredible in a
retro
kind of way! Sure the graphics are minimalistic, however the special effects such as neon explosions, flashes, etc. look fantastic! The audio is quite a treat as well, with a fantastic sound-track and superbly
retro
sound effects you'll feel like you're in a 80's/90's arcade!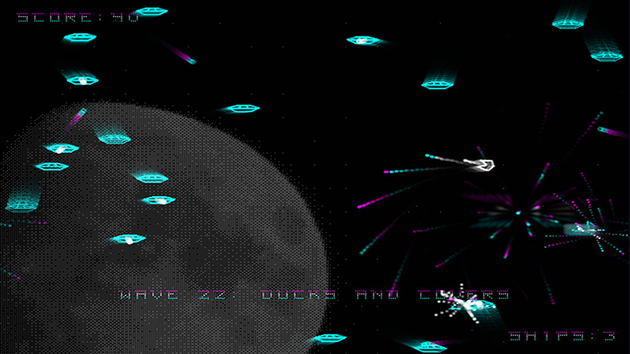 Bottom-Line:
With fantastic gameplay, tons of game modes, and an amazing audio-visual presentation N.e.o. is one fantastic arcade shooter for the Wii U eShop that you shouldn't pass up, and though the controls aren't easy to master, it doesn't ruin the experience in the slightest! Overall we give N.e.o. "Near Earth Objects" a great level of recommendation!
Price: $2.99
~~~~~~~~~~~~~~~~~~~~~~~~~~~~~~~~~~~~~~~~~~~~~~~~~~~~~~~~~~~~
Score: ★★★★★★★★☆☆ 8.5/10
~~~~~~~~~~~~~~~~~~~~~~~~~~~~~~~~~~~~~~~~~~~~~~~~~~~~~~~~~~~~
~~~~~~~~~~~~~~~~~~~~~~~~~~~~~~~~~~~~~~~~~~~~~~~~~~~~~~~~~~~~
#WiiU
#eShop
#Arcade
#Shooter
#Retro
~~~~~~~~~~~~~~~~~~~~~~~~~~~~~~~~~~~~~~~~~~~~~~~~~~~~~~~~~~~~