Search found 2 matches for Discovery
by Towafan7

on January 12th 2016, 12:39 pm
Search in: Wii U eshop Reviews
Replies: 5
Views: 2685
~~~~~~~~~~~~~~~~~~~~~~~~~~~~~~~~~~~~~~~~~~~~~~~~~~~~~~~~~~~~
Discovering Strange New Voxels!
~~~~~~~~~~~~~~~~~~~~~~~~~~~~~~~~~~~~~~~~~~~~~~~~~~~~~~~~~~~~
With Minecraft: Wii U Edition already released how does Noowanda's voxel crafting cousin stack up against its older relative? Continue reading our review to find out!
First off the game emphasises on the creative aspect of the genre so don't expect any survival mode or anything. This is not all bad as the game gives you plenty of tools to be creative. The lack of Off-TV-Play and simplistic use of the Wii U Gamepad is a bigger issue in our opinion.
The size of the biomes is incredibly large compared to Minecraft, though it's supposed to be infinite, we doubt that's actually the case, but it's so huge that chances are, most people will never discover the end of their maps!
The biome creation is somewhat simplistic and there are only three biome types, but each randomly created biome is way different than any other so if you don't like your current biome, just create a new one.
Visually speaking
Discovery
actually seems to be superior to Minecraft: Wii U Edition. The lighting effects and textures both seem more detailed in
Discovery
. The day and night system is also visually impressive.
In-terms of the audio the sound effects are fairly basic, but the soundtrack is nice, mellow, and fits the game well.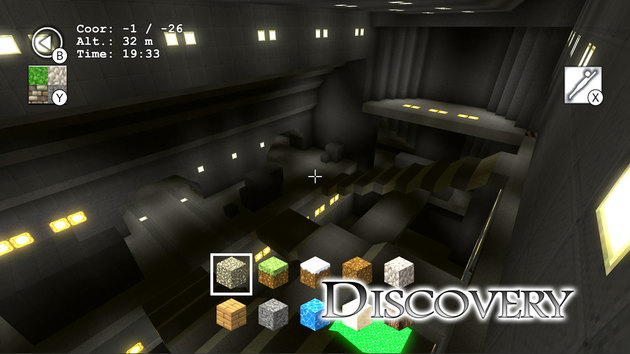 Bottom-Line:
With solid, albeit limited gameplay, excellent visuals, and simple yet effective audio
Discovery
is a decent game that is as expansive and unlimited as the human imagination, however the lack of Off-TV-Play and useful implementation of Gamepad features is a real letdown, however we still feel that this game is quite good, so we give it a solid recommendation!
Price: $6.99

Score: ★★★★★★★☆☆☆ 7/10
~~~~~~~~~~~~~~~~~~~~~~~~~~~~~~~~~~~~~~~~~~~~~~~~~~~~~~~~~~~~
#WiiU
#eShop
#Discovery
#Noowanda
#Art
#Voxels
~~~~~~~~~~~~~~~~~~~~~~~~~~~~~~~~~~~~~~~~~~~~~~~~~~~~~~~~~~~~
by Amufungal

on January 6th 2016, 3:10 pm
Search in: Latest WiiWareWave News
Replies: 5
Views: 1570
~~~~~~~~~~~~~~~~~~~~~~~~~~~~~~~
Promotional Splash of Color!
~~~~~~~~~~~~~~~~~~~~~~~~~~~~~~~
We have teamed up with noowanda to giveaway five North American download tickets for
Discovery
for the Wii U eShop! In return our site will be decked out with a
Discovery
theme until the end of January. Our boss
@Ichigofan
has layed-out the rules for this giveaway.
You must be a member to enter.
You must be at least 13 years of age.
Void where prohibited.
The rules are easy-peasy, just tell us why you want the game in the comment section below to be entered and on Friday 12:00 PM PST five random entrants will win a ticket! It's that easy!
So remember, let us know why you want
Discovery
and you could be one of our lucky winners!
~~~~~~~~~~~~~~~~~~~~~~~~~~~~~~~~~~~~~~~~~~~~~~~~~~~~~~~~~~~~
#Giveaway
#Contest
#Discovery
#WiiU
#eShop
~~~~~~~~~~~~~~~~~~~~~~~~~~~~~~~~~~~~~~~~~~~~~~~~~~~~~~~~~~~~