KeAfan7

Admin

Super Poster!

This member has made a splash by posting over 10,000 messages and comments in our community!

Mega Coinage!

This kind user has earned over 50,000 Coins! Happy posting!
~~~~~~~~~~~~~~~~
Magikarp Splash!
~~~~~~~~~~~~~~~~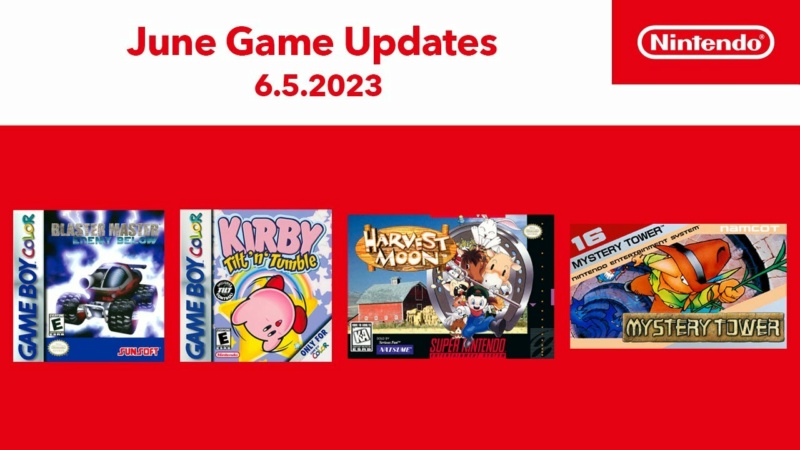 Nintendo has once again shadow-dropped four new retro games onto the base Nintendo Switch Online service today! This group of games are quite varied so there should be something enjoyable for just about everyone! The update brings the following lineup of new titles to the service!
Gameboy/Gameboy Color:
Kirby Tilt 'N' Tumble (Yes Gyroscopic Controls Are Intact On Most Switch Controllers Third Party Ones Included!).

Blaster Master: Enemy Below.

NES:
Mystery Tower (Known As Tower of Babel In Japan) (Japanese Import).

SNES:
That's the full lineup in this new update. Incidentally rumor has it that the N64 app will also be updated with new content this month "We'll let you guys know when or if an official announcement is made!" Finally you can view the update trailer shown below!
What do you think of the latest update to the Nintendo Switch Online library of retro games? What would you like to see released next? As always, be sure to let us know in our comments section below!
~~~~~~~~~~~~~~~~
#News
#NSO
#Retro
#BlasterMaster
#Kirby
#TowerofBabel
#HarvestMoon
#Gameboy
#GBC
#NES
#SNES
~~~~~~~~~~~~~~~~
Last edited by KeAfan7 on June 7th 2023, 4:42 pm; edited 1 time in total
OrionJZed, Kain, Aqua Cherry Blossom and Inoue79 like this post
Permissions in this forum:
You
can
reply to topics in this forum