KeAfan7

Admin

Super Poster!

This member has made a splash by posting over 10,000 messages and comments in our community!

Mega Coinage!

This kind user has earned over 50,000 Coins! Happy posting!
~~~~~~~~~~~~~~~~~~~~~~~~~~~~~~~~~~~~~~~~~~~~~~~~~~~~~~~~~~~~
Kicking It Up On U!
~~~~~~~~~~~~~~~~~~~~~~~~~~~~~~~~~~~~~~~~~~~~~~~~~~~~~~~~~~~~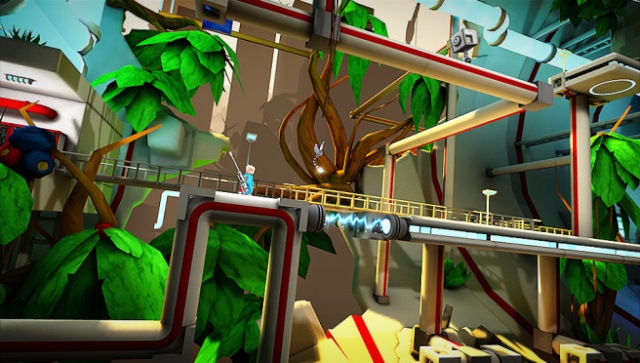 Abstraction Games are currently working on porting two more of their games to the Wii U eShop. The first is Kick & Fennick, which previously released on the Playstation Vita. Here's the official overview of the game:
Official Overview wrote:" Kick & Fennick is a brand new platform adventure about a little boy with a very big gun.

Soon after waking up in a desolate but colorful world, Kick meets a small flying robot named Fennick. When Fennick saves Kick from a menacing guard robot, they find out Fennick's battery is broken. Together, they embark on an adventure to the Core Tower to find Fennick a new energy core.

Besides shooting down enemy robots, Kick can make huge jumps by using his gun's powerful recoil. Jump and shoot your way through 45 levels of collapsed skyscrapers, treadmills, bouncypads, magnets, teleporters and that big guard robot who's never far behind!

Kick & Fennick features colorful 3d graphics, detailed animation, a cinematic camera system and smooth character movement and physics. "
Here's the official trailer for Kick & Fennick below:
Here's the official overview for Devil's Dare:
Official Overview wrote:"Devil's Dare is a 2D zombie beat'em up, supporting up to 4 players to co-op and fight together locally. Being the spritual successor to Bitejacker, Devil's Dare carries the same theme of parodies, pitting classic game heroes against monsters straight out of 90s horror movies.

Devil's Dare doesn't just relies on grinding and leveling up, but instead introduces permadeath to keep players on their toes. With every kill, the player makes some cash, which you can use to purchase upgrades or save it to revive when you're dead. When you run out of cash completely, you are dead for good and it's time to start over again. This is a mechanic inspired by the good old arcade days, where every death meant another penny wasted!

Our main influence were some of Capcom's classics like Alien vs. Predator, Battle Circuit, Final Fight as well as Sega's Streets of Rage Series. So if you were a fans of those, give it a shot. I'm sure you will find something to love in Devil's Dare. "
And finally here's the trailer for Devil's Dare (Below)
What do you think of these two upcoming Wii U eShop titles? As always let us know in our comments section below!
Source: Nintendo Everything.
~~~~~~~~~~~~~~~~~~~~~~~~~~~~~~~~~~~~~~~~~~~~~~~~~~~~~~~~~~~~
#WiiU
#eShop
#Trailers
#KickAndFennick
#DevilsDare
#AbstractionGames
#Nindie
~~~~~~~~~~~~~~~~~~~~~~~~~~~~~~~~~~~~~~~~~~~~~~~~~~~~~~~~~~~~
Permissions in this forum:
You
can
reply to topics in this forum