PrinnyDood
October 27th 2011, 4:17 pm
As for me, I'm going to pick up a 2000 Wii points card tomorrow and plan on getting Castlevania Rebirth for WiiWare and Ironclad for the VC.
SKTTR

Admin

October 27th 2011, 6:00 pm
This is the Top 40 of my list for next WiiWare purchases:

1. Diner Dash
2. Gods vs Humans
3. NyxQuest: Kindred Spirits
4. Robox
5. Military Madness Nectaris
6. Trenches Generals
7. Viral Survival
8. Rage of the Gladiator
9. Toki Tori
10. Flight Control
11. Driift Mania
12. Onslaught
13. FUN! FUN! Minigolf
14. Muscle March
15. Aya and the Cubes of Light
16-20. Strong Bad's Cool Game for Attractive People Episodes 1-5
21. LIT
22. Dive: The Medes Islands Secret
23. Pit Crew Panic!
24. 3D Pixel Racing
25. Sonic The Hedgehog 4: Episode I
26. Zombie Panic in Wonderland
27. Anima: Ark of Sinners
28. Onslaught
29. Space Invaders Get Even
30. Rainbow Islands: Towering Adventure
31. Rubik's Puzzle Galaxy: RUSH
32. Arkanoid Plus!
33. Puzzle Bobble Plus!
34. Mr. DRILLER W
35. Home Sweet Home
36. My Aquarium 2
37. Final Fantasy IV: The After Year
38. My Starry Night
39. Pop
40. Adventure Island: The Beginning

As for VC I'm waiting for Monster World IV (I'm a new fan of the Wonder Boy series since VC), or some pleasant surprises such as Earthbound Zero and Terranigma, or curiosities like N64's Cubivore Doubutso Bancho and Bangaio, and arcade classics such as Killer Instinct.
Andy
October 27th 2011, 6:03 pm
My Aquarium 2 and Final Fantasy IV: The After Year
____________________________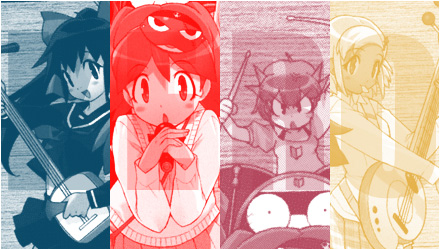 Objection Blaster
October 29th 2011, 1:36 pm
Pokémon Puzzle League and Sin and Punishment
NINTENBRO
October 29th 2011, 3:01 pm
1) TV Show King 2
2) Art Style: Orbient

Permissions in this forum:
You
cannot
reply to topics in this forum