Search found 2 matches for mk8d
by KeAfan7

on November 21st 2022, 11:21 am
Search in: Headline News Stories
Topic: News: Mario Kart 8 Deluxe Booster Course Pass Wave 3 Crosses The Finish Line On December 7th!
Replies: 15
Views: 253
~~~~~~~~~~~~~~~~
Boosting Towards Mid-Race!
~~~~~~~~~~~~~~~~
Nintendo has officially announced Wave 3 of the Mario Kart 8 Deluxe BCP and it's a REALLY good wave featuring London Loop, Berlin Byways, and Merry Mountain from Tour, Rock Rock Mountain and Rainbow Road from Mario Kart 7, Boo Lake from Super Circuit which is the first course in the BCP to utilize the underwater racing mechanic. And the last two courses are Peach Gardens from DS and Maple Treeway from Wii!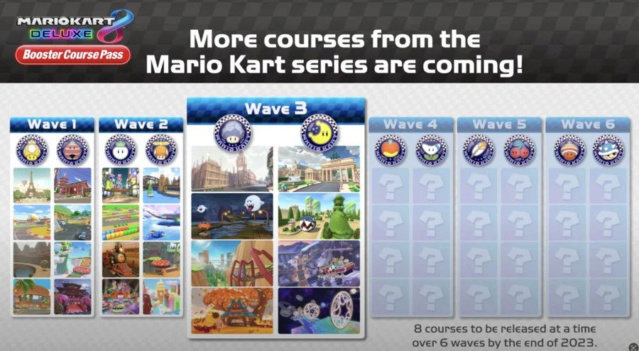 The DLC is scheduled to drop on December 7th globally. What do you think of the courses included in Wave 3? Also what are your hopes for future waves of the DLC? As always be sure to let us know in our comments section below!
~~~~~~~~~~~~~~~~
#DLC
#MK8D
#BCP
#Switch
#eShop
#Retail
#Nintendo
#Mario
#MarioKart
~~~~~~~~~~~~~~~~
by KeAfan7

on July 29th 2022, 12:13 pm
Search in: Headline News Stories
Replies: 6
Views: 1001
~~~~~~~~~~~~~~~~
Boosting Towards Next Week!
~~~~~~~~~~~~~~~~
Nintendo has confirmed that wave 2 of their Booster Course Pass for Mario Kart 8: Deluxe will drop onto the Nintendo eShop globally next Thursday August 4th! There are a few surprises in the next wave including
TWO
courses that are not yet available on Mario Kart Tour including GBA: Snow Land, and the all-new course Sky High Sundae which even has a large anti-grav section. Sky High Sundae will be released soon afterwards on Tour, but will likely be edited as Tour does not possess the anti-grav feature.
You can see all of the included courses in the trailer above! As always be sure to leave us a comment in our comments section below!
~~~~~~~~~~~~~~~~
#News
#Switch
#eShop
#DLC
#MK8D
#BCP
#Nintendo
~~~~~~~~~~~~~~~~