Search found 5 matches for VisualNovel
by Towafan7

on September 9th 2019, 12:19 pm
Search in: PS4 Retail Reviews
Replies: 13
Views: 577
~~~~~~~~~~~~~~~~
Totally Atohkable!
~~~~~~~~~~~~~~~~
Developed by Compile Heart and Sting Entertainment and published by Idea Factory, the latest title by the masterminds responsible for the Neptunia series, Date Alive: Rio Reincarnation for the PS4 brings all three currently released Date Alive titles in one package including the two previously Japanese exclusive PS3 titles! How do these visual novels stack-up to their competition? Continue reading our review to find out the answer to this all-important question!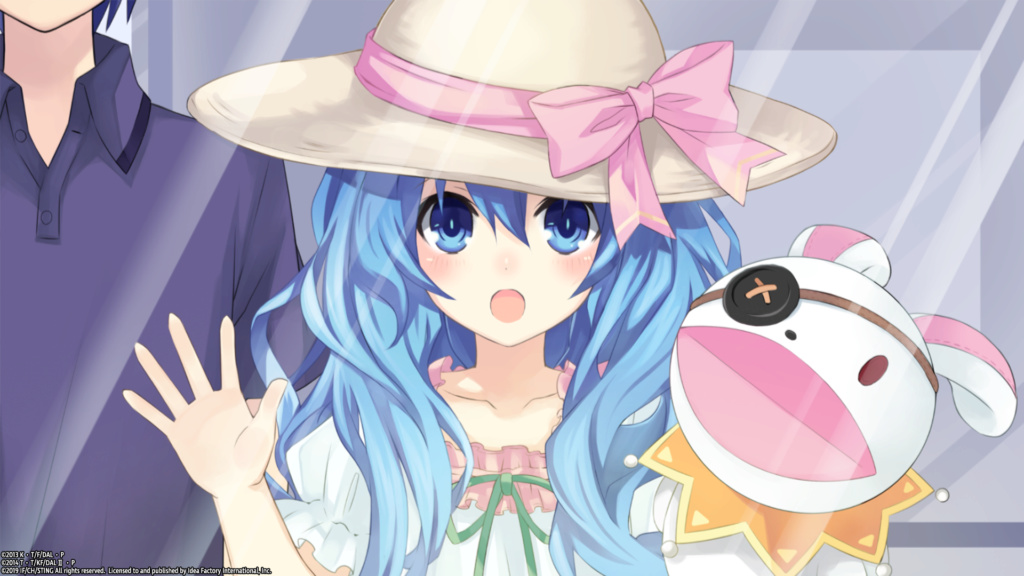 Date Alive: Rinne Utopia (PS3)
The game that started it all! You play the role of a high school boy who has the ability to see spirits, girl-like entities who are living natural disasters who can potentially destroy the world. He also possesses the ability to seal their power by...dating them and making them fall in love?!
Yes it's a bizarre premise, but it works, and works well! It has some hilarious moments with some action and romance as well. It's a self-proclaimed gal-game and is certainly meant for adult males, though there certainly are some female fans of the series as well thanks in no small part to its clever writing and funny dialogue.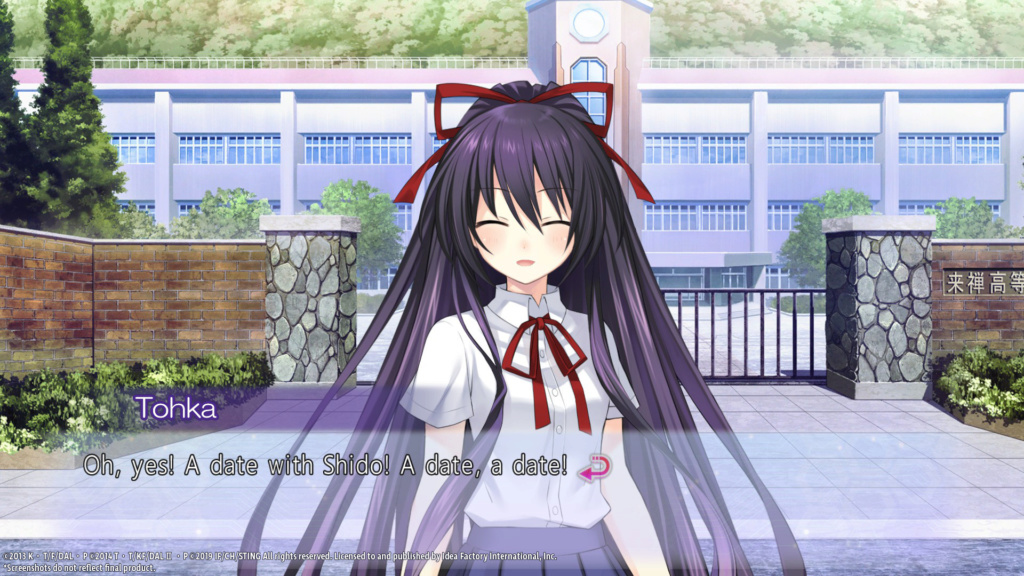 The story is fairly short for a visual novel, however many branching paths make the game take easily 50-60 hours to reach the true ending which is totally worth it in our opinions. Also some super rare events can occur seemingly randomly due to complex flag algorithms which means to earn all story dialogue and CG's in the first Date Alive title to earn the coveted platinum trophy can take upwards of 100 hours to accomplish just in this particular third of the trilogy!
The audio-visual presentation is nothing short of amazing in this game. The art-style is beautiful with absolutely gorgeous character models, good special effects, and detailed world backdrops. The music is also top-notch and almost always fits the mood of the game at any given moment!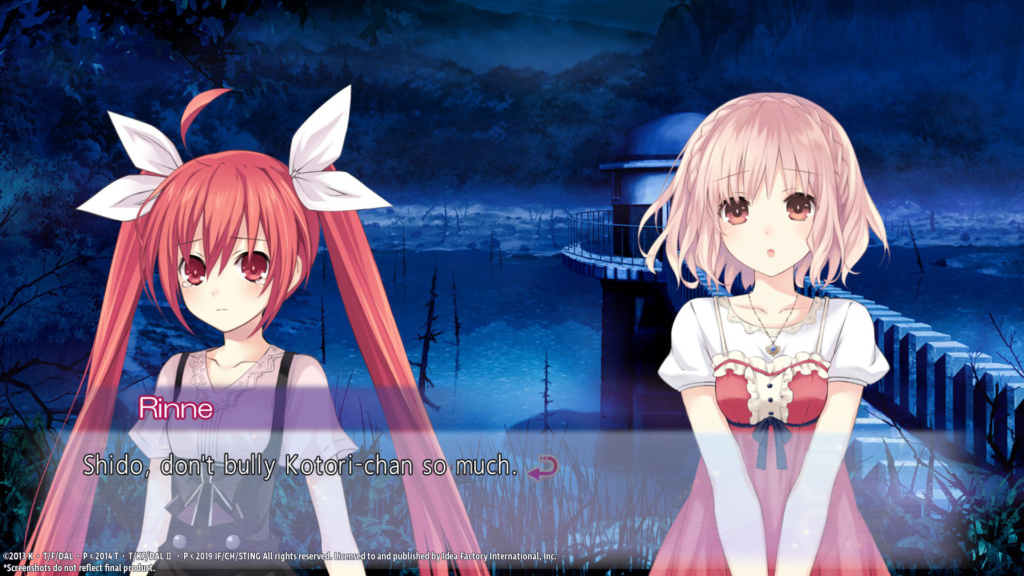 Bottom-Line: With excellent gameplay and an equally good story, a decent amount of content, and an amazing audio-visual presentatio, Date Alive: Rinne Utopia is a superb game that many adult gamers would no doubt thoroughly enjoy and as such we give the game a great level of recommendation!
~~~~~~~~~~~~~~~~
Score: ★★★★★★★★★☆ 9/10
~~~~~~~~~~~~~~~~
~~~~~~~~~~~~~~~~
#Review
#IdeaFactory
#CompileHeart
#StingEntertainment
#VisualNovel
#PS4
#Switch
#PSN
#eShop
#Retail
~~~~~~~~~~~~~~~~
by Towafan7

on October 7th 2018, 1:44 pm
Search in: PS4 Retail Reviews
Replies: 16
Views: 1530
~~~~~~~~~~~~~~~~
A Splash of Humor With Apocalyptic Consequences!
~~~~~~~~~~~~~~~~
Developed by 5pb and published by PQube, Punchline is a visual novel like no other and is not only hilariously zany, but has a great cast of lovable characters. Is this enough to give the game a fantastic score? We think so and here's why:
The story in Punchline is so bizarre, but in a good way. Basically the protagonist gains super powers by looking at girl's panties and tries to save the day during a terrorist attack, but something happens and the bad guy steals his body leaving the protagonist as nothing more than a ghost. It is your job to regain your spirit and eventually your body by haunting a bunch of girls while avoiding panties because for some reason seeing panties twice in a row will cause the world to come to an end.
The characters are really cool and likable. You will notice alot of character development over the course of the game and by the end you'll love the entire cast of characters. The plot is also surprisingly good despite being silly as heck which is fantastic news!
The gameplay is relatively straightforward, you must use your limited powers as a ghost to manipulate the environment around you, but at first you'll only be able to move or knock-down light items, however once you start gaining back more of your spirit you'll be able to bang on doors and  windows, and manipulate heavy objects as well as possess the girls you are trying to interact with. Beware however as some actions will have dire consequences. The game is also not kid-friendly so make sure to not play the game where your youngsters might witness something you wouldn't want them to see.
The controls are flawless, but since the game is a visual novel it wouldn't bode well if its controls were cumbersome. The game is fairly lengthy and can take 25-30 hours to beat and 200+ hours to see everything the game has to offer.
The audio-visual presentation is a mixed bag as the animated cut-scenes are gorgeous and the soundtrack is superb, but the voice acting is only passable, while the in-game visuals such as character models look very dated.
Bottom-Line:

With great gameplay, a goofy yet highly enjoyable story, excellent controls, and great animation, Punchline is an excellent visual novel that can be highly enjoyable at times Punchline is well worth picking up if you're a fan of the genre. Dated visuals and dull voice acting drag the game down a bit, however the soundtrack makes up for that. Overall we give Punchline a good to great level of recommendation!
~~~~~~~~~~~~~~~~
Score: ★★★★★★★★½☆ 8.5/10
~~~~~~~~~~~~~~~~
~~~~~~~~~~~~~~~~
#Review
#Punchline
#5pb
#PQube
#VisualNovel
#PS4
#Vita
#Retail
~~~~~~~~~~~~~~~~
by Towafan7

on March 30th 2018, 11:11 am
Search in: Vita Retail Reviews
Replies: 17
Views: 1404
~~~~~~~~~~~~~~~~
Your Love For This Series Shall Henceforth Blossom or Something!
~~~~~~~~~~~~~~~~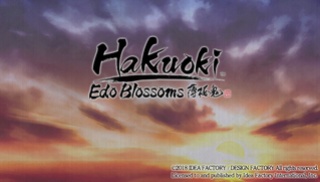 Developed and published by Idea Factory, Hakuoki: Edo Blossoms is an otome visual novel which means the story-telling is from a female's point of view. If you're some burly dude you might just immediately write this game off, however the Hakuoki series is also known for it's action and sometimes gory scenes which is a stark contrast from most visual novels from the otome sub-genre and because of this there's plenty of reasons for even men to dive into this series though we admit it's certainly not for everyone. Read the rest of our review to find out if this game is for you!
First-off Hakuoki: Edo Blossoms has several branching story-lines and different branches within those branches so be prepare to play the game dozens of times in order to see everything the game has to offer. As you'd expect the story takes center stage as this is a visual novel after all, however the game is unique in the way it weaves together action, violence, and romance in equal portions, it certainly keeps things entertaining and rarely gets boring. The game is also PSTV compatible which is always a good thing in our opinions!
The story can at times differ greatly depending on which character's story you choose to play which is great, though there are some inconsistencies at times which is unfortunate, however the overall story was quite a thrill to play through! The audio-visual presentation is amazing in Hakuoki: Edo Blossoms as the backgrounds and characters are detailed and absolutely gorgeous to look at and the music is also top-notch and fits the mood and settings of the game perfectly!
Bottom-Line:
With an excellent story that has a ton of replayability and a flawless audio-visual presentation, Hakuoki: Edo Blossoms is an excellent visual novel from start-to-finish and will entertain a wide range of people due to its variable storytelling that ranges from action/adventure, to romance, and even horror. The only drawback are a few inconsistencies in the story, but overall the game is a fantastic visual novel that we highly recommend!
~~~~~~~~~~~~~~~~
Score: ★★★★★★★★★☆ 9/10
~~~~~~~~~~~~~~~~
~~~~~~~~~~~~~~~~
#Review
#IdeaFactory
#VisualNovel
#Otome
#Vita
#PSTV
#Retail
#Mature
~~~~~~~~~~~~~~~~
by Towafan7

on October 8th 2017, 12:24 am
Search in: Vita Retail Reviews
Replies: 25
Views: 2338
~~~~~~~~~~~~~~~~
Glorious Murder-Fest!
~~~~~~~~~~~~~~~~
Developed by Spike Chunsoft and published by Nis America, Danganronpa V3 is a visual novel crime-solving game where the protagonist and 15 other characters are forced into a killing game and must kill to survive long enough to solve an even bigger mystery that is keeping the main character and the others from escaping the madness. Is the game worth your time and money? We think so and here's why!
Danganronpa V3, follows the same formula as the previous titles in the series with a few new twists, however this game's story is leagues ahead of its predecessors with great character development and a plot-twist at the end of chapter one that you'll never see coming.
As always the game allows you to socialize with the group of 16 new characters and build a relationship with them, and then one member will get killed forcing you to solve the mystery through an investigation, followed by a class trial. If you guess wrong it's game over. All of this occurs while trying to find a way to escape with as many of the protagonist's newfound friends as you can!
The characters are all quite fantastic this time around with quirky and in some cases bizarre personalities. As always however, Monokuma takes center stage and often derails conversations and instigates violence and this time he's joined by his five cubs. The crimes are much more clever and thought out in V3 than in previous titles in the series which is fantastic for any would-be crime solving sleuths, however it does make the game a good deal more difficult as a result.
The real heart of the game are the class trials which can be quite hectic and ridiculously difficult at times especially if you suffer from any sort of eyesight issues, that said the whole trial system is brilliant and is done in the style of a shooting gallery. The game does a great job explaining the rules and controls of the different phases of the trial and we suggest you give them a thorough reading before starting each phase because forgetting mid-trial can easily lead to a game over.
The game is absolutely massive as it took us more than 60 hours to complete, which was quite unexpected to be honest. The controls in the game are also superb, but will likely take a half an hour or so to get used to for most players.
The audio-visual presentation of the game is nothing short of breathtaking, with manga-like story scenes, hand-drawn characters and backgrounds, as well as a great use of colors to give the game a masterful art direction. The game looks just as good on the big-screen via PSTV. Also the game's soundtrack is equally as good with a wide variety of tunes that set the mood of the game perfectly. The voice acting is also top-notch, but we highly recommend downloading the free high quality audio pack from PSN for the best audio experience.
Bottom-Line:
With a superb story and gameplay, a ton of content, and a nearly flawless audio-visual presentation, Danganronpa V3: Killing Harmony is one of the best visual novels we have played yet and if you're a fan of mystery/crime solving or visual novels in-general we highly recommend purchasing this game. However if that isn't your cup of tea then you should probably pass on this game. Anyways, we give Danganronpa V3: Killing Harmony for the Vita a nearly perfect level of recommendation!
~~~~~~~~~~~~~~~~
Score: ★★★★★★★★★½ 9.5/10
~~~~~~~~~~~~~~~~
~~~~~~~~~~~~~~~~
#Review
#Chunsoft
#NisAmerica
#VisualNovel
#Crime
#Mystery
#Vita
#PSTV
#Gaming
~~~~~~~~~~~~~~~~
by Towafan7

on March 2nd 2016, 1:27 pm
Search in: Latest Nintendo News
Topic: eShop: Parascientific Escape: Cruise in the Distant Sea Will Be Hitting The 3DS In North America And Europe Tomorrow!
Replies: 1
Views: 1099
~~~~~~~~~~~~~~~~~~~~~~~~~~~~~~~~~~~~~~~~~~~~~~~~~~~~~~~~~~~~
Visual Novel x Adventure!
~~~~~~~~~~~~~~~~~~~~~~~~~~~~~~~~~~~~~~~~~~~~~~~~~~~~~~~~~~~~
Circle Entertainment has announced through a PR email that their 3DS title Parascientific Escape: Cruise In The Distant Sea will be hitting the North American and European 3DS eShops tomorrow! The game looks to be a visual novel with heavy adventure genre elements throughout the game! Here's the official overview of the game:
Overview wrote:Hitomi Akeneno is a 16 year old high school student with a little secret - she has not one, but two psychic powers.

After receiving an invitation, she boards a luxury cruise ship with her friend, Chisono Shio. As soon as she enters a suite room, a loud explosion sounds…and she finds herself stuck, unable to get out. Is this an accident? Or something far more sinister…?

The only way to find out is to escape, with the help of her powers.

Are you looking forward to this upcoming 3DS title? What did you think of the trailer for this game? Be sure to let us know in our comment section below!
~~~~~~~~~~~~~~~~~~~~~~~~~~~~~~~~~~~~~~~~~~~~~~~~~~~~~~~~~~~~
#3DS
#eShop
#Trailer
#CircleEntertainment
#VisualNovel
#Adventure
#Survival
~~~~~~~~~~~~~~~~~~~~~~~~~~~~~~~~~~~~~~~~~~~~~~~~~~~~~~~~~~~~