Search found 2 matches for Splatoon
on March 11th 2018, 6:43 pm
Search in: Latest Nintendo News
Replies: 10
Views: 1217
~~~~~~~~~~~~~~~~
Presented Directly To You!
~~~~~~~~~~~~~~~~
Hi, there gamers, Bre here with a whole lot of good coming at you from Nintendo themselves! As most of you know, recently Nintendo posted a Nintendo direct with this came so much awesome news! Let's start at the beginning with 3DS news and coming soon:


new Warioware Gold – bringing some of your favorite old mini games along with new ones via your favorite bad guy Wario! This game is being brought to you by the 3Ds and includes all your favorite characters from the previous ones, though some are rocking new styles! This game will keep you on your toes and quick thinking when it launches on: August 3, 2018!


Next up on our amazing game list is one that is a cross of post-apocalyptic style races in "Dillon's Dead-heat Breakers"! In this game you will defend the frontier, as a red flash character named "Dillon." Multiplayer allows fun with friends in this game, as they join in as gunners to help you on your mission! Can't wait to try this game? A demo version will launch on May 10, 2018 with the full game becoming available on May 24, 2018!


Remember when the question "Are Mario, Luigi, and Bower better together" was answered by a previous 3D game with your favorite brothers? Well now we're taking on that question again with the new game "Mario and Luigi: Bowsers Inside Story and Bower Junior's Journey." This game will take you into the story with your favorite two brothers trying to find a cure for the blorps that is threatening the mushroom kingdom. The two-team duo though have been swallowed by Bowser and must fight to find their way out and save the kingdom. This game gives you the opportunity though not only to play as the brothers, but Bowser too!  Then on top of all that you get to see what goes on behind the scenes with Bower Jr as you play in his eyes and his story! This game launches to the 3DS sometime in 2019!


The last major game that Nintendo has given us on the 3Ds this direct is a twist on a favorite character from one of our childhood tv shows! Detective Pikachu stars none other than Pikachu himself trying to solve the case of why the Pokémon have went wild and broke the peace between them and humans. This Pikachu though is a bit different from the other, he's rough and has a bit of mouth. The cool thing about this game is we get a new amiibo designed for this game and is even bigger than the rest! The game and amiibo are available for pre-purchase right now, and launches March 23, 2018!


The last game we have announced is a remake of a classic tale, "Luigi's Mansion" is being brought to the 3Ds by Nintendo! This game was first released on the game cube, and everyone loved it! Nintendo is not giving us a more high def remake, and we can't wait to play it! This game will launch sometime this year!


Now onto the switch titles:

Kirby Star Allies brings a new twist to the classic game of Kirby! You and your friends can battle it out as Kirby and his friends and take on enemies together. Characters such as King Dede, Meta Knight and many more! Friends will be released in DLC throughout the year too! The demo for this game is already out and available via the e-shop! The full game itself will launch March 16, 2018!


Dark Souls fans can rejoice as the game has been announcing to be coming to the Switch very soon, but the new content that we got is very sweet. The Nintendo direct brought us the news of an amiibo coming out soon for the game! As if that wasn't enough, before the game launches there will be a network test giving players new and old to have a chance to test the game before it launches! Dates for the network test will come soon!! The full game and amiibo will be available "May 25. 2018!"


Next up we got a classic game with some new twists and friends joining the game in "Mario Tennis Aces!" This game is a classic having versions released onto many systems, but the switch version is bringing in all the fun of multiplayer, portability, and strategy into one game! You can play as your favorite Mario character and take on matches using things such as zone shots, blocks, and trick shots! Find the perfect combination of these and more when the game launches on "June 22, 2018!" Oh yeah, this game comes with story mode also!


Okay so a few months ago Sony launched their high def remastered version of their classic game "Crash Bandicoot", and us Nintendo fans were left bummed because we were left out on this game. Be bummed no more though Nintendo fans, as this game is coming to the Switch in "Crash Bandicoot the N'sane Trilogy" which launches July 20, 2018!"


Some other games we can look forward to on the switch and 3DS include: Undertale, Octopath Travelers including a special edition version, Sushi Striker, Hyrule Warriors Infinitive Edition and many more!


Oh, there is one thing we been dying to share with you from our friends in the Squid Research lab themselves! There is a new agent in town, and they don't seem to be like the others. This agent comes to us from the Octolings themselves and is here to help us squids in a whole new world and adventures. The Splatoon DLC "Splatoon Octo Expansion will launch on: Summer 2018! With this comes an update that will feature new gear, and once you beat the story mode on this expansion you and friends can choose to stay true to squids or be an octoling yourself! Pre-order is up now, and if you do pre-order you will get some sweet gear just for doing so!


Oh wait, we just got some breaking news Nintendo fans! This one Switch players have been waiting on and predicting for a bit now and finally it has been answered!  Super Smash Brothers is coming to the Switch brining in your favorite squid kid to the fight! We don't have an official release date for the game yet, but the game will be out sometime this year!


There are so many amazing games coming to us this year from Nintendo, so be prepared for loads of fun and loads of sleepless nights gamers! As always keep on gaming, and talk to you soon!

~~~~~~~~~~~~~~~~

#NintendoDirect #Switch #3DS #Smash #Splatoon #Dillon #WarioWare #MarioTennis #Gaming

~~~~~~~~~~~~~~~~
by Towafan7

on October 22nd 2017, 12:07 pm
Search in: Switch Reviews
Replies: 17
Views: 1179
~~~~~~~~~~~~~~~~
Squids or Kids Too!
~~~~~~~~~~~~~~~~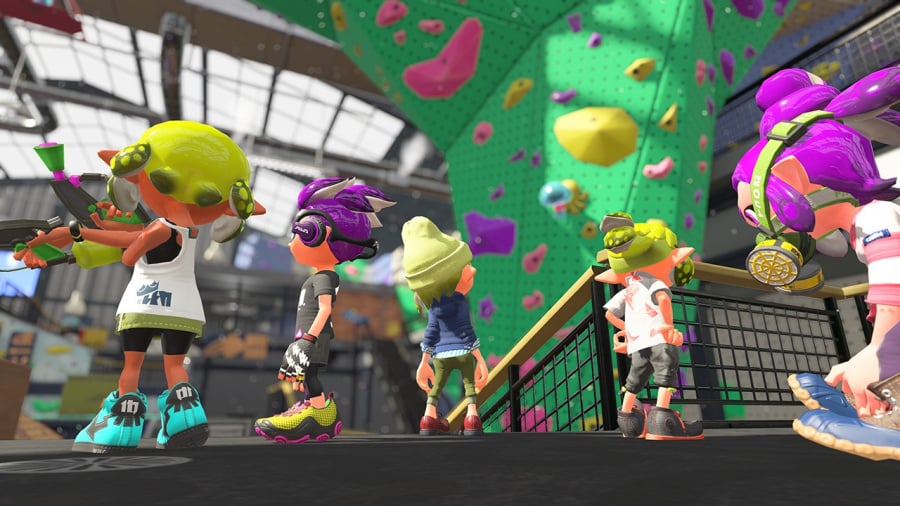 Developed and published by Nintendo,
Splatoon
2 is the sequel to the fairly popular Wii U shooter
Splatoon
which ended up being one of the top-selling games on the ill-fated dual-screen home console. Does this sequel hold a candle to its predecessor? Continue reading our review to find out!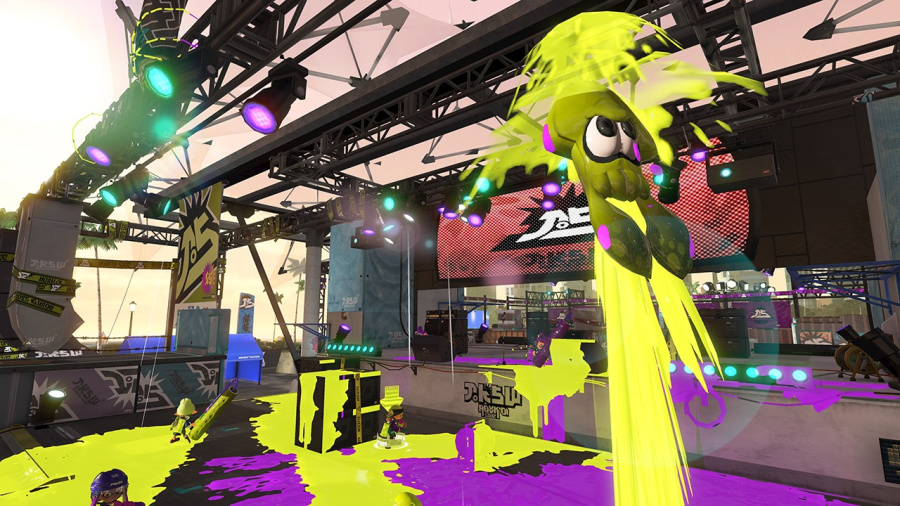 Arguably the weakest aspect of the original
Splatoon
title that released on the Wii U was the single player Hero Mode which had only a handful of short stages that were too similar to one-another and were fairly easy to beat. The whole mode could be finished within an hour or two, but luckily Hero Mode in
Splatoon
2 is much more robust with longer, more difficult stages, and much more variety to the tasks. You can easily spend 10-20 hours in the mode this time around which is fantastic news for any squid!
The gameplay in
Splatoon
2 is mostly the same as its predecessor, however a few new techniques have been added such as a power shield to guard against certain attacks and of course new weapons. Multiplayer is as fun as you'd expect, however we did experience major instability and frequent disconnects while playing online which wasn't a problem with the original title on Wii U.
Salmon Run is a fun and challenging mode that will really test your mettle and can earn you some good equipment should you do well at the mode! The controls are good, but ironically the original
Splatoon
was much better in this regard. You'll find out why in our review of
Splatoon
(Wii U Retail) which will be going live early next month.
There are alot of rehashed stages alongside new ones, unfortunately alot of the old stages have been simplified and many good hiding spots in those stages have been removed which is a shame. Splatfests are the main attraction in this series and are basically a competitive poll where you vote for your favorite poll option which will basically become your team and people on both teams splat it out to prove who is top squid in the arena!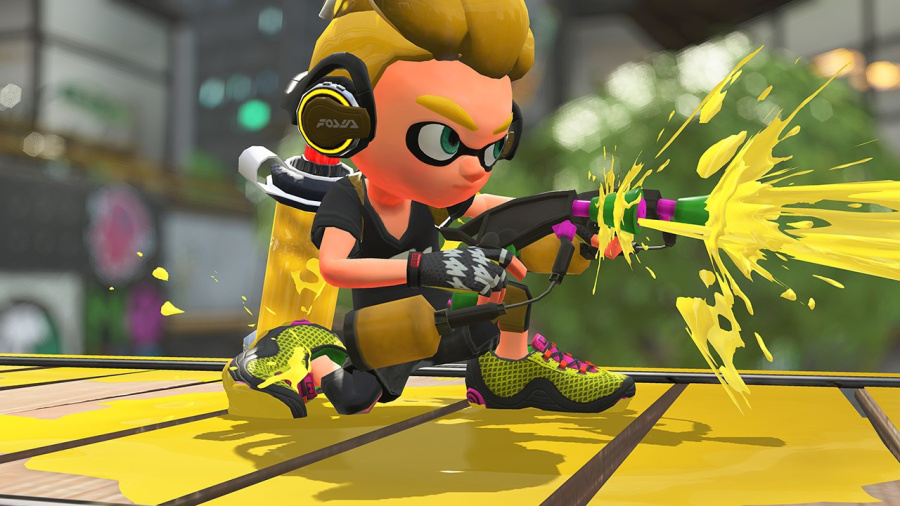 The major drawback of
Splatoon
2 and the Nintendo Switch in-general is the lack of voice chat which can only be done if you have a mobile device that is compatible with Nintendo's voice chat app for Switch which is just insane in our opinions. Sure almost everyone in Japan has a mobile device, but elsewhere the numbers are as low as 35% -40% which means that depending on region there will be large groups of players online who won't be able to strategise with their team members which could give certain teams a clear-cut advantage.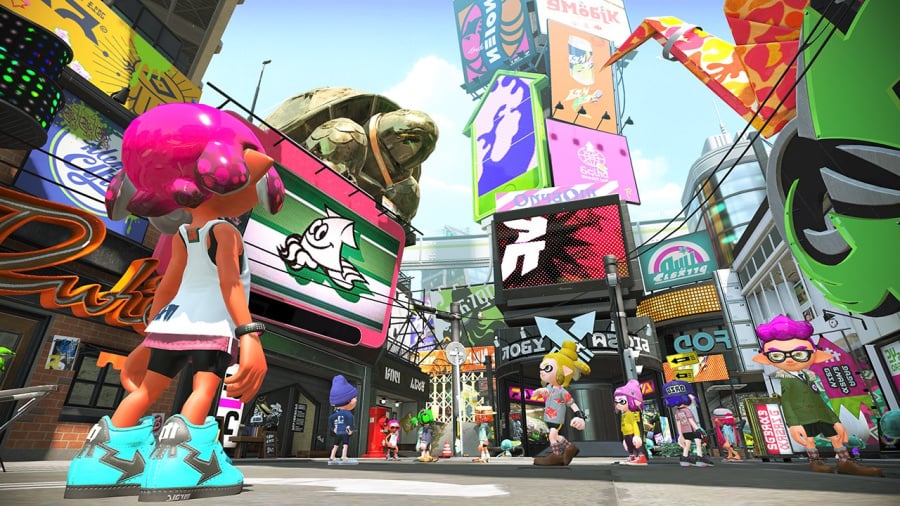 Visually the game looks great with a better resolution than the previous game in the new series, however we did notice that in certain returning stages there were certain details missing that made them seem less impressive. The upside is that you'd likely miss these details during a heated match, but it still is a disappointing downgrade. The soundtrack on the other hand is just as good as the first game's and the Squid Sisters music videos are just as fun to watch and listen to which will be music to every squid's ears we're sure!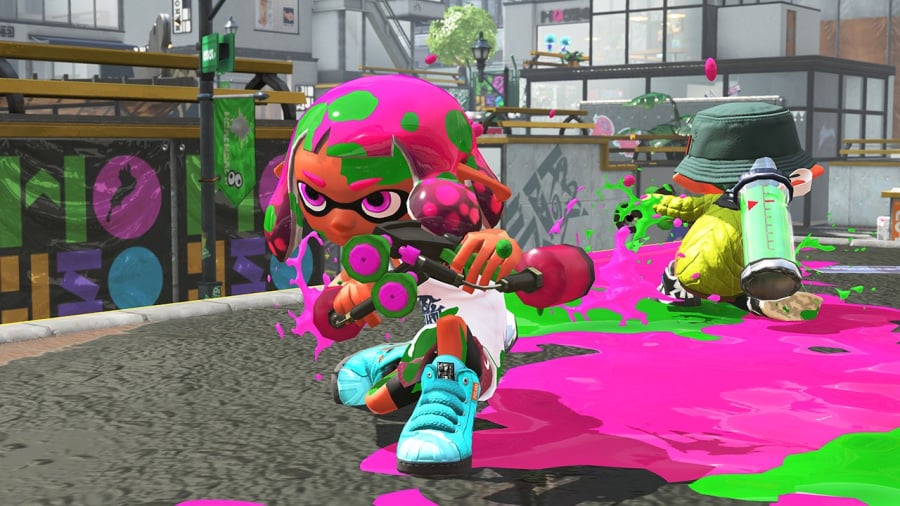 Bottom-Line:
With excellent gameplay, solid controls, fantastic single player and multiplayer modes, and a flawless soundtrack,
Splatoon
2 is a game that any Switch owner should thoroughly enjoy, however downgraded returning stages that are less detailed and are missing many hiding spots, as well as the lack of actual in-game voice chat options really hurt the game's overall score, but regardless we give
Splatoon
2 a good level of recommendation!
~~~~~~~~~~~~~~~~
Score: ★★★★★★★★☆☆ 8/10
~~~~~~~~~~~~~~~~
~~~~~~~~~~~~~~~~
#Review
#Nintendo
#Switch
#FPS
#Splatoon
#Gaming
~~~~~~~~~~~~~~~~