Search found 2 matches for Smash
on January 15th 2019, 9:06 pm
Search in: Switch Reviews
Replies: 35
Views: 1496
~~~~~~~~~~~~~~~~
Smashing Fun!
~~~~~~~~~~~~~~~~
The long-anticipated wait for the game everyone's been talking about is finally over! Super
Smash
Brothers Ultimate is finally here, and we got all the fun tidbits for you, along with the down sides to the game. I remember back when Super
Smash
Brothers Ultimate was first officially announced the whole Nintendo fan was so pumped for this game! As time grew closer, and we all waited in anticipation for the game to be out, little snippets began coming out giving us glimpses and previews into the game without spoiling the game itself. Fast forward some, and now we're here the game in hands and time to play.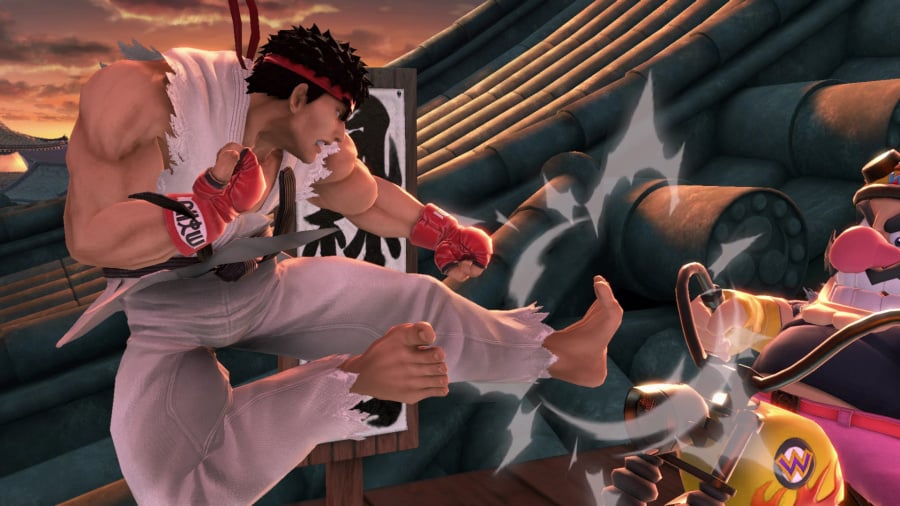 The day this game came out I went out personally after work and picked the game up at my local store. I couldn't wait to get home and play the story mode/battle my boyfriend in the game. Now I love playing this game, and the upsides include a wide variety of characters from all our favorite game worlds such as: Super Mario Brothers, Fire Emblem, Kirby, and more! Then came the announcement of new characters from the newest games that had taken over our hearts from Nintendo such as: Inklings from Splatoon!
Then there's the return of some of our favorite classic fighters from past
Smash
games such as: Ice Climbers, Fox, and many more! The roster for this game is pure amazing and brings in a few new lovable characters even such as: Isabelle from Animal Crossing, Piranha Plant from Super Mario, and shadow fighters such as Daisy or Dark Pit! This game has a fighter for every Nintendo fan's choosing, and with five more to come the excitement is building up even more!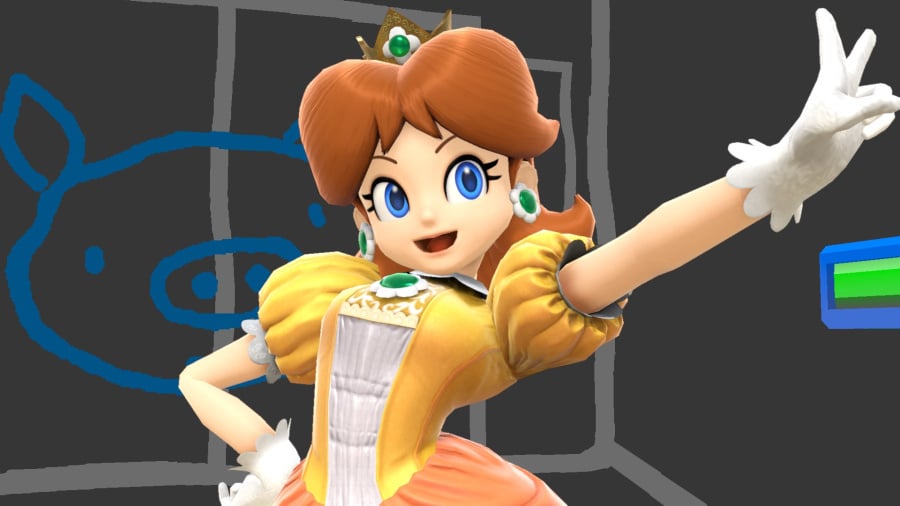 The next positive to this game that I want to bring up is the selection of stages and music have become even larger! We even received some new stages including the beloved "Moray Towers" from Splatoon bringing more lands to wreak havoc on with your friends while slapping each other around for the sake of a good time! In fact, there are over 100 stages to select from taking you to countries and lands both near and far in this game!
Now for the main positive to this game the amazing story mode that comes within the game called "World of Light." You start out as Kirby being the only character to not be wiped out when the land gets taken over by master hand, and his army of evil hands. From here you must explore the towns/areas around you to defeat the evil shadow forms of your friends that have overtaken their bodies and beat them to bring your friends back to the light. As you travel through your battle you encounter your friends some being the main characters, and others side characters called "spirits" that can enable special abilities that can will help you along your journey to bring all your friends back, and defeat whatever master hand's evil plan may be before he can put the plan into action fully! It's up to you and Kirby to bring back the light to the "World of Light!"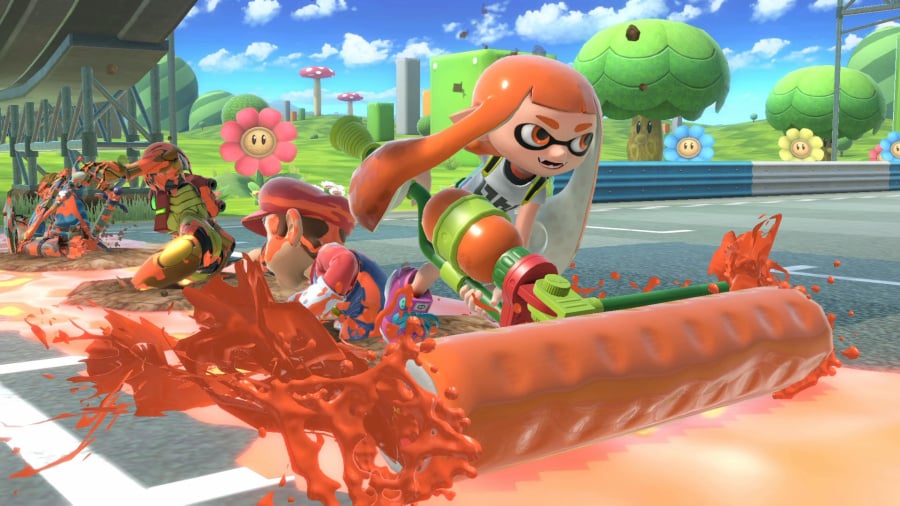 This game seems to have it all from amazing characters, amazing stages, an amazing storyline and music, to the amazing graphics to go along with all of this! Though there are some downsides to any game and one major one that I've found comes when you are playing multiplayer! Once in online mode you can choose to
smash
or spectacle, if you choose to
smash
you then can choose quickplay or arena's, in quick play you can choose to go solo or do co-op with a local friend which is great and ensures to bring a good time to any party!
The downside comes if you choose arena mode, in which you can either join a friend's arena or make your own for the fun! Once you are inside the arena you choose your character and set up, but you can only play one player inside arena there is no option for local or online co-op in arena mode. This is a downfall as if you have two people together and then want to play with online friends you must take turns battling because there is no other option right now. Will this be fixed in the future? It's hard to say, but I know that I sure hope so.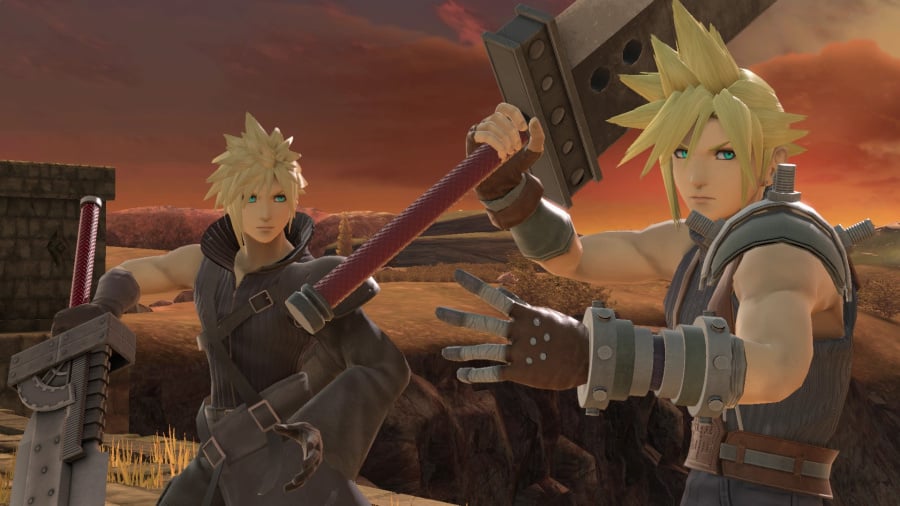 Wrapping this all up here are the key notes for this game:
Pros:
Wide roster of characters and stages, wide selection of music, great graphics, and makes fun for most parties!
Cons:
Multiplayer is limited to quickplay for now, and controls can be a bit tricky compared to past games
Some things we did not touch on but may be cool to know:
- Spirits can be used in multiplayer if wanted
- There is an amazing story mode
- Five new fighters are still to come but must be paid for via DLC and only one has been officially announced so far!
~~~~~~~~~~~~~~~~
Score: ★★★★★★★★★☆ 9/10
~~~~~~~~~~~~~~~~
~~~~~~~~~~~~~~~~
#Review
#Nintendo
#PlatformFighter
#Smash
#Switch
#Retail
~~~~~~~~~~~~~~~~
on March 11th 2018, 6:43 pm
Search in: Latest Nintendo News
Replies: 10
Views: 1199
~~~~~~~~~~~~~~~~
Presented Directly To You!
~~~~~~~~~~~~~~~~
Hi, there gamers, Bre here with a whole lot of good coming at you from Nintendo themselves! As most of you know, recently Nintendo posted a Nintendo direct with this came so much awesome news! Let's start at the beginning with 3DS news and coming soon:


new Warioware Gold – bringing some of your favorite old mini games along with new ones via your favorite bad guy Wario! This game is being brought to you by the 3Ds and includes all your favorite characters from the previous ones, though some are rocking new styles! This game will keep you on your toes and quick thinking when it launches on: August 3, 2018!


Next up on our amazing game list is one that is a cross of post-apocalyptic style races in "Dillon's Dead-heat Breakers"! In this game you will defend the frontier, as a red flash character named "Dillon." Multiplayer allows fun with friends in this game, as they join in as gunners to help you on your mission! Can't wait to try this game? A demo version will launch on May 10, 2018 with the full game becoming available on May 24, 2018!


Remember when the question "Are Mario, Luigi, and Bower better together" was answered by a previous 3D game with your favorite brothers? Well now we're taking on that question again with the new game "Mario and Luigi: Bowsers Inside Story and Bower Junior's Journey." This game will take you into the story with your favorite two brothers trying to find a cure for the blorps that is threatening the mushroom kingdom. The two-team duo though have been swallowed by Bowser and must fight to find their way out and save the kingdom. This game gives you the opportunity though not only to play as the brothers, but Bowser too!  Then on top of all that you get to see what goes on behind the scenes with Bower Jr as you play in his eyes and his story! This game launches to the 3DS sometime in 2019!


The last major game that Nintendo has given us on the 3Ds this direct is a twist on a favorite character from one of our childhood tv shows! Detective Pikachu stars none other than Pikachu himself trying to solve the case of why the Pokémon have went wild and broke the peace between them and humans. This Pikachu though is a bit different from the other, he's rough and has a bit of mouth. The cool thing about this game is we get a new amiibo designed for this game and is even bigger than the rest! The game and amiibo are available for pre-purchase right now, and launches March 23, 2018!


The last game we have announced is a remake of a classic tale, "Luigi's Mansion" is being brought to the 3Ds by Nintendo! This game was first released on the game cube, and everyone loved it! Nintendo is not giving us a more high def remake, and we can't wait to play it! This game will launch sometime this year!


Now onto the switch titles:

Kirby Star Allies brings a new twist to the classic game of Kirby! You and your friends can battle it out as Kirby and his friends and take on enemies together. Characters such as King Dede, Meta Knight and many more! Friends will be released in DLC throughout the year too! The demo for this game is already out and available via the e-shop! The full game itself will launch March 16, 2018!


Dark Souls fans can rejoice as the game has been announcing to be coming to the Switch very soon, but the new content that we got is very sweet. The Nintendo direct brought us the news of an amiibo coming out soon for the game! As if that wasn't enough, before the game launches there will be a network test giving players new and old to have a chance to test the game before it launches! Dates for the network test will come soon!! The full game and amiibo will be available "May 25. 2018!"


Next up we got a classic game with some new twists and friends joining the game in "Mario Tennis Aces!" This game is a classic having versions released onto many systems, but the switch version is bringing in all the fun of multiplayer, portability, and strategy into one game! You can play as your favorite Mario character and take on matches using things such as zone shots, blocks, and trick shots! Find the perfect combination of these and more when the game launches on "June 22, 2018!" Oh yeah, this game comes with story mode also!


Okay so a few months ago Sony launched their high def remastered version of their classic game "Crash Bandicoot", and us Nintendo fans were left bummed because we were left out on this game. Be bummed no more though Nintendo fans, as this game is coming to the Switch in "Crash Bandicoot the N'sane Trilogy" which launches July 20, 2018!"


Some other games we can look forward to on the switch and 3DS include: Undertale, Octopath Travelers including a special edition version, Sushi Striker, Hyrule Warriors Infinitive Edition and many more!


Oh, there is one thing we been dying to share with you from our friends in the Squid Research lab themselves! There is a new agent in town, and they don't seem to be like the others. This agent comes to us from the Octolings themselves and is here to help us squids in a whole new world and adventures. The Splatoon DLC "Splatoon Octo Expansion will launch on: Summer 2018! With this comes an update that will feature new gear, and once you beat the story mode on this expansion you and friends can choose to stay true to squids or be an octoling yourself! Pre-order is up now, and if you do pre-order you will get some sweet gear just for doing so!


Oh wait, we just got some breaking news Nintendo fans! This one Switch players have been waiting on and predicting for a bit now and finally it has been answered!  Super Smash Brothers is coming to the Switch brining in your favorite squid kid to the fight! We don't have an official release date for the game yet, but the game will be out sometime this year!


There are so many amazing games coming to us this year from Nintendo, so be prepared for loads of fun and loads of sleepless nights gamers! As always keep on gaming, and talk to you soon!

~~~~~~~~~~~~~~~~

#NintendoDirect #Switch #3DS #Smash #Splatoon #Dillon #WarioWare #MarioTennis #Gaming

~~~~~~~~~~~~~~~~