Search found 4 matches for Simulation
by Towafan7

on June 13th 2019, 4:13 pm
Search in: Switch Reviews
Replies: 19
Views: 985
~~~~~~~~~~~~~~~~
Discovery of The Year!
~~~~~~~~~~~~~~~~
Developed by Studio Artdink and published by NIS America, Neo Atlus 1469 is a
simulation
game that tasks you with exploring and mapping the entire world as well as creating trade routes with other nations and more in this thrilling strategy title, but is it worth checking out? We think so and here's why:
Neo Atlas 1469 is a remake of the 1999 classic, Neo Atlus II with an enhanced audio-visual presentation and a bit of extra story content, but is otherwise the same game. The gameplay is fairly straightforward, you must explore the vast and mostly unexplored world and create trade routes while trying to survive natural hazards such as storms, sea monsters, and tsunamis as well as pirates and vessels from enemy nations. This is not easy, but is thoroughly enjoyable despite being somewhat repetitive. The world is randomly generated as you explore it, but luckily if you don't like what generates during a voyage, you can retry to get a desired outcome which is a wonderfully useful feature!
The amount of micro-management in the game is pretty deep, but not to the point of being hardcore in this regard so it's a little more accessible for newcomers or players who aren't used to the genre, than say, Civilization 6 in this regard. The game's length is literally infinite, though once the world is fully explored it's actually much more fun to start a new game. In-terms of a single playthrough most players will probably take between 30 to 50 hours to fully explore the world, perhaps longer if the RNG isn't in your favor which is a reasonable length in our opinions!
The controls work amazingly well so there are no complaints from us there, and the audio-visual presentation is fantastic for a game that is over 20 years old, even if it's a remaster! The visuals are definitely better than the likes of Civilization II, and Sim City 2000 that were released in the same time-frame. The soundtrack is great albeit a bit repetitive as well, but it has aged gracefully!
Bottom-Line: With great gameplay, excellent controls, and a fairly large amount of content, Neo Atlas 1469 for the switch is a superb strategy title that's deep, but not too deep and is accessible to newcomers of the genre! The audio-visual presentation is also superb for a game that was released 20 years ago. For these reasons and more, we give Neo Atlas 1469 for the Nintendo Switch a great level of recommendation!
~~~~~~~~~~~~~~~~
Score: ★★★★★★★★★☆ 9/10
~~~~~~~~~~~~~~~~
~~~~~~~~~~~~~~~~
#Review
#ArtDink
#NISA
#Switch
#Retail
#Strategy
#Simulation
#Exploration
~~~~~~~~~~~~~~~~
on May 5th 2019, 8:47 am
Search in: PS4 PSN Reviews
Replies: 25
Views: 1697
~~~~~~~~~~~~~~~~
Extravagant Abode?
~~~~~~~~~~~~~~~~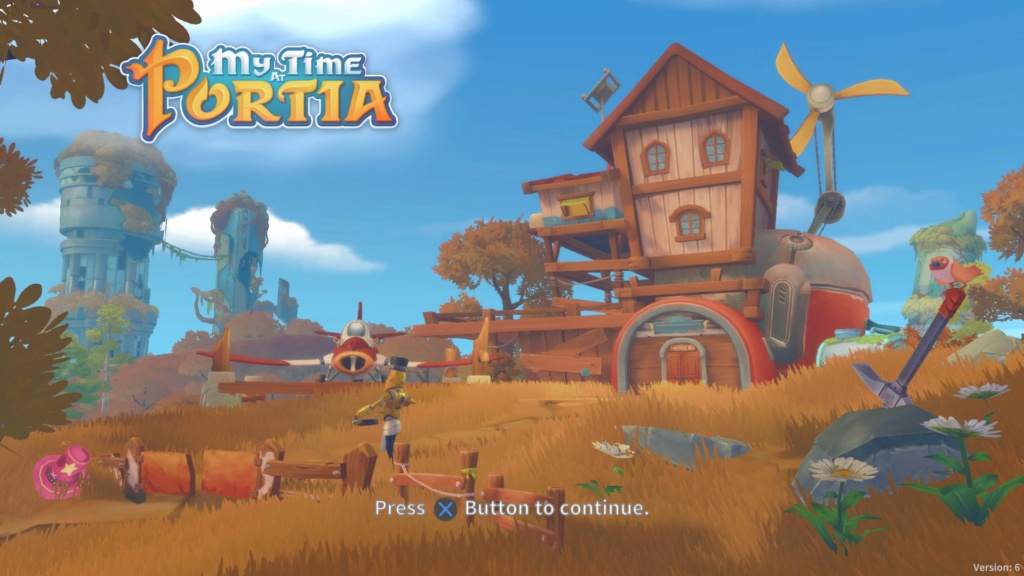 My Time at Portia, released on April 16, has been well received by the PlayStation 4 and Xbox One communities alike.  It has several points that make it an excellent game.  Do you think you'll enjoy it?  We think so and here's why.
Developed by Pathea and published by Team17, My Time at Portia is a relaxing yet highly addictive game.  This crafting sim has several activities to keep you busy throughout your gameplay, from crafting to farming and many more in between.
Starting out with Pa's inheritance of the workshop, you're thrust into the world of Portia at a fairly good clip.  The tutorials are very simple, and the controls are extremely easy to figure out.  After chatting with Presley, you learn you must register your workshop in order to accept commissions, which is the lifeblood of this game as far as its currency, gols, along with earning relationships with your fellow townspeople.  There is the main storyline, and it's entertaining but feels slow at times.  It's not enough to sway one from the game, however.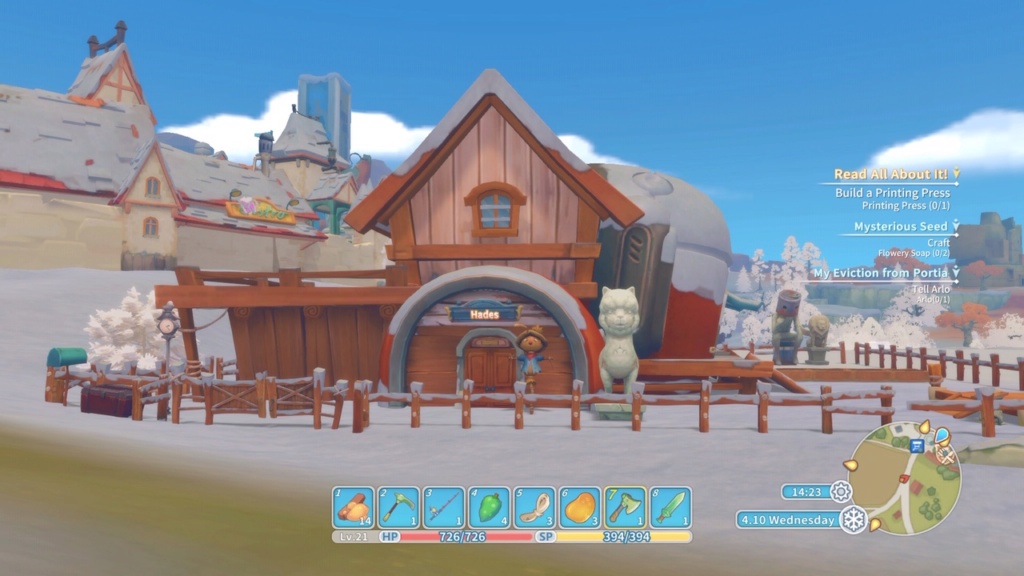 As the game goes by, the missions become increasingly difficult along with relationships harder to earn. They aren't insurmountable, but they do take a bit of strategy and finesse at times.  New areas of the map open up as you complete your tasks, which lead to more opportunities for your character to flourish.  
Now to the very integral part of the game: your workshop.  This is what the game revolves around.  You need it in basically each mission you attempt along with upgrading it.  Your missions are based upon certain levels of machinery, and the quests will not progress until you reach that milestone. It's not impossible, just time-consuming.  
The devs have been extremely helpful and polite to the community, listening to their complaints and promising full game content in the near future. Their communication is unique as far as a dev goes, but this is another aspect which makes the game great.
Now to the cons.  There have been bugs reported by players, ranging from ridiculous to game-breaking.  They are few and far between, but when they rear their ugly heads, you typically have to leave the area and start again.  The hopeful part is the devs are aware of this and are working diligently on a patch.  
Some of the timed missions don't specify they have a strict time constraint unless you open your mission book and review the quest.  There were several times when I had the dreaded failed quest announcement flash across my screen, so it was only logical to restart the day.  With the knowledge of the timer, the quests can quickly be completed in the allotted time.
Relationships take a long time to attain, but it isn't hopeless.  There are many different levels of gifting for each player, points determined by the type of gift you give the NPC. Between fostering these relationships and carrying on with your missions or free play, the player won't run out of things to do.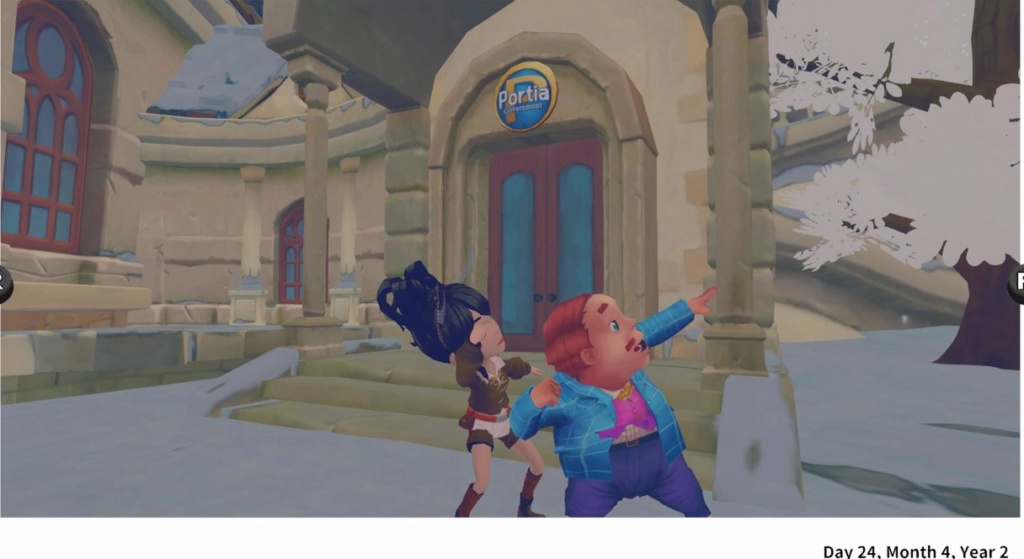 The graphics are in a soft 3D style, which adds to the peaceful feeling that the game has. Sometimes the rendering is comical, but all-in-all they are deemed pleasant.  The audio is another story. When you start playing, it's interesting and enjoyable.  However, when you have a few hours in, the soundtrack becomes very monotonous.  A more ranged soundtrack would have been welcome in My Time at Portia.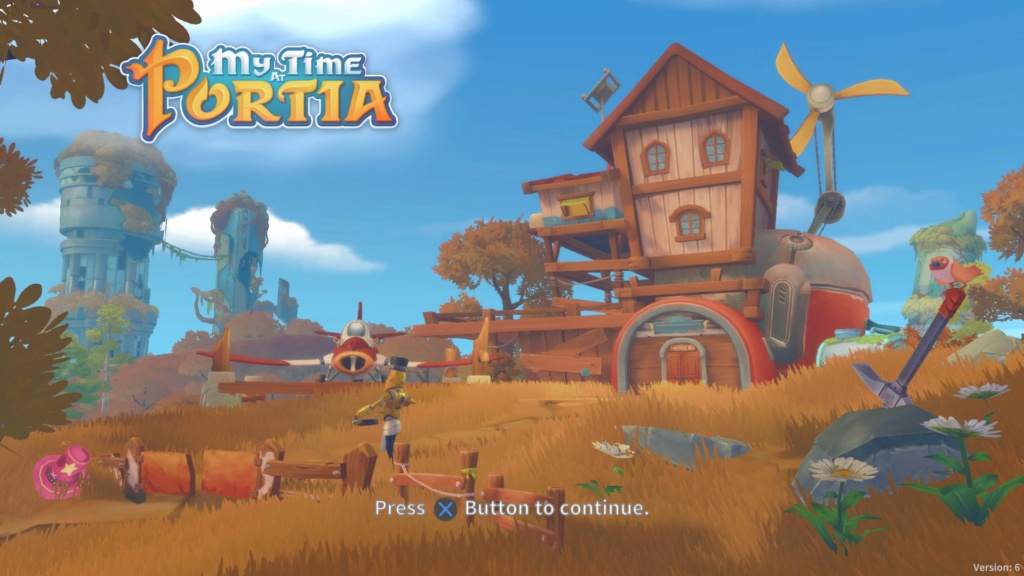 Overall, the pros definitely outweigh the cons.  The fact that the devs are hard at work devising a patch makes this game more attractive.  Taking the entire impression of MyTime at Portia, we give this game good level of recommendation!
Afternote:
Team17 released the update for My Time at Portia this past week (May 23) and like many gamers that play, I am very pleased with the updates and bug fixes that were plaguing random players.  While there are more updates promised, this one nipped the infinite loading bug and seemed to have solved the disappearing item bug as well.  The graphics are more pleasing since the patch with additions to the load screen and subtle differences in gameplay.  New quests and small improvements to existing content were added, making the game feel more rounded.  You can view full information on the update
here
.
~~~~~~~~~~~~~~~~
Score: ★★★★★★★★☆☆ 8/10
~~~~~~~~~~~~~~~~
~~~~~~~~~~~~~~~~
#Review
#Team17
#PatheaGames
#PS4
#PSN
#Switch
#eShop
#Simulation
#RPG
#Adventure
#Indie
#Nindie
~~~~~~~~~~~~~~~~
by Towafan7

on January 1st 2019, 11:11 am
Search in: PS4 PSN Reviews
Replies: 20
Views: 1545
~~~~~~~~~~~~~~~~
"Pub"lic Sensation!
~~~~~~~~~~~~~~~~
Developed by Rideon Inc. and published by KEMCO, Merenian Tavern Story is a very relaxed JRPG with
simulation
elements that clearly has been inspired by the long-running Atelier series, but has an identity and flavor of humor of its own. Is the game worth purchasing though? We think so and here's why:
The story in Merenian Tavern Story is cutesy with a quirky sense of humor. The protagonist and her family get cursed when her brother is possessed by the God of Poverty and must work at the local tavern and work off their debt while learning how to undo the possession. There's actually much more to do than simply work at the tavern though! You also gather and hunt monsters for materials in the dungeons, grow materials at the local farm, do favors for customers, and much more, which will keep you entertained and busy for quite some time.
The only downside is that the game doesn't always explain what you need to do next to advance the story, which can be somewhat annoying at times. The gameplay is very enjoyable and is very reminiscent of the Atelier series of JRPG's. The turn-based battles are quite enjoyable and the bosses require some strategic planning to defeat.
The controls are easy to learn which is always a good thing. Marenian Tavern Story is also fairly lengthy and will take most newcomers a good 30 hours to beat, but completionists will find the game is significantly longer to 100%. The audio-visual presentation is nice enough, the 16 graphics look amazing while the character art in the visual novel style cutscenes looks detailed and gorgeous. The music is pretty enjoyable as well and fits the game well!
Bottom-Line: With a great story that's both enjoyable and humorous, amazing gameplay, and an excellent audio-visual presentation, Marenian Tavern Story for the PS4 is a highly enjoyable game that is a blast to play and we highly recommend it to fans of the genre! We give the game a a good to great level of recommendation!
~~~~~~~~~~~~~~~~
Score: ★★★★★★★★¾☆ 8.75/10
~~~~~~~~~~~~~~~~
~~~~~~~~~~~~~~~~
#Review
#RideonInc
#KEMCO
#JRPG
#Simulation
#PS4
#PSN
#Switch
#eShop
~~~~~~~~~~~~~~~~
by Towafan7

on November 22nd 2018, 9:28 am
Search in: PS4 Retail Reviews
Replies: 14
Views: 1233
~~~~~~~~~~~~~~~~
School of Heroic Fun!
~~~~~~~~~~~~~~~~
Developed by Agate Studio and published by PQube, Valthirian Arc is a surprisingly deep school
simulation
title with RPG elements that has alot of unique gameplay elements, but is that all there is to this game? Hardly, Valthirian Arc is a blast to play and is well worth a purchase and here's why!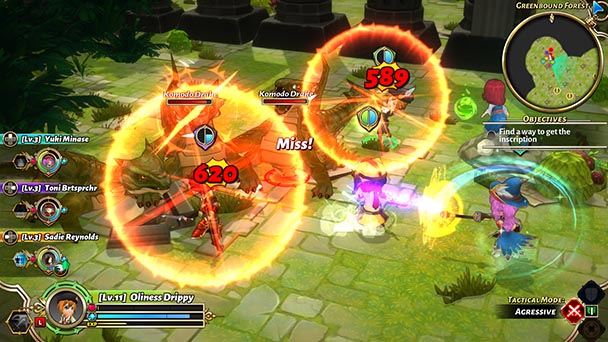 The story in Valthirian Arc is quite good and entertaining, while the gameplay has a fantastic mixture of
simulation
and RPG elements. Those looking for a deep JRPG need to look elsewhere, but what we have here is quite an enjoyable experience. You basically must build your school up and train heroes using the school's facilities while meeting the quota of graduates which means that you will have to do some micro-management to avoid graduating all of your best heroes-in-training leaving you unable to complete more challenging missions.
The missions themselves are where the RPG elements come in as you'll be able to battle enemies in small fields and dungeon in rather simplistic action-RPG fashion. Overall the RPG elements while fun are absolutely overshadowed by the
simulation
elements. This is why the game will likely be more enjoyable to those who like
simulation
titles.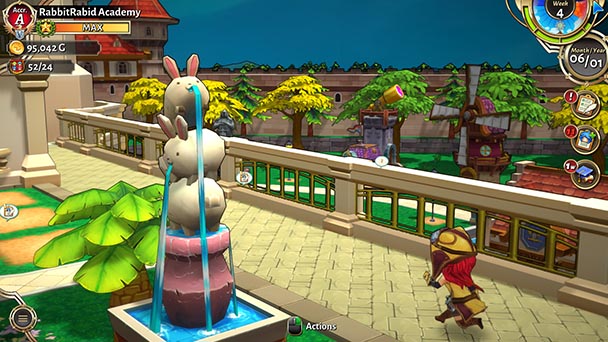 The game also features item creation which is somewhat simplistic, but a nice feature nonetheless. The game is pretty accessible and shouldn't be too difficult for newbies to
simulation
games, while still being deep enough for fans of the genre. The controls are also quite intuitive and easy to learn which is always a good thing!
The visuals in the game are colorful a cheery, but don't expect to be blown away by them as the game is very outdated in that regard, but gets the job done. The soundtrack on the other hand is fantastic albeit somewhat repetitive, regardless it is pretty good stuff and earns our seal of approval! Overall the audio-visual presentation is good in our opinions!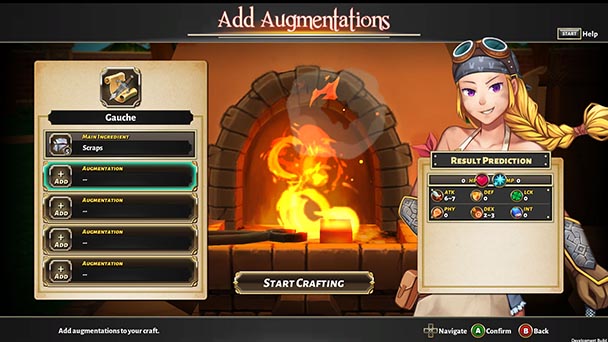 Bottom-Line:

With a great story and unique yet enjoyable gameplay, excellent controls, and a good audio-visual presentation, Valthirian Arc is a worthwhile PS4 game that fans of simulation games and RPG's should enjoy, overall we give Valthirian Arc for the PS4 a good level of recommendation!
~~~~~~~~~~~~~~~~
Score: ★★★★★★★★☆☆ 8/10
~~~~~~~~~~~~~~~~
~~~~~~~~~~~~~~~~
#Review
#AgateStudio
#PQube
#Simulation
#RPG
#PS4
#Switch
#Retail
#Budget
~~~~~~~~~~~~~~~~