Search found 3 matches for SRPG
by Towafan7

on May 14th 2020, 2:52 pm
Search in: PS4 Retail Reviews
Replies: 24
Views: 605
~~~~~~~~~~~~~~~~
A Landmark SRPG Series Returns!
~~~~~~~~~~~~~~~~
Developed by Chara-Ani Games and published by NIS America, Langrisser I & II are HD remakes of two iconic GENESIS/Megadrive
SRPG
's. Does this remake collection live up to the original releases? We think so, but you'll have to read the rest of our review to find out why!
Pre-dating the Western localization of the Fire Emblem series by more than a decade, the Langrisser series was the defacto go-to for strategy RPG fans outside of Japan, at least until Final Fantasy Tactics was released and even still this series was superior to FF Tactics in depth and strategic gameplay in many ways. The story, while good shows its age with very simple storytelling, which isn't necessarily a bad thing since the light story elements allow you to quickly get into the heart of the game which is its strategic gameplay!
As with any good strategy game you've got grid-based combat, units that can be promoted, tons of different unit classes, and a surprisingly good skill system with attacks, support, and even passive skills and attacks. The games are pretty long, with Langrisser I clocking in at 25 hours in length and its sequel Langrisser II clocking in at over a whopping 40 hours in length. The controls are easy to learn and are quite a bit better than those in the GENESIS versions of the games.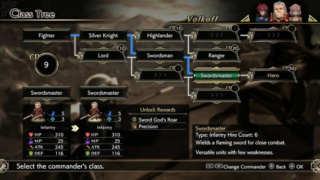 The game has a both modern and original audio and visual options which is a fantastic touch, while it's mostly fantastic some of the character sprites are pretty low quality and have a mobile freeware feel to them, but overall the visuals and soundtrack are top-notch!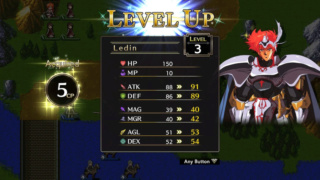 Bottom-Line: With a good story, excellent gameplay and controls, and a mostly top-notch audio-visual presentation, Langrisser I & II is a superb title for any aficionado of SRPG's and RPG's in-general and as such we give the collection a great level of recommendation!
~~~~~~~~~~~~~~~~
Score: ★★★★★★★★★☆ 9/10
~~~~~~~~~~~~~~~~
~~~~~~~~~~~~~~~~
#Review
#NISA
#CharaAniGames
#SRPG
#Strategy
#PS4
#Switch
#PSN
#eShop
~~~~~~~~~~~~~~~~
by Towafan7

on January 11th 2020, 5:23 pm
Search in: PS4 Retail Reviews
Replies: 13
Views: 456
~~~~~~~~~~~~~~~~
Overlord of The Century!
~~~~~~~~~~~~~~~~
Developed and published by Nippon Ichi Software, Disgaea 4+ Complete is a collection that compiles Disgaea 4 and all of its DLC into a single bundle and to be honest it is an absolutely amazing deal! Continue reading our review to find out more about this fantastic title!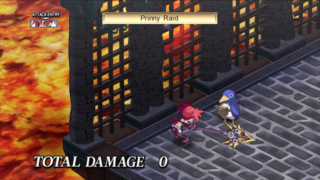 Disgaea has always been the epitome of excellence when is comes to Japanese strategy based tactical RPG's and this game is no different with a superb and zany story and excellent gameplay that we'll be talking about shortly, overall this game oozes of quality and any
SRPG
fan should checkout this amazing series!
Now as for the gameplay itself the game is split into a few different parts, a city hub where you shop, train your units, among other useful things, missions where you battle in strategic grid-based battles against enemy units, and there are online matches to test your mettle against other players! There are other gameplay modes as well, but these are the three primary sections of the game.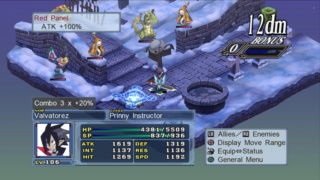 The hub of the game has a ton of various functions as is typical in the series, but there are new things to do such as expeditions, which are basically roguelike missions that can pay players off handsomely assuming they can complete these missions. The story missions are well thought out and the story itself is quite enjoyable.
The controls are easy to learn as expected from a strategy RPG, and the game can be quite challenging at times so don't expect to breeze through the game. The audio-visual presentation is terrific as the characters, objects, and areas are vibrant and detailed and the voice acting and soundtrack are equally as good and fit the game beautifully.
Bottom-Line: With a humorous story, great gameplay and excellent audio-visual presentation, Disgaea 4 Complete+ will hook fans of the genre almost immediately and the included DLC with many hours of additional content will keep them coming back for more! We give the game a great level of recommendation!

Score: ★★★★★★★★★☆ 9/10

#Review #NISA #NipponIchiSoftware #PS4 #PS3 #Vita #Retail #PSN #SRPG #Strategy #RPG
by Towafan7

on September 17th 2017, 6:22 pm
Search in: Vita Retail Reviews
Replies: 23
Views: 1773
~~~~~~-~~~~~~~~~
Tactical Paradise!
~~~~~~~~~~~~~~~~
Developed by Kadokawa Games and published by NIS America, God Wars: Future Past is a Japanese warring states era tactical RPG that is absolutely breathtaking in its art-direction, but how is the rest of the game you ask? Continue reading our review to find out!
The gameplay is relatively straightforward with classes, a grid-based battle system, and stage based story progression so don't expect the unexpected with this game, but what you can expect is extremely solid mechanics and a fantastic story that will have you facing off against soldiers, demi humans, and even gods. Also every character possesses a unique job class of their own which gives players incentive to try to place every character in their party at some point which is always fantastic. Lastly the maps in God Wars: Future Past are relatively straightforward and there aren't too many gimmicks that will pose much of a threat to new players of the genre.
The controls are solid and easy to learn which is always a good thing. The difficulty on the other hand does experience frequent and sudden spikes that can be annoying at time, but shouldn't prevent you from progressing through the game with enough grinding.
Visually the game is gorgeous and possesses a very unique art-style that sets it apart from other
SRPG
's on the platform. The anime cutscenes of which there are a good deal of in the game are amazing as well. The soundtrack is also just as enjoyable as is the voice acting so expect to be blown-away by the game's audio-visual presentation!
Bottom-Line:
With excellent gameplay, solid controls, PSTV compatibility, and a flawless audio-visual presentation, God Wars: Future Past is an excellent Strategy RPG that's well worth getting if you're a fan of the genre and while there are some difficulty spikes, none of them were too difficult to get past by merely grinding a bit. Overall we give God Wars: Future Past for the Playstation Vita a superb level of recommendation!
~~~-~~~~~~~~~~~~
Score: ★★★★★★★★★☆ 9/10
~~~~~~~~~~~~~~~~
~~~~~~~~~~~~~~~~
#NisAmerica
#KadokawaGames
#Review
#Vita
#PSTV
#SRPG
~~~~~~~~~~~~~~~~