Search found 7 matches for PSVR
by armerocks

on November 2nd 2019, 3:14 pm
Search in: PSVR Reviews
Topic: Review: Bonfire (PSVR)
Replies: 12
Views: 698
~~~~~~~~~~~~~~~~
Let's turn up the heat in these dark woods or something?
~~~~~~~~~~~~~~~~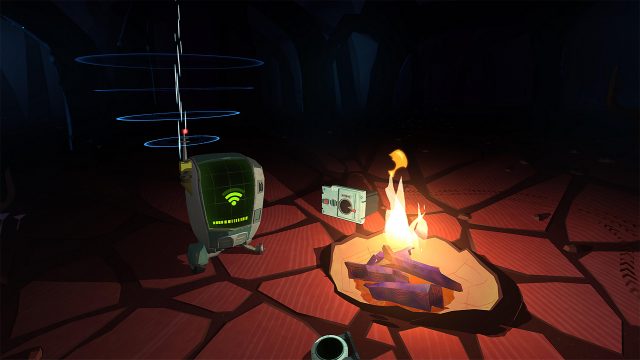 Bonfire is a very short virtual reality game made by "Baobab", it starts off in space where the main character has awoken from hyper sleep because he is a scout meant to look for other planets that can be inhabited by the human race because humanity made earth uninhabitable with their destruction and use of the planet's resources, so you crash-land into the planet and then make a bonfire alongside your ship's navigation computer AI.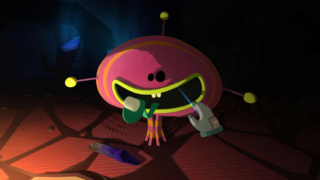 Basically it's a very short narrative adventure that you can interact with and is only about 15-20 minutes in length give or take a minute or two. The art style is cute and the game has nice voice acting as well. The story is kind of nice as well, but again it's WAY too short. There are some interactions that the game will do for you if you don't do anything during them. You can also play through it multiple times for some minor changes in what the AI says but that's about it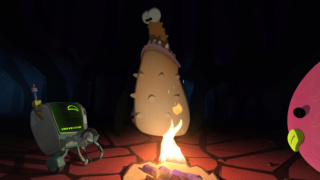 Bottom-Line: [i]We give Bonfire a solid level of recommendation because it was well made and the art style and voices were nice, but it was too short for our tastes, and while there were interactions they were a bit limited. If what you seek is a cute small interaction-based adventure for PSVR, you will likely enjoy this game, however if you are not into these types of games I recommend skipping it entirely. It's cute, but it's most likely one of those games you pick up once and will never play it again. It does have easy trophies so if you are a trophy hunter this is an easy platinum to earn!

~~~~~~~~~~~~~~~~

[b]

Score: ★★★★★★★☆☆☆ 7/10
~~~~~~~~~~~~~~~~
~~~~~~~~~~~~~~~~
#Review
#Bonfire
#BaobabGames
#PS4
#PSN
#PSVRRequired
#PSVR
#Interactive
#Adventure
~~~~~~~~~~~~~~~~[/b]
by armerocks

on March 27th 2019, 9:02 pm
Search in: PSVR Reviews
Replies: 7
Views: 1047
~~~~~~~~~~~~~~~~
Solid Wizardry!
~~~~~~~~~~~~~~~~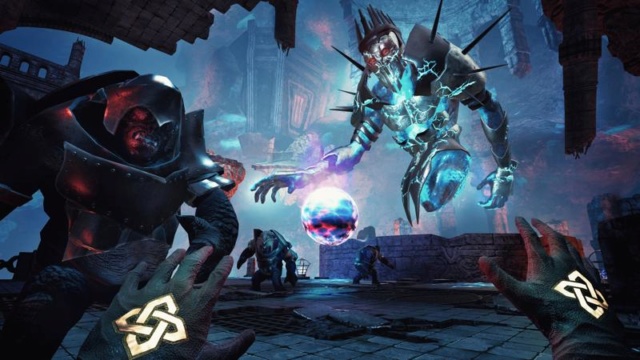 It is time! time to mage-up and uhm time-up… never mind! Ok here's our review for The Wizards: Enhanced Edition for the
PSVR
which is developed and published by Carbon Studios. OK so the game starts you out as an apprentice of sorts wanting to learn magic from a wizard, but the wizard who speaks to you doesn't have a body, so he begins with a small tutorial explaining the basic fireball spell and shield spell. After the tutorial is finished you get introduced to your study or hub world if you will.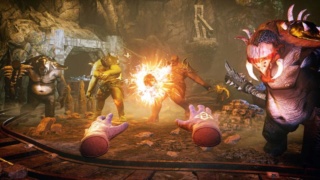 Basically you have 3 things you can do there. The main part which is a map were u chose the stage you want to go to, the table were you power up your spells and learn new one's. You can also test your spells as well. There's another table with a large sort of a sink? I'm not sure how to describe it, but it's basically water and a bunch of hands holding balls of colors and if you drop a ball into the water you can dip your hand and paint your hand the color you want for fun we guess.
You also have a fireplace were you can burn a book just for giggles.  Also while you on the map choosing a stage you have the option to insert a card into the stage that changes certain things like enemies have more hp or enemies are weaker, you only start with a few but as you progress you will find chest with a new card in it basically to alter the stage for a more challenging experience.
Now every stage has 3 hidden gems that you use in order to power up your spells and also depending how you fight you get scored on that but we honestly are not quite sure what determines a good score. In the end its just for a leader board thing, unless you're into being number one on the leader board you don't have to worry about that.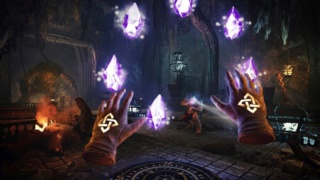 Now regarding the story, we found it ok, but nothing that really wowed us. Basically you travel through time and save certain time periods from monster and some sorcerer who's casting an evil spell. The somewhat troublesome thing thar I noticed is that it's a little bit too linear in the sense that there no monster around the map you just explore get trapped and have to beat monsters and survive in order to proceed, I was hoping for a little more interaction or to make it more lively but the stages continue same way, explore, get trapped, defeat enemies, continue. However we did find fighting bosses interesting.
The game also has an arena mode, but it really doesn't add anything all that exciting and like the campaign mode it has the same spells and you power up the spells by getting tokens which you get by playing in the arena and getting good scores, the arena has 3 modes, one where you defend pinewood from monsters while remaining in one spot only without moving, other mode is red crystals spawn around the map and you have to destroy them cause if more than 8 or 9 get damaged over time you lose, and the last one has you defending 3 giant crystals from monster attacks, the pinewood stage is the hardest because you can't move, just shoot spells left and right and kill monster before they reach the town, the one with the red crystal was so easy and boring that I let the monster just kill me.  
It was like 3 to 4 minutes of destroying crystals over and over again while completely ignoring the monster chasing us. And the last one is sort of like the pinewood one only that this time you moved over a large map while defending 3 crystals. Our main problem with the arena is that there's no music, at least nothing that would get you motivated all the time you're going to hear constant grunts from the enemy. You can also use and receive card like in campaign mode.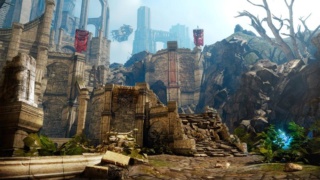 Visually the game looks really nice and has the option to play standing or sitting and adjusting heights to a certain height you can even changed it from teleporting to just walking or both, you can even change how you turn if you do sharp instant turns or slowly turn which you can also adjust the speed in which you turn, but personally I got more dizzy slowly turning than instant sharp turns.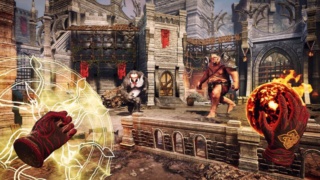 Good things:
1: It looks visually nice
2: It's quite fun to cast spells doing gestures
3: Has a good variety of control adjustments like for sitting or standing and  how it changes, how you turn which is very nice
4: Fighting bosses with magical spells feels pretty cool
Bad things:
1: Story is not very entertaining after a while
2: Too much repeat of the same explore a little get trapped, fight and continue.
3: Needs more spells the amount is not bad but it gets pretty repetitive quickly.
4: Needs better music especially in arena it just doesn't motivate me and I personally don't care about leader boards.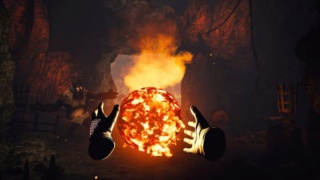 Overall I give the game a good level of recommendation. It's not a bad game, but it could be better, however it's about the norm for a VR game, I also didn't comment on the PS Move controller detection cause I don't have a lot of space where I live so I have to make do but the detection was good just had a few problems with the height making things to low or to high but I think that was more my problem with camera placement than the game. Also for those who care about leader board it should detail better how well you score.
~~~~~~~~~~~~~~~~
Score: ★★★★★★★☆☆☆ 7/10
~~~~~~~~~~~~~~~~
~~~~~~~~~~~~~~~~
#Review
#CarbonStudios
#Action
#Adventure
#VirtualReality
#PSVR
~~~~~~~~~~~~~~~~
by armerocks

on March 7th 2019, 8:21 pm
Search in: PSVR Reviews
Topic: Review: Eden-Tomorow (PSVR)
Replies: 12
Views: 1083
~~~~~~~~~~~~~~~~
A Massive Disappointment Like The ill-Fated Titanic...
~~~~~~~~~~~~~~~~
Developer: Soul Pix.Publisher: Soul Pix.
Ok let's review this game, when I played the demo for this game I was excited and intrigued because it seemed like a game were you would need to survive and would need to venture out and find many means of survival. However after playing the full game after 3 hours or so it all went downhill, let me explain, basically you start in a sort of drop ship falling down to a planet and it seems while in mid air you were in the process from awakening cause you were asleep but the drop ship gets torn apart and it crash lands. After landing you get attack by a monster that flies and you quickly get out, you are then greeted by a little robot or drone that got damaged in the crash and can't remember his name or purpose and your character can't remember anything either all he has is a photo of him and his wife and son.
Essentially the drone explains the basic controls of how to use him to scout places, that in order to control him you need to be inside a ring the creates a barrier that protects you from harm, that's basically how the entire game works you walk a little, get stuck by a wall or something similar and you have to look for a "safe zone" activate it and then use the drone who calls himself newton  and always find 3 energy core to boost his shockwave and even thought he tells you  that you only get 3 shot to brake the wall, it's so simple and easy you had to be a complete moron to miss the shot on a big wall and even if you shoot it in 1 shot the other 2 just disappear.
As you progress in the game the main character starts getting flash backs of his past revealing what has happened.  Now the biggest problem with this game aside from the graphics which most of the time all you ever going to see is dirt and metal is that the game practically holds your hands throughout the entire game and it's so linear there is little to nothing to explore whenever you control Newton its 90% of the time is to look for 3 energy cores to blast something out of the way with one shot which basically makes the other 2 cores useless.
The game also moves extremely slowly even when running it looks slow, and then there are part were the monster who sort of look like dragons are everywhere and you have to sneak by them which makes the game move slower.
 The story is actually pretty boring, basically the story is that the humans built an ark, a ship to travel to another planet because it seemed that their home planet was messed up and can no longer live there and to manage the ark they made a supercomputer with an AI called mother she was suppose to keep the human in cryo stage and drive the ark to a new planet, however since she had the ability to think for herself she studied the humans and their nature and decided that humans are a plague and they don't deserve to live except the main character so she decided to create her own human and tried to program them to act the way she wanted but before that when the main character was put in a cryo state she had put something in the liquid of the pod to induce amnesia.
Also  at some point the main character got out of the pot and opened a gate which let out the artificial humans mother had created and they ended up worshiping mother like some goddess but she didn't want that so she decided to drive the ark into the sun but she needed the genetic code that was in the main characters blood to have that authority in the ship so she hacked the drones and send them to hunt him, newton since he was created by the main character wasn't affected at first so after you finally get inside the ship you end up giving the blood sample anyway to go further into the ship, meet mother, end up giving her the authorization she needed and then tricking her in order to shut her down , then the artificial humans appear through a gate you open and give the main character a key to stop the ship from going into the sun however they didn't know what the object did since they had little knowledge of technology, and that's the only moment you speak with a person in the last 5 min of the game, after you stop the command of the ark, your characters passes out and then wakes up on a ship with the artificial humans and one of them is holding the picture of his family and  says I think know where the wife is and that's it the game ends there with a "the end".  The story was too generic and disappointing and I tried to summarize most of it because it left a lot of unanswered questions
Bottom-Line: The game did have objects you can get in certain places but everything looks the same and so boring that I didn't bother to look I just occasionally found some. Also this game uses the ps4 controller not the PSmove. So I give Eden Tomorrow a poor level of recommendation due to the boring story, having little freedom to really explore and the game being completely linear while holding your hand. The camera was fine, however.
~~~~~~~~~~~~~~~~
Score: ★★★★☆☆☆☆☆☆ 4/10
~~~~~~~~~~~~~~~~
~~~~~~~~~~~~~~~~
#Review
#SoulPix
#PSVR
#PS4
#PSN
#Digital
#Adventure
~~~~~~~~~~~~~~~~
by armerocks

on February 1st 2019, 5:08 pm
Search in: PSVR Reviews
Replies: 10
Views: 990
~~~~~~~~~~~~~~~~
A Workout With Blades!
~~~~~~~~~~~~~~~~
[image placeholder]
Developer: Chesstar Studios.Publisher: Vive Studios.
All right let's see how do I start? Well for one thing I had a blast with this game. The game is pretty simple as you've got your samurai theme game and what you do is basically stand on one spot and tiny little people (if you can call them that) are thrown at you and you have to cut them down with your sword before they hit you, you have 3 hearts which indicate your health, and your final score will be determined by the points you made and how many hearts you still had left as well as the amount of combo kills you do, now the game has many weapons. You have your basic sword, you got a shield, some boomerang, a lance that can shoot waves as you swing and other weapons and some armor ports to extend life or weaken hits on you, unfortunately I have only been able to test out 2 weapons out of the main sword and the shield cause in order to obtain them you have to buy them and to buy them you need to make money by getting good scores, which at the beginning I got horrible scores so by the time I finished all stages I only had enough money to buy 1 sword, there is an alternate way to get weapon but it's up to chance the game has a gatcha system that you get 2 hammers a silver and a gold, the gold hammer has a chance for a weapon or armor pieces or mask while the silver has less of a chance.
You get them by also getting good scores or you can buy them with gold from the game as well. While you playing a stage you sometimes get power ups like a shield that protects you from one hit, a jar that returns a heart back to you,  a sword which basically makes your weapon reach farther and an arrow that shoots an enemy when it appears, there are also 4 other ability, you start with a blizzard that slows down time for a few seconds, then you get the arrow that is the same as the one I mentioned before but this one has 5 like totem thing that shoot arrows a couple of times, then you got the recovery one that recovers hp damage depending how many enemies you killed while its active, and the last one is thunder which as you can guess thunder or lightning shoots out of the sky and hits all enemies, now all except for the blizzards are limited to how many you can use, they will run out but you can get more from random drop after passing stage or by luck with the gatcha, the armor part are the same they are limited to how many times you can use them but these are only gotten by the gatcha.
[image placeholder]
Now the game its fun and its not to hard except for the bosses, each level has a boss and they have a lot of HP so you going to need to swing like a maniac to be able to get that health down fast before you probably die cause bosses sometimes attack from behind but that's only the last 3 bosses of the game. And you have other enemies either being thrown at you or a shuriken been thrown at you which you deflect with you weapon whatever you may be using.
Also another way to get money is by doing achievements in the game but there are some achievements that don't have a lot of info on them so I don't get how to get them, but most likely you will unlock a lot of them on a normal playthrough.
I do have a slight complaint that when you do an achievement it is displayed beneath the hearts which you would have to look down to see but then you don't see the enemies coming. I also feel like they should either lower sword buying requirement or give more money they give me so little and it's hard to get a good score, least it was for me, not being physically fit might not have helped my cause either.
[image placeholder]
My final score for this game I give it a good to great level of recommendation.  Mostly due to the bosses having too much HP and it getting tiring swinging that much, and the money requirement being so high when they give so little, the abilities and armor being limited kind of sucks, but it's not that bad, after all most of it depends on your skill. Now the motion controls for this game were flawless I did not have a problem with them whatsoever, I only had a little problem at beginning but that was my fault as I had not adjusted the camera.
~~~~~~~~~~~~~~~~
Score: ★★★★★★★★½☆ 8.5/10
~~~~~~~~~~~~~~~~
~~~~~~~~~~~~~~~~
#Review
#ChesstarStudios
#ViveStudios
#Arcade
#PSVR
#PSN
~~~~~~~~~~~~~~~~
by armerocks

on January 15th 2019, 7:08 pm
Search in: PSVR Reviews
Replies: 18
Views: 1220
~~~~~~~~~~~~~~~~
Spaztic Gunslinging...
~~~~~~~~~~~~~~~~
Developer: MIROWIN.Publisher: MIROWIN.
All right let's review this hot-mess, so the game is a wave type of game where your goal is to shoot down enemies and survive. It's divided into a few acts which each have three stages, it also has various difficulty levels such as baby, easy, normal, hard, etc. The game starts with an old man sitting in a rocking chair and his grandson finds his old gun so the kid asks him to tell him a story of his youth, the grandpa decides to tell him a story while also demanding more beer or whatever he drinks.
As you progress through the game you will hear the old man tell the story and during each level all of the enemies will stop attacking while the old man talks and then introduce you to a new gun. The game is bizarre to say the least, you got your old west style cowboys and such but then you have enemies with Lincoln bears or motorbike helmets, there are even drone enemies, and some guys using Gatling guns while wearing gear from Rome. Personally I think they were very creative instead of just a plain old survival wave game, and the gun design are nice except one that has a smile face on it for some weird reason. There are also a lot of variation of commentary in the game and in one scene they were making fun of Mexicans which I found unnecessary, I'm not one that takes offense to that kind of stuff since it's just a video game, but some may take it a bit personal.
Now the real problem of this game is the following, first the graphics, now I am not one to care much about graphics but the problem is some enemies are so far away that the image are a little blurry and since this game doesn't have anything that tells you where you are aiming you need precise aiming to hit them which makes it difficult when the characters are too far away and blurry, another thing is that the stages are very wide, which is not exactly a bad thing but sometimes you have many enemies on the front or on the right and you don't see the enemies on the left at all or you are so focused on the enemies in front of you that sometimes enemies that walk near you are so out of site that you usually won't notice them until you are getting shot by them so you really have to turn your head a lot to see them.
Now the worse part of the game is the PS Move's detection, it's just awful, most of the time the two guns that you start with start spazzing out moving forward and then back on their own or just won't turn well cause detection is faulty, worse yet is when they give you new gun which uses both hands to fire and aim, I literally had to move left and right almost hitting the floor just to try to aim at enemies cause the detection was so awful that the big gun kept spazzing out all over the place making it almost completely unplayable, I literally had to put the game on baby difficulty and move around as much as possible to avoid the bullets and try to aim in order to pass the third stage. I thought maybe it's just this stage that has the problem, but I was wrong because in one of the stages in act 2 I get a sort of rail gun that shoots electricity, which again the gun looks cool but the game cannot detect the PS Move controller properly and just spazzes out again. The game frustrated me to no end and I thought perhaps there's a problem with my camera or controllers so I popped in raw data and works fine even using the shot gun in raw data which uses two arms almost the same way as the gun in this game and while it was a little hard to control it wasn't spazzing out all over the place.
This game was more frustrating than fun, I really don't know if it was my equipment or not, I am not that much of a tech guy but seeing as the controls worked fine in raw data I don't think it was my equipment. Unfortunately I can't progress any further in the game due to the horrible PS Move detection. So I'm reviewing this with how little the game allowed me to see and experience. I would have liked to do a better review cause it's not a bad game aside from control detection but i really just couldn't get past act 2, even in baby mode.
Pros:
1.       Its entertaining because its creative
2.       It has cool designs for the guns
Cons:
1.       Its repetitive
2.       The map is to wide and the camera can't see well the enemies that are too far or very close
3.       The ps move detection is horrible and will frustrate you ( this has been fixed in update now its  much better and playable)
4.       It can be a little offensive to those who can't handle stereotypes
~~~~~~~~~~~~~~~~
Score: ★★★★★★★½☆☆ 7.5/10
~~~~~~~~~~~~~~~~
~~~~~~~~~~~~~~~~
#Review
#ShootingGallery
#PSVR
#PS4
#PSN
~~~~~~~~~~~~~~~~
Update: (02/11/2019) ok so recently the game had an update and it was a huge improvement on the motion controls the camara had better detection and the oversized giant guns,were replaced by a one hand gun and an extension for it for example in one of the stages it was a realy huge yellow gun the fired grenades as well as rapidfire bullets so now it was changed to a smaller rapid fire gun on the right hand and on the left hand you control the grenades. So if you wana give it a try now you can cause its more stable. So i up the score to a 7.5 out of 10.
I didnt wana erase my previous review of it because the only thing that realy changed was the detection problem being fixed and adjustments to guns. Plus i wanted you to know how it first turned out and then how it was fixed with the update.
by armerocks

on December 21st 2018, 6:36 pm
Search in: PSVR Reviews
Topic: Review: Arca's Path (PSVR)
Replies: 17
Views: 1290
~~~~~~~~~~~~~~~~
Arca's Path of Fun!
~~~~~~~~~~~~~~~~
Developer: Dream Reality Interactive.
Publisher: Rebellion Games.
Price: $19.99.
Let's see Where do we start? Well first of all the game is a peaceful puzzler game that has you controlling a sphere with your head or helmet so to speak. I found the puzzles to be rather simple at least up to the 6th level, after that it became a little more complicated, but not anything that would really make it difficult. The only challenge you'll face is if you are collecting all the crystals in order to unlock the time trial mode and even that is only a little more difficult, but only because you have to backtrack a bit sometimes. Other than that Arca's Path is a very peaceful game that you can play when you are tired of playing fighting games or rpg's, or whatever else you may fancy.
The game has 25 levels and visually it looks nice and I don't think it would make anyone get sick playing it because it's very easy on the eyes. The colors are not too bright so if you're not used to playing vr or get motion sickness easily, this game is a good game to start with while you get adjusted to the
PSVR
. There isn't much to the story the main character in the game is a girl that seems to live in a junkyard of sorts and finds a mask that transports her into a virtual world where she controls a sphere, uhm then some guy charges the mask again after a while so she can continue using it, which then turns out the guy is some kind of machine and forces the girl to keep wearing the mask  and thus the levels keep going.
For $20 it's not such a bad price for the game, I personally would wait for a discount but like I said it's reasonably priced, and seems like the developers worked hard at making a fun and simple game that anyone could enjoy. Unfortunately what it does lack is challenge, the stages mostly are very short and only seem longer if you're looking for the crystals which don't really serve much of a purpose since all they do is unlock a time trial that is really just for you because there no online leader board if you're aiming for that.
The music isn't anything to exciting since its meant to be a relaxing game so you mostly hear relaxing music that sometimes are just random sounds, and since you don't need the controller to play the game you could probably eat while playing if you wanted to, but good luck not making a mess haha.  But in all seriousness the game is good, but it's just not a game I would personally pay $20 for, not because it's bad, rather it's because I prefer a bit more of a challenge from a puzzle game.
Bottom-Line: With good gameplay that is both relaxing and fun, functional controls, pleasant visuals, and an atmospheric soundtrack Arca's Path is a fun little puzzler for the PSVR and is a good choice to get yourself acclimated to VR games if you're not used to them yet. The only real drawback to the game is that it just isn't very challenging. We give Arca's Path a solid level of recommendation.

~~~~~~~~~~~~~~~~

[b]

Score: ★★★★★★★☆☆☆ 7/10
[/b]
~~~~~~~~~~~~~~~~
~~~~~~~~~~~~~~~~
#Review
#ArcasPath
#DreamRealityInteractive
#RebellionGames
#PS4
#PSVR
#PSN
#Puzzler
~~~~~~~~~~~~~~~~
on July 18th 2016, 8:13 pm
Search in: Latest Playstation News
Replies: 7
Views: 1289
~~~~~~~~~~~~~~~~~~~~~~~~~~~~~~~~~~~~~~~~~~~~~~~~~~~~~~~~~~~~
Decisions, Decisions...
~~~~~~~~~~~~~~~~~~~~~~~~~~~~~~~~~~~~~~~~~~~~~~~~~~~~~~~~~~~~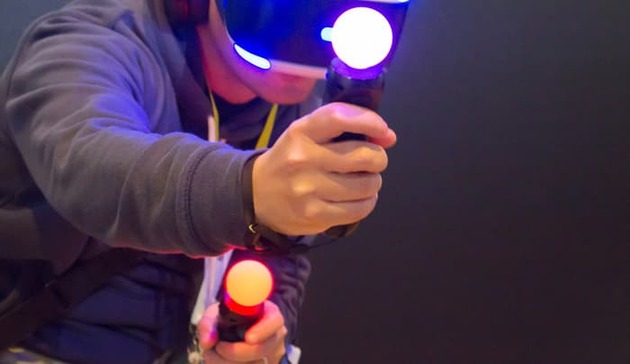 Hey there PlayStation gamers, Bre here with another PlayStation Update to brighten up your day. The newest news that has been sent to me is that Sony is rethinking their stance on rather they want controllers such as the "Move" and/or the newly announced aim controller to the PS4 VR effects. The torn comes when most gamers say they rather them use the dual shock 4 instead of these other two controller options. Though Sony is saying now that only certain games will require the move or aim controller.
I guess I can see why they would need them involved for some games, because things such as "Just Dance" require something to be able to pick up your bodies' exact movements for the game. Though at the same time I can see why gamers would not want this as a part of games, because it gives the gamer more freedom in movement without having to worry about holding anything to play the game. As for what will happen and what games this will be held to, only time will tell us gamers.
Source:
Pushsquare.
~~~~~~~~~~~~~~~~~~~~~~~~~~~~~~~~~~~~~~~~~~~~~~~~~~~~~~~~~~~~
#PSVR
#PS4
#PS4K
#PSNEO
#VR
#Controllers
#Sony
#News
~~~~~~~~~~~~~~~~~~~~~~~~~~~~~~~~~~~~~~~~~~~~~~~~~~~~~~~~~~~~