Search found 2 matches for NeonDeityGames
by Towafan7

on February 9th 2016, 2:07 pm
Search in: Wii U eshop Reviews
Replies: 8
Views: 1485
~~~~~~~~~~~~~~~~~~~~~~~~~~~~~~~~~~~~~~~~~~~~~~~~~~~~~~~~~~~~
Seriously Swell Shmup!
~~~~~~~~~~~~~~~~~~~~~~~~~~~~~~~~~~~~~~~~~~~~~~~~~~~~~~~~~~~~
Developed by Neon Deity Games and published by Choice Provisions Shutshimi: Seriously Swole is a very unique shoot 'em up title that has players take on 10 second waves of ememies as well as bosses and did we mention that it's blisteringly difficult too? Does the game as a whole warrant downloading it? We think so and here's why:
The gameplay is fast paced as you must take on hordes of enemies or a challenging boss in 10 seconds while trying to survive and rack-up points to spend in the shop to power-up your gun-wielding musclebound fish or change the elements of the next stage!
Every playthrough is completely unique which is a great feature of the game so expect plenty of surprises even after your 20th or even 50th playthrough! The difficulty is very unforgiving especially in the unlockable difficulty settings. Luckily, however you don't have to play alone as up to three of your friends can join you for some hilariously insane co-op!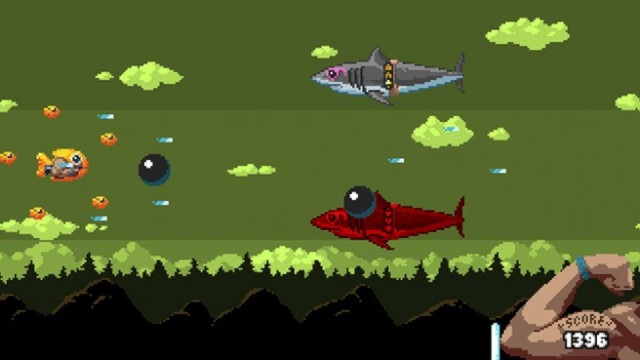 The controls are fantastic and there are tons of different compatible controllers which is great for a game that utilizes co-op gameplay! The game also features Off-TV-Play which is a great feature when playing alone!
The game features two graphics options and BGM options one each that's retro or more modern both options are fantastic in both categories. The visuals are very fluid regardless of on-screen action, and the soundtrack is retro sounding and fits the game really well plus it sounds awesome to boot! Overall Shutshimi has an excellent audio-visual presentation!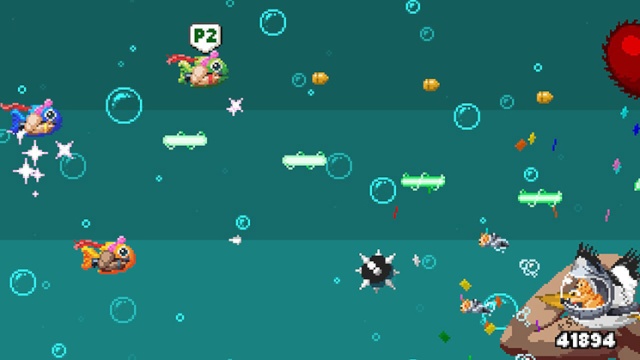 Bottom-Line:
With superb gameplay with top-notch co-op, excellent controls with a ton of controller options, total randomness of the stages that seem completely balanced, and an excellent audio-visual presentation, Shutshimi: Seriously Swole is very close to perfection, however it's not quite there nonetheless the game is still one of the best indie titles released on the Wii U so far this year and has earned a near-perfect level of recommendation from us!
Price: $9.99
~~~~~~~~~~~~~~~~~~~~~~~~~~~~~~~~~~~~~~~~~~~~~~~~~~~~~~~~~~~~
Score: ★★★★★★★★★☆ 9.5/10
~~~~~~~~~~~~~~~~~~~~~~~~~~~~~~~~~~~~~~~~~~~~~~~~~~~~~~~~~~~~
~~~~~~~~~~~~~~~~~~~~~~~~~~~~~~~~~~~~~~~~~~~~~~~~~~~~~~~~~~~~
#Review
#WiiU
#eShop
#Shutshimi
#NeonDeityGames
#ChoiceProvisions
~~~~~~~~~~~~~~~~~~~~~~~~~~~~~~~~~~~~~~~~~~~~~~~~~~~~~~~~~~~~
by Towafan7

on February 2nd 2016, 9:30 pm
Search in: WiiWareWave Exclusive Features
Topic: Developer's Interview: Our Hilarious Discussion With Neon Deity Games Regarding Shutshimi For The Wii U!
Replies: 11
Views: 1895
~~~~~~~~~~~~~~~~~~~~~~~~~~~~~~~~~~~~~~~~~~~~~~~~~~~~~~~~~~~~
A Lighthearted Interview!
~~~~~~~~~~~~~~~~~~~~~~~~~~~~~~~~~~~~~~~~~~~~~~~~~~~~~~~~~~~~
We recently had the opportunity to interview the rather hilarious team behind the upcoming Wii U eShop shmup Shutshimi: Seriously Swole. Without further ado here's our interview with Neon Deity Games in its entirety:
The interview wrote:

Hello! Thanks for joining us to answer some of our questions![NDG]:

We were told there would be pie.

Can you tell us a little about your team who worked on Shutshimi?[NDG]:

We're a (hungry) team of three: Garrett codes, Wayne makes art and Anthony makes audio. And we generally don't like being restrained against our will, but we'll make an exception this one time ♥

What were your inspirations for Shutshimi?[NDG]:

Google Image search, Youtube Poops, horrible developer art, crushing time constraints and ice cream. And pie. Seriously, where is it?

Can you tell us about the unique features in Shutshimi?[NDG]:

"Shutshimi is the only Buffalo-made shooter-based party game available on the market, featuring rapid-fire gameplay, constantly-changing scenarios, and a multitude of headwear options.

It even features familiar faces from some other games! There's also a Can o' Beans powerup that gives you a butt-based boost. Little known fact: Fish love beans. Really, there's only one thing Shutshimi doesn't have. Pie… much like this interview."

How many stages does Shutshimi possess?[NDG]:

Two. Wait, six...Actually, it might be closer to 1000. No, more like… as many stars as there are in the sky. Or bricks in this cell. Really, it's endless…like this lack of pie!

Which controllers are compatible with the Wii U version of Shutshimi?[NDG]:

"Better question is which controllers aren't compatible with Shutshimi...the Gamecube Controller and the Balance Board didn't make the cut, we're sad to say.

(Supported controllers include the Gamepad, the Pro Controller, the Novice Controller, the Classic Controller, the Wii Remote, the Wii Remote and Nunchuck combo, as well as the mythical Upside Down Nunchuck)"

Are there any unique features in the Wii U version of the game?[NDG]:

Off-screen multiplayer on the gamepad is something no other version can claim fame to… especially while on the toilet.

What's your favorite aspect of Shutshimi?[NDG]:

Our sheer lack of control over what happens. Because the game has so many procedural aspects to it, it can surprise you even on the 100th playthrough! It's the game that keeps on giving.

Thanks for answering our questions, we really appreciate it! Hopefully
we'll have the opportunity to interview you again sometime![NDG]:

It would be nice. Maybe next time it won't take place in a dank basement? It smells musty down here. And distinctly not like pie. How about we go to Grandma's house?

Take Care![NDG]:

Any time! Now it's off to the bakery with us, we're frothing for some key-lime baby!
What did you think of our unique and rather hilarious discussion with Neon Deity Games? Will you download Shutshimi: Seriously Swole when it launches on the Wii U eShop on Thursday? Be sure to let us know in our comments section below!
~~~~~~~~~~~~~~~~~~~~~~~~~~~~~~~~~~~~~~~~~~~~~~~~~~~~~~~~~~~~
#Developer
#Interview
#NeonDeityGames
#WiiU
#eShop
~~~~~~~~~~~~~~~~~~~~~~~~~~~~~~~~~~~~~~~~~~~~~~~~~~~~~~~~~~~~