Search found 3 matches for M2
by Towafan7

on June 21st 2020, 10:08 pm
Search in: PS4 Retail Reviews
Replies: 16
Views: 742
~~~~~~~~~~~~~~~~
A Whopper of A Collection!
~~~~~~~~~~~~~~~~
Developed by
M2
, published by ININ, and localized by ININ, Darius Cozmic Collection Console is a collection of console versions of several of the flagship shoot 'em up's from the famous TAITO series Darius. Does the game hold up as a true masterpiece like
the Arcade Collection of Darius that we recently reviewed
? No, but it's still a good collection nonetheless and here's why: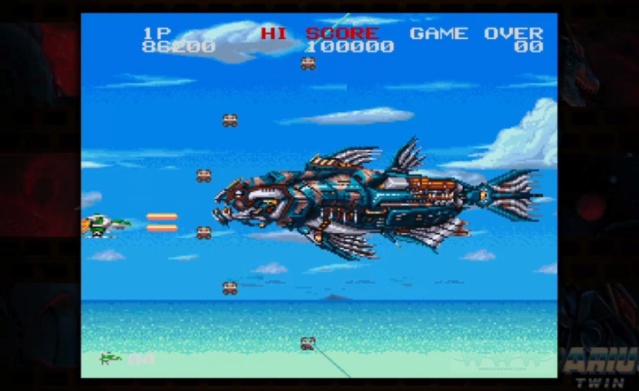 This collection features several versions of a few different Darius console titles which have all of the great shmup action you'd expect from the series, only a bit shorter and more simplified than the arcade counterparts. You still must fight hordes of ships modelled after marine life, avoid hazards, collect power-up's for your ship, etc. As per usual the console titles in the series feature branching level progression with dozens of level possibilities, although the courses are a bit shorter and there are fewer of them when compared to the arcade versions. There are a couple of games that are console exclusive that make this collection worthwhile, but the lack of options compared to the arcade collection and the missing UI elements do make this collection the less exciting of the two, which is a shame because it could have been so much better.
The difficulty is ironically harder than the arcade collection due to the lack of being able to add infinite continues in the games, despite the games themselves actually being easier. The controls are quite easy to learn, but hard to master with a bit of a frame delay. It's nothing substantial or even bad, but it takes a bit of getting used to. Overall the gameplay and controls are solid in this collection!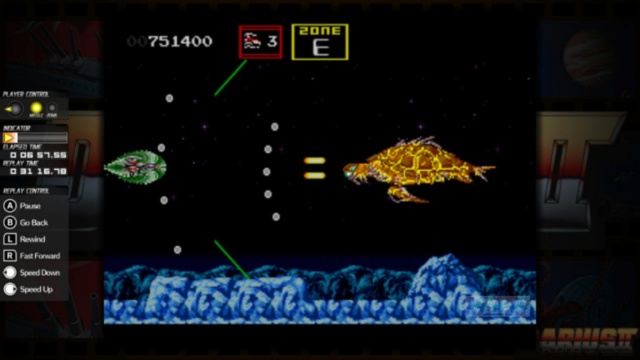 The visuals in this collection won't wow anyone, but are quite good with great backgrounds, detailed character and enemy models, and great special effects for games of their time! The soundtrack is absolutely incredible and will have you humming for hours afterwards. The music not only fits the games well, but is extremely memorable! Overall the audio-visual presentation of this collection is great!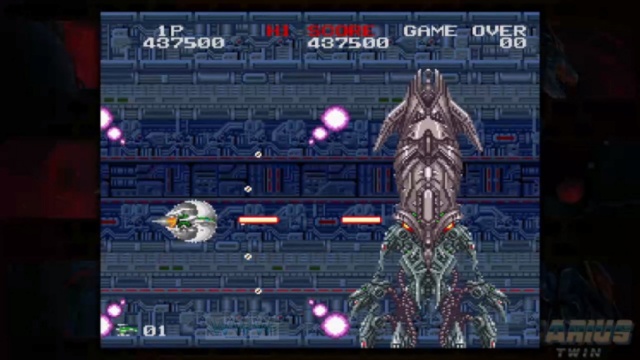 Bottom-Line: With solid gameplay and controls, and good graphics Darius Cozmic Collection Console will draw fans of the genre in and the amazing and memorable soundtrack will keep them hooked and coming back for more! We give Darius Cozmic Collection Console for the PS4 a good to great level of recommendation to all arcade aficionados and fans of shmups in general!
~~~~~~~~~~~~~~~~
Score: ★★★★★★★★½☆ 8.5/10
~~~~~~~~~~~~~~~~
~~~~~~~~~~~~~~~~
#Review
#M2
#PRHound
#ININ
#TAITO
#PS4
#PSN
#Switch
#eShop
#Shmup
#Arcade
#Console
~~~~~~~~~~~~~~~~
by Towafan7

on June 17th 2020, 6:09 pm
Search in: PS4 Retail Reviews
Replies: 22
Views: 812
~~~~~~~~~~~~~~~~
Battling The Aquatic Alien Menace!
~~~~~~~~~~~~~~~~

Developed by
M2
, published by ININ, and localized by ININ, Darius Cozmic Collection Arcade is a definitive collection of several of the flagship shoot 'em up's from the famous TAITO series Darius, but is it worth the price of admission? We think so and here's why: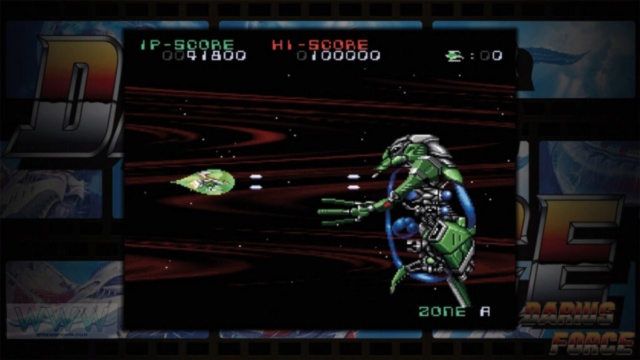 The gameplay in this arcade collection is frantic high-octane borderline bullet-hell goodness that'll likely hook any fan of the shooter genre hook, line, and sinker! The included games are varied and there are several versions of each game aside from Gaiden that are from various regions or with updated gameplay. The gameplay is slightly different with each game, but the basic gist is you defeat hordes of enemies and avoid a myriad of obstacles and hazards and usually face a mid-boss sometime during each level and face a boss at the end. Defeating an entire wave of enemies usually results in a large sum of bonus points and sometimes leaves you a ship upgrade to boost your firepower, shield, speed, or grants you a powerful silver form with a massive boost in power!
Each game is divided into sectors and at the end of each level you can select one of two. This selection changes based on your previous decisions allowing for a playthrough typically around 6-8 of up to 26 possible courses depending on the game you're playing in the collection! The menu allows you to view online manuals of each game, change difficulty, starting lives, whether or not continues are available, and tons of HUD display options for the on-screen UI. Overall the game offers a considerable amount of customization for each game and is a much-appreciated aspect of the collection!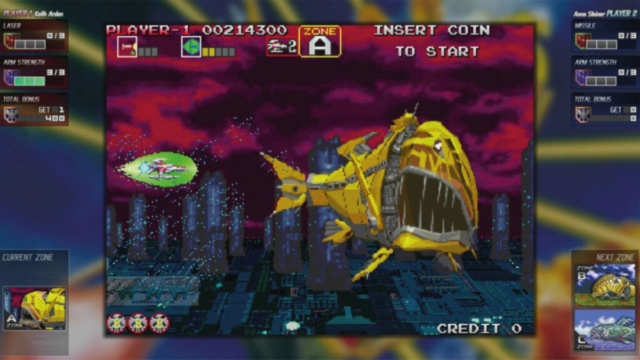 The difficulty of the games in this collection is tough-as-nails even on the easy difficulty setting, however the fact that you can add as many continues as you want going forward, it's pretty easy to beat the games, of course getting a competitively high score is another matter entirely. The controls are quite easy to pick up as expected from old-school arcade games, however the original Darius does have noticeably less responsive controls that take some time getting used to, but overall the collection is good in this regard.
As for the audio-visual presentation, the visuals aren't going to impress anyone in today's time, but the mechanical sea creatures that you fight in the games are quite unique and the aesthetics of the backgrounds are a step-above most games of that era. Darius Gaiden in particular looks absolutely amazing for an arcade game released in 1994. As for the audio side of things, the sound effects are of high quality and the soundtrack for each game is quite memorable and fits the games mood perfectly, overall the audio-visual presentation is nearly flawless in this collection.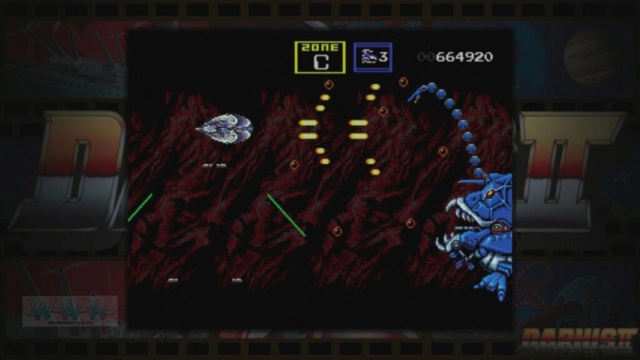 Bottom-Line: With amazing gameplay, a flawless audio-visual presentation, and a myriad of options available for each game in this collection, any fan of the genre will take the bait and snatch up this collection and the controls work as they were meant to in the original arcade releases which will reel you potential buyers all the way in! We give Darius Cozmic Collection Arcade for the PS4 a great level of recommendation!
~~~~~~~~~~~~~~~~
Score: ★★★★★★★★★☆ 9/10
~~~~~~~~~~~~~~~~
~~~~~~~~~~~~~~~~
#Review
#PRHound
#M2
#ININ
#TAITO
#PS4
#PSN
#Switch
#eShop
#Retail
#Arcade
#Darius
#Collection
~~~~~~~~~~~~~~~~
by Towafan7

on February 20th 2016, 11:25 am
Search in: Latest Nintendo News
Replies: 4
Views: 1363
~~~~~~~~~~~~~~~~~~~~~~~~~~~~~~~~~~~~~~~~~~~~~~~~~~~~~~~~~~~~
Farewell, May You Game In Peace...
~~~~~~~~~~~~~~~~~~~~~~~~~~~~~~~~~~~~~~~~~~~~~~~~~~~~~~~~~~~~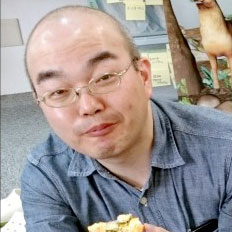 Naoki Horii, the president of the Tokyo-based
M2
Co. Ltd. has announced today that Akira Saito, a programmer for the company, passed away at the age of 43 after a battle with cancer. Akira Saito was apparently the main reason why SEGA's 3D Classics were released in the western hemisphere. Akira Saito also worked with Nintendo to produce some of the emulators for Wii Virtual Console, including the SEGA Master System, and SEGA GENESIS emulators as well as working on the Konami Rebirth series for the WiiWare service!
Our thoughts are with his family. It's always extremely sad when someone passes away at such a young age. Be sure to leave us your thoughts and condolences in our comment section below...
Source: Game Sutra.
~~~~~~~~~~~~~~~~~~~~~~~~~~~~~~~~~~~~~~~~~~~~~~~~~~~~~~~~~~~~
#Obituary
#RIP
#M2
#AkiraSaito
#SEGA
#3DClassics
#Wii
#VC
#KonamiRebirth
~~~~~~~~~~~~~~~~~~~~~~~~~~~~~~~~~~~~~~~~~~~~~~~~~~~~~~~~~~~~