Search found 1 match for LogGames
by Towafan7

on April 26th 2016, 6:24 pm
Search in: Wii U eshop Reviews
Replies: 4
Views: 1330
~~~~~~~~~~~~~~~~~~~~~~~~~~~~~~~~~~~~~~~~~~~~~~~~~~~~~~~~~~~~
Epic Dumpster Diving!
~~~~~~~~~~~~~~~~~~~~~~~~~~~~~~~~~~~~~~~~~~~~~~~~~~~~~~~~~~~~
Developed and published by Log Games, Epic Dumpster Bear is a platformer that would be easy to write-off given its bizarre name, premise, and lackluster visuals, however the game itself is really quite solid and here's why:
Epic Dumpster Bear possesses a ton of content and secret levels which can be unlocked either by collecting enough collectables or by getting a bull's-eye at the end of specific stages! The gameplay is simplistic and typical platforming fare, however the controls can be a bit awkward at first. The game can be played with the Gamepad or Wii U Pro controller and the Off-TV-Play works flawlessly! The difficulty of the game starts off easy, but becomes exceptionally challenging later in the game which is good for those who're looking for a challenge!
Visually the game looks dreadful, the character and enemy models are ugly and look like they belong on a early N64 title and not a particularly good looking one. The backgrounds are no better and just scream early N64! The music isn't all that memorable, but it's okay enough and the voice acting just feels out of place.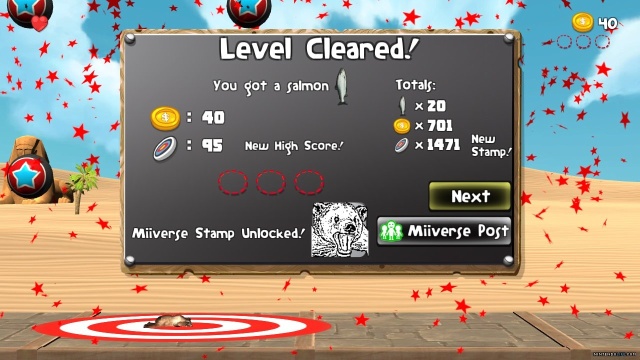 Bottom-Line:
With solid, yet typical platforming gameplay with a challenging level of difficulty, great Gamepad exclusive features, and multiple controller options, Epic Dumpster Bear is a very decent game as far as its core mechanics are concerned, however its soundtrack is somewhat flat and its visuals are really, really bad! The controls can be awkward at first, but it isn't much of an issue. Overall however, Epic Dumpster Bear had potential to be a solid title overall, but instead is only average thanks to its many issues, regardless an average score isn't a negative score so we still recommend the game to fans of the platforming genre.
Price: £7.49/$9.99
~~~~~~~~~~~~~~~~~~~~~~~~~~~~~~~~~~~~~~~~~~~~~~~~~~~~~~~~~~~~
Score: ★★★★★☆☆☆☆☆ 5/10
~~~~~~~~~~~~~~~~~~~~~~~~~~~~~~~~~~~~~~~~~~~~~~~~~~~~~~~~~~~~
~~~~~~~~~~~~~~~~~~~~~~~~~~~~~~~~~~~~~~~~~~~~~~~~~~~~~~~~~~~~
#Review
#EpicDumpsterBear
#WiiU
#eShop
#LogGames
~~~~~~~~~~~~~~~~~~~~~~~~~~~~~~~~~~~~~~~~~~~~~~~~~~~~~~~~~~~~