Search found 2 matches for GameFreak
on March 2nd 2019, 11:03 pm
Search in: Latest Nintendo News
Replies: 7
Views: 1100
~~~~~~~~~~~~~~~~
Gotta Announce 'Em All!
~~~~~~~~~~~~~~~~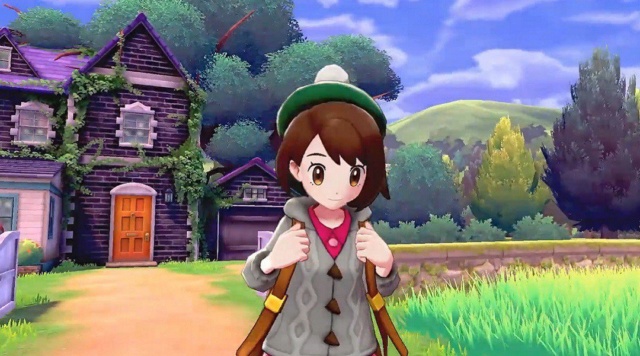 Hey gamers, Bre here with some quick news on the new Pokemon direct! As I am sure some of you have seen by now a new Pokemon Direct has hit the web, and boy did it bring some happiness to Pokemon gamers like me!
For those of you who have not seen the direct yet, I got the fill in on all the details you need to know! First off the new Pokemon game for the switch was announced given the titles "Pokemon Shield" and "Pokemon Sword." This brings in a whole another generation of Pokemon and a new region to catch them in! It's been a while since we saw a new generation of Pokemon, and while rumors were swirling around for a while now we were beginning to think this would never come!
With a new generation of Pokemon and a new region of course comes new starters and what would a Pokemon game be if the starters weren't of the grass, water, and fire type. The first starter we are going to talk about goes by "Grokey" and is the grass starter that is a Monkey form that starts off in its first evolution as an Grass
and fighting type.
The second starter we got announced was a cute little rabbit/bunny named "Scorbunny" who judging by his name you can probably guess is a Fire and fighting type. And let's not forget our new little water friend "Sobble" who brings up the three starting types with Water and fighting. These three new starters already have stolen our hearts, and are bound to bring along lots of fun and trouble.
The last new thing we can cover that we been told for now is the name of the new region the game will take place in named "the Galar Region." This region consists of all different types of land from treacherous mountains, to snow covered areas, and more. This region is bound to bring upon new journeys and fun times. As for now, we don't know too much about the new land, but with time we are sure Nintendo will give us more.
Welp that's it for name gamers, I'll see you next time!
~~~~~~~~~~~~~~~~
#NintendoDirect
#Pokemon
#Sword
#Shield
#Nintendo
#Gamefreak
#ThePokemonCompany
#JRPG
#MonsterTaming
~~~~~~~~~~~~~~~~
on February 21st 2019, 8:24 pm
Search in: Switch Reviews
Replies: 44
Views: 1919
~~~~~~~~~~~~~~~~
Let's Go Pokefun!
~~~~~~~~~~~~~~~~
Hi there gamers, Bre here with another review for another great game from our friends at Nintendo! This time around I will be reviewing "Let's Go Eevee" for the Nintendo Switch. Let's Go Eevee is a fun game that takes the classic tales from three of our beloved past Pokémon games, "Pokémon: Blue, Red, and Yellow" and combines them into one game full of new twists, characters, and more.
Let's Go Eevee takes you on the journey to becoming a Pokémon master by traveling roads to several towns and battling in gyms that feature in eight different types of Pokémon forcing you to master all different types of Pokémon and learn the ins and outs of the Pokémon world. The game comes with an awesome story mode that makes you work for what you want but keeps a mystery about while playing through the story piece by piece. The last bit of fun this game offers is in the fact that you can trade for alternate forms of certain Pokemon. Overall, I love this game, and cannot wait to explore the rest of the story from within, as my process continues I'll post updates.
Pros of this game:
- Allows for co-op with friends
- - awesome storyline
- Features many lovable characters from the past games
- Brings a bit of the past with the new
- Poke ball plus lets you bring your game from GO to Let's Go
- new fun alolan forms of your favorite Pokemons
Now that we have talked about the positives of the game let's get down to the down side cause as we all know with the good always comes some bad sadly. One downside to this game is it tends to fall a bit shorter than the older games, and some people say that the throwing technique makes it too easy.
While I think the throwing, technique is great I can see where this makes the game a bit less fun, and why the older trainers may like the classic form back. The other downside is that if you walk your Pokémon in your poke ball plus too long it can overpower the game taking some of the fun/challenge out people are saying. While these may not seem like major concerns these are things that the classic Pokémon gamers have brought up.
Cons to this game:
- Overpowering by Poke ball Plus
- Throwing technique makes catching too easy
- Co-op can only be done via local modeBottom-Line: this game is very fun to me, and I love that it combines Pokémon Go with Let's Go, and that I can replay through parts of the classic games as I did miss the first in the series sadly. I do believe this game was a great way to connect the two Pokémon versions, and I give it a good level of recommendation!
~~~~~~~~~~~~~~~~
Score: ★★★★★★★★☆☆ 8/10
~~~~~~~~~~~~~~~~
~~~~~~~~~~~~~~~~
#Review
#Nintendo
#GameFreak
#PokemonComany
#Pokemon
#JRPG
#Tomodachi
#Switch
#Retail
#eShop
~~~~~~~~~~~~~~~~