Search found 6 matches for Fighter
on March 27th 2019, 7:27 am
Search in: PS4 Retail Reviews
Replies: 26
Views: 1070
~~~~~~~~~~~~~~~~
J-Force Assemble!
~~~~~~~~~~~~~~~~
Developed by Spike Chunsoft and published by Bandai Namco, Jump Force is likely the biggest, most ambitious anime game the gaming community will see this year. So will it satisfy player's anime fighting needs?
Game Modes:Tutorial Missions:
Tutorial mode is an extension of the mandatory tutorial and teaches the player more of the basics of combat in the game.
Story:
Jump Force's story starts off slow which makes it seem lackluster and impersonal at first. It starts with way too many story missions, the majority of which feel more like side missions. After completing the first few chapters, the story does start to improve and increase interest. There aren't as many missions that don't feel related to the story, and it picks up its pace which makes it more engaging than before. Finishing the story feels like completing an anime, it is very satisfying, but it feels like there should be more. One thing to note is that it occasionally a character might seem out of character in story mode which can make that part of the story feel off. Another important thing to note is that to play and progress in the story; the player must either go to the mission counters and chose Key Missions or talk to the correct character to progress. It can get a little confusing trying to figure out where to go at times but remembering the minimap is key.
Free Missions:
This mode is definitely a good one to grind. In this mode, the player can obtain experience, money, upgrade materials, cosmetic items, abilities, and J-Skills. These missions are not that hard to complete and range in difficulty from Easy to Expert. To get the most out of this mode, the player would want to get S-rank on each mission which does take some time.
Extra Missions:
In this mode, the player completes missions which increase their level cap and obtain elements to apply to some abilities allowing the player to fine-tune their play style even more.
Online:
In online mode, the player can fight other players online. There is the option to play quick matches, ranked matches, or friend matches. These modes are well implemented, but it would have been nice to have a rematch option in the friend matches, so friends don't have to go through a ridiculous number of loading screens each time they do a match.
Offline:
In offline mode, the player can choose to fight a couch-side friend, a CPU, have two CPUs fight each-other, or train. This mode probably doesn't get as much credit as it deserves, but it certainly isn't as prominent as the other modes.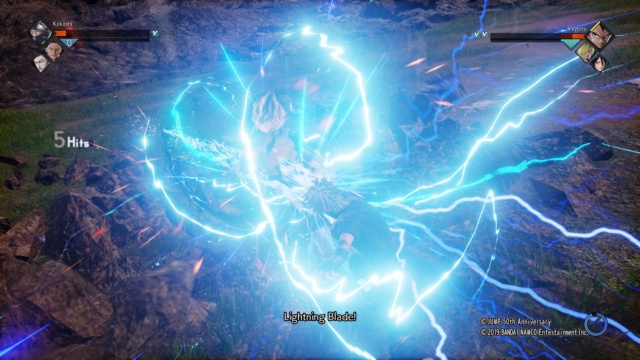 Customization:
In the game, there are multiple options for customization which are mostly broken down into avatar creation, customization items, and abilities.
Avatar Creation:
In avatar creation, the player can create their avatar. They chose which type of fighting style (Martial Arts, Pirate, or Ninja) and customize their avatar's appearance. The avatar creation is very good and allows players to create incredibly unique avatars or recreate a character from the animes in the game. Some of the options such as hair and the two features can be changed in-game, but everything else is not, so create wisely.
Customization Items:
Customization Items are the clothing and accessories the avatars wear. They can be obtained via the in-game shop or through Free Missions. The options for this seem a little limited currently in terms of styles and colors, but the developers are releasing more options in future patches.
Abilities:
Abilities are the moves the player's avatar uses from the pool of in-game playable characters' moves. Choosing moves allows for some whacky combinations or utter destruction. Abilities can be swapped out at any time, and the player can obtain new moves either through the in-game store or playing Free Missions. Some abilities are also eligible for element changes which were mentioned a little earlier. Abilities are a very important part of avatar customization as it decides the players play style.
Technical Bits:Controls:
The controls are very different from other Bandai fighting games, but are very easy to get used to and help create a very smooth fighting experience.
Visuals:
The visuals in Jump Force are one of the things that had the biggest interest factor for the game. Luckily the visuals live up to what was seen in the trailers and continue to be amazing with few flaws. The main flaw left by having such great graphics is that the faces of some of the anime characters wind up looking like their face was pasted onto their model, but luckily that flaw does not apply to most of the characters. Apart from that, the graphics for the game are amazing compared to other Bandai fighting games. The special effects, maps, and avatar details are awesome.
Audio:
Chunsoft chose to go with an epic style for their music which sounds good and helps round out the theme of the game, and the sound effects are good. The voice acting is very good, but it only comes in Japanese audio with English subtitles which could cause an issue for some players.
Completion:
Full completion of Jump Force will likely take at least 70 hours likely more to do all the missions and experience multiplayer. It is also the kind of game where the multiplayer is something to come back to for an extended length of time.
DLC:
There are confirmed DLC characters as of right now and a Character Pass which grants players nine DLC characters and access to those characters four days before they are available for purchase. There are only nine DLC character spots confirmed at this point, but there is the possibility that they could increase the number later on.
Conclusion: Jump Force will satisfy a player's anime fighting needs at least until their next game comes out if not beyond that. It has a few rough spots but all in all, it is a solid game.
~~~~~~~~~~~~~~~~
Score: ★★★★★★★½☆☆ 7.5/10
~~~~~~~~~~~~~~~~
~~~~~~~~~~~~~~~~
#Review
#BandaiNamco
#SpikeChunsoft
#Fighter
#Anime
#PS4
#Retail
#PSN
~~~~~~~~~~~~~~~~
on January 17th 2019, 11:48 pm
Search in: PS4 Retail Reviews
Replies: 23
Views: 2012
~~~~~~~~~~~~~~~~
My Hero's Justice?
~~~~~~~~~~~~~~~~
Developed by Byking Inc. and published by Bandai Namco, My Hero Academia now has its own fighting game: My Hero One's Justice. While this fresh anime has wooed fans, is the game up to par?
Story:
In the Story Mode there are three chapters to the campaign. The first chapter of the three-part campaign is the Hero chapter. This section of the campaign takes you through the events from when the young heroes begin their internships to the fight between All Might and All for One. Which in reference to the anime is around the middle of season two to the middle of season three. Finishing the Hero chapter feels very rewarding and unlocks the villain chapter. Unfortunately, the villain chapter falls a bit flat.
It is practically the same thing as the hero chapter, so it just feels like a repeat with different characters. In addition to the lackluster feeling of repeating the main events they also seemed to throw in some unnecessary side missions which have nothing to do with the plot. After finishing the villain chapter, the last chapter of the campaign unlocks. This chapter covers the U.A Sports Festival, which happened before the events of both the previous chapters. It is nice that it was included, but it feels very out of place and seems like a last-minute decision. Overall the Story mode to My Hero One's Justice started off strong but fell short towards the end.
Mission Mode:
Mission Mode in My Hero One's Justice is a great place to fine tune fighting skills and earn more accessories for customization. The missions start off easy, but progressively gets harder towards the later missions.
This mode is good for hone skills since it introduces fighting under extreme circumstances sometimes. Mission mode adds specific stipulations under which matches can be won. Some examples of these stipulations would be: win by ring-out (out of bounds), survive until time expires while health slowly degenerates, beat enemies while their health slowly regenerates, etc. These missions make mission mode challenging and rewarding upon completion.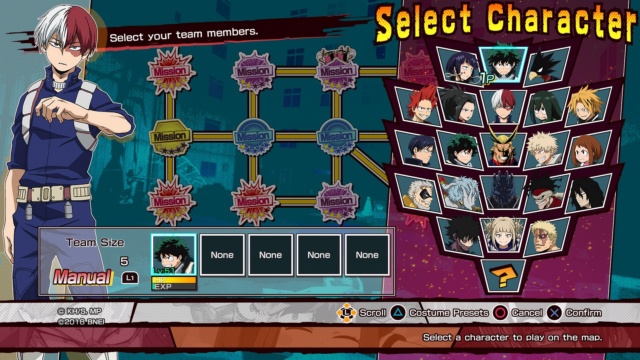 Customization Modes:
In game there are two modes for customization: Customize Profile and Customize Character. In Customize Profile one can customize a card that will display player information while playing in online mode. This card customization consists of a background, a picture, a title, and a comment. All the customizations for this mode are available by playing, beating, or leveling specific characters. In Customize Character one can customize the outfits, introduction scenes, and voice sets. Most of the character's outfits and accessories can be obtained by fulfilling conditions in story and mission modes, but a few of them must be purchased using in game currency earned by completing matches.
The customizations to the introductions include a special background, a customizable "mottos" and text color. Most of the mottos can be unlocked by fulfilling conditions or can simply be unlocked through purchase. The backgrounds and text colors are exclusively unlockable through purchase. There is also the option to change the sets of dialogue the characters use in matches.
There are voices for match introductions, attack voices, victory voices, and extended voice packs. All the voice packs besides the default ones must be purchased. There is the ability to create three costume presets in Customize Character mode which allows for the player to save three different outfit, accessory, voice sets, and introduction customizations to be used in Mission, Local, and Online modes. All in all, the game has a very expansive customization system that lets the players express themselves.
The Technical Bits:
Controls:
The controls for this game are very easy to learn on PlayStation 4 as they are relatively similar to other fighting games.
Visuals:
The visuals for this game are standard for Bandai brand fighting games. They are not anything particularly new or more detailed, but still satisfying to see.
Audio:
The audio for the game is satisfying. The music in the menus is very peppy but not in your face. In the matches the music is more intense and helps set the mood while fighting. In the end the music fits the game very well. The dialogue for the game is in Japanese and is very nice to listen to since it is the same voice actors from the anime, but the only problem is that there are no subtitles. Due to this someone who does not know Japanese will likely be unable to know what the characters are saying.
Completion:
To 100% this game with fulfilling all the special conditions in story and mission modes could take an average of 50 hours give or take. This does not include all the customization unlocks and trophies (for the PlayStation 4 version) since there are so many customizations unlocks which also feed into the trophies.
A word on Multiplayer:
In this game the Online Mode works completely fine most of the time. There are some instances where the matchmaking will time-out and force the player to re-que, but there is also another error that is a bit more frustrating. Less common than the previous error is when loading into a pre-match screen the screen will just stay a dark red with nothing on it to indicate it is loading. The screen can stay that way for an indefinite amount of time. The easiest way to fix this is to restart the game. Waiting the screen out is doable sometimes, but likely not worth the wait.
DLC:
There are DLCs for My Hero One's Justice to unlock extra characters and missions for extra customizations. They are not necessary to enjoy the game and thus are completely optional.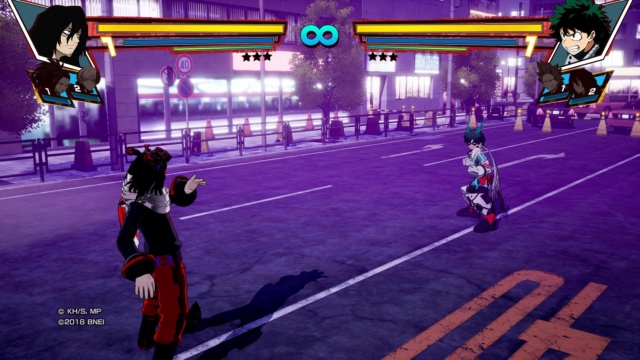 Bottom-Line: My Hero One's Justice is a decent anime fighting game. For fans the game is enjoyable despite the shortcomings of the story. However, for people who have not watched the anime or read the manga it would likely be lackluster. We give the game a decent level of recommendation.

~~~~~~~~~~~~~~~~

[b]

Score: ★★★★★★☆☆☆☆ 6/10
~~~~~~~~~~~~~~~~
~~~~~~~~~~~~~~~~
#Review
#BykingInc
#BandaiNamco
#Fighter
#Anime
#PS4
#Retail
#MyHeroAcademia
~~~~~~~~~~~~~~~~[/b]
by Towafan7

on September 21st 2018, 10:37 am
Search in: PS4 Retail Reviews
Replies: 22
Views: 1590
~~~~~~~~~~~~~~~~
Scantily Clad Girls Everywhere!
~~~~~~~~~~~~~~~~
Developed by SNK and published by NIS America, SNK Heroines is a fighting game for people who for a lack of better words like a full cast of female characters in their fighting games. So you know there will be oversexualized characters, however once you get into the meat of the game it is excellent at least in-terms of its gameplay mechanics, but is this enough to earn a passing grade from us? Keep reading to find out!
The story is mostly forgettable, but the characters are quite humorous and will constantly complain about things such as their bust size, or their outfits which is hilarious to be honest. The gameplay mechanics are actually quite accessible and easy to learn and the combo input is definitely fast-paced so expect battles to end rather swiftly rather than slow-paced technical fights.
Overall SNK Heroines feels like an old-school arcade
fighter
in every way which is nice for longtime fans of the genre. There are several modes, but nothing all that unusual for a fighting title
The controls are intuitive and easy to learn which is always a must in a fighting game. The visuals are nice, sure they won't blow you away, but are definitely detailed and at times quite pretty. The music is also quite solid and fits the game perfectly.
Bottom-Line:
With great gameplay and controls, and solid audio-visual presentation the game had potential to be extremely good, but a forgettable story and ridiculous amount of fan-service held this game back from its potential, regardless the game is still a solid choice for fans of old-school arcade-fighters and as such we give SNK Heroines: Tag Team Frenzy a solid level of recommendation!
~~~~~~~~~~~~~~~~
Score: ★★★★★★★☆☆☆ 7/10
~~~~~~~~~~~~~~~~
~~~~~~~~~~~~~~~~
#Review
#NiSAmerica
#NiSA
#SNK
#Fighter
#Arcade
#PS4
#Vita
#Retail
#PSN
#Switch
#eShop
~~~~~~~~~~~~~~~~
by Towafan7

on November 22nd 2017, 11:52 am
Search in: Vita Retail Reviews
Replies: 10
Views: 1327
~~~~~~~~~~~~~~~~
The Bullet-Hell And Fighting Genres Unite For An Epic Battle!
~~~~~~~~~~~~~~~~
Developed by CUBETYPE and published by Nis America, Touhou Kobuto V: Burst Battle is a fighting game at it's core, but like all games in the Touhou franchise it has very prominent bullet-hell gameplay elements! Does this work well with the fighting genre? We think so and here's why:
The gameplay is relatively straightforward with each character being assigned a relatively small number of attacks and no real combo system to speak of. While this might seem overly simplistic at first it actually makes the game very strategic and forces you to learn the enemy's patterns to secure consistent victories against them! The most unique move in each character's arsenal is their bullet-hell barrage which shoots a ton of projectiles in a set pattern at the enemy which can overwhelm them if timed correctly.
The game features a story campaign for each character, but each campaign is so short that the mode feels rather shallow. Touhou Kobuto V: Burst Battle also has less than 10 characters which is somewhat disappointing. The online multiplayer can be a blast to play and is easily the highlight of this game! The game is also PSTV compatible which is great news for those of you who enjoy playing the game on the big-screen! The controls of the game are extremely simple and easy to learn, but in this particular case it might be a bit too simplistic for some gamers tastes.
The difficulty of the game can range from extremely challenging to easy as pie depending on how much practice you get and how much you've mastered the gameplay. In-terms of the audio-visual presentation the game is decent enough. Visually it looks nice, but it certainly won't impress many Vita players, and the soundtrack fits the game well, but isn't overly memorable.
Bottom-Line:
With strategic and fun gameplay Touhou Kobuto V: Burst Battle for the Vita is a blast to play, but the game is somewhat light in content and might be a bit simplistic for some gamers. Overall, however we found the game to be enjoyable and as such we give Touhou Kobuto V: Burst Battle for Vita a solid level of recommendation!
~~~~~~~~~~~~~~~~
Score: ★★★★★★★☆☆☆ 7/10
~~~~~~~~~~~~~~~~
~~~~~~~~~~~~~~~~
#Review
#CUBETYPE
#NisAmerica
#Vita
#PSTV
#Fighter
#BulletHell
~~~~~~~~~~~~~~~~
by Towafan7

on December 21st 2016, 6:01 pm
Search in: PS3 Retail Reviews
Replies: 5
Views: 1379
~~~~~~~~~~~~~~~~~~~~~~~~~~~~~~~~~~~~~~~~~~~~~~~~~~~~~~~~~~~~
This Dragon Rocks!
~~~~~~~~~~~~~~~~~~~~~~~~~~~~~~~~~~~~~~~~~~~~~~~~~~~~~~~~~~~~
Developed by Dimps and published by Namco Bandai, Dragon Ball Xenoverse is part JRPG, part
fighter
, and all fun! So what is so grand about Dragon Ball Xenoverse and what sets it apart from the countless other DBZ games that have been released over the years? The answer is just about everything! Continue reading our review to find out all the juicy details regarding this amazing PS3 and PS4 title!
The story in Dragon Ball Xenoverse is well-crafted and allows you to relive epic moments in the DBZ mythos in a completely new way. Without spoiling much of the plot, basically bad guys are altering history and it's up to you and Trunks to set things right! This gives a breath of fresh air that most DBZ titles have sorely lacked.
The gameplay is also rather refreshing with the ability to customize your avatar's attire, abilities, and move-set as well as boosting his or her stats after leveling up! The game allows you to create an avatar from one of five species, including Saiyans, Majins, and the Frieza race. Each species and or gender has unique strengths and weaknesses to employ or exploit which adds a layer of strategy when developing your character.
Overall the game is a
fighter
at heart, but it does have very heavy influences from the RPG genre which is what actually makes the game so darned good! Also the controls are very intuitive and easy to learn even for the most inexperienced players in the genre!
The online gameplay is quite solid despite lacking a virtual keyboard. You'll definitely want to invest in a headset if you plan to play with friends or for extended periods of time. The PS3 version's servers are surprisingly stable so don't expect to be kicked from the servers too frequently unless you have particularly unstable internet connection.
The visuals are quite good for a PS3 title with excellently detailed character models, gorgeous cell shading, and a nearly flawless frame-rate even during the most hectic of battles! The sound-track is equally as good with some tunes straight from the Japanese version of the original anime series as well as the official voice actors from the anime!
Bottom-Line:
With excellent gameplay, a great story, and flawless controls Dragon Ball Xenoverse is a step above its predecessors while the superb audio-visual presentation and robust online gameplay will keep players entranced in the game's immersive world! Overall Dragon Ball Xenoverse is a fantastic game that we highly recommend to any fan of the genre or series!
~~~~~~~~~~~~~~~~~~~~~~~~~~~~~~~~~~~~~~~~~~~~~~~~~~~~~~~~~~~~
Price: $29.99

Score: ★★★★★★★★★☆ 9/10
~~~~~~~~~~~~~~~~~~~~~~~~~~~~~~~~~~~~~~~~~~~~~~~~~~~~~~~~~~~~
#PS3
#DBZ
#Fighter
#Review
#NamcoBandai
#Dimps
~~~~~~~~~~~~~~~~~~~~~~~~~~~~~~~~~~~~~~~~~~~~~~~~~~~~~~~~~~~~
by Towafan7

on April 12th 2016, 12:39 pm
Search in: Wii U eshop Reviews
Replies: 8
Views: 1671
~~~~~~~~~~~~~~~~~~~~~~~~~~~~~~~~~~~~~~~~~~~~~~~~~~~~~~~~~~~~
Everybody Phone Home...
~~~~~~~~~~~~~~~~~~~~~~~~~~~~~~~~~~~~~~~~~~~~~~~~~~~~~~~~~~~~
Here it is! Our 500th review and Steel Rivals is a truly epic title in our books, but for none of the right reasons! Continue reading the rest of our review to find out why we aren't very fond of Steel Rivals!
Developed and published by nuGAME the gameplay in Steel Rivals is straightforward and relatively simple, there are several modes including tournament and free battle. The tournament mode is actually decent in its mechanics, however this is the only good aspect of the game. The game lacks any sort of story mode which is a shame. There are some unlockable skins for the characters in the game, but overall there's not much of an incentive to master Steel Rivals.
The characters are so broken in-terms of balance with two character types, ones with weapons and ones without. Weapon wielding characters have a huge advantage in-terms of speed which completely ruins any balance between the various characters in the game.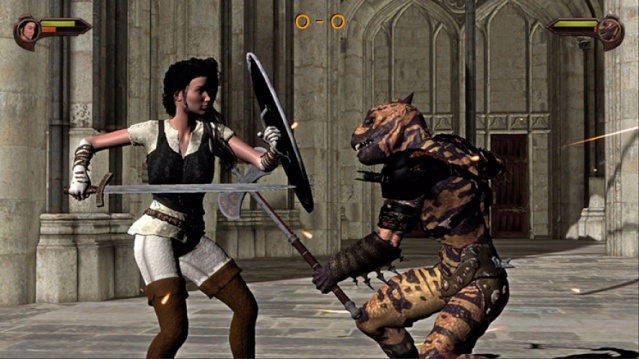 The controls are an absolute disaster in Steel Rivals as there were many occasions where the blocking and attack buttons were unresponsive while at the same time the enemy A.I. made no mistakes whatsoever which meant that a dreaded game over was almost a guarantee.
The visuals are also atrociously bad, as the 3D character models look like bizarre mannequins with pseudo realistic faces and plastic skin. The backgrounds are better, but are quite drab and uninspiring. The sound effects are also lackluster with an equally boring soundtrack.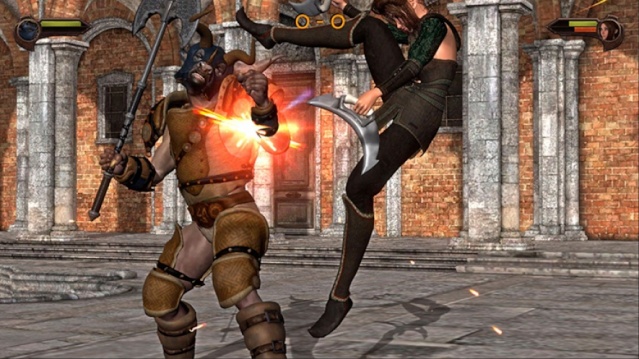 Bottom-Line:
With mediocre gameplay, broken controls and A.I., a total lack of a story mode, and an atrocious audio-visual presentation, Steel Rivals is quite possibly the worst game that we've ever reviewed and should be avoided at all costs. If you do download the game you should expect an E.T. level experience...
Price: £5.99/€6.99/$6.99
~~~~~~~~~~~~~~~~~~~~~~~~~~~~~~~~~~~~~~~~~~~~~~~~~~~~~~~~~~~~
Score: ☆☆☆☆☆☆☆☆☆☆ 0.5/10
~~~~~~~~~~~~~~~~~~~~~~~~~~~~~~~~~~~~~~~~~~~~~~~~~~~~~~~~~~~~
~~~~~~~~~~~~~~~~~~~~~~~~~~~~~~~~~~~~~~~~~~~~~~~~~~~~~~~~~~~~
#Review
#NuGames
#WiiU
#eShop
#Bad
#Fighter
~~~~~~~~~~~~~~~~~~~~~~~~~~~~~~~~~~~~~~~~~~~~~~~~~~~~~~~~~~~~