KeAfan7

Admin

~~~~~~~~~~~~~~~~
Chains of Entertainment!
~~~~~~~~~~~~~~~~
Developed by Matthias Linda, published by DECK13 Spotlight, and public relations by PR Hound, Chained Echoes is a love letter to JRPG's of yesteryear and not only lives up to the games it was inspired by, but in some ways actually surpasses them! Why do we hold this game in such high regard? Continue reading our review to find out why!
The story in Chained Echoes is pretty dark with plenty of humor splashed throughout, it's a tale of horrific mistakes, atonement, religion, and stopping atrocities such as human experimentation, and weapons of mass destruction, just to name a few, and it's mostly done with clear story arcs as to tell each part of the story in clear detail which is something many AAA studios have forgotten how to do. Now we normally talk about characters, but they are such an amazing ensemble crew that we'd be writing a full-on novel if we delved into them, which we know you guys and gals prefer us to stick to the point and not ramble, so that as they say is that.
The game has a really unique skill system which adds a skill point for every boss you beat with the characters in your group at the time, some grant you skills, others passive abilities, while others grant a small stat boost. Then there's hero statues that can grant new classes in exchange for the relatively rare item, Holy Water. These classes can boost stats, effect certain stats growth when learning new skills "sometimes stats will increase when you learn skills, and your class can effect which skills are boosted permanently and by how much", and grant a couple of class exclusive skills and passive skills which can be extremely helpful in a pinch!
Another huge part of the game later on are the mechas that you'll obtain. There's actually quite a few customization options including frames, short and long-range weapons, and a plethora of paint design options for your frames, you can buy most parts, but some of the best require other things such as defeating super bosses, or expanding your adventurer clan. This is where some of the inspiration for certain aspects of game become clearer. The clan that you can build-up by recruiting members and hunting named monsters around the world is clearly heavily inspired by the adventurer clans in Final Fantasy XII, but this game does so much more with the system allowing you to be the clan leader of your very own adventurers clan and build it up from scratch. There's a ton more to the clan system than we've mentioned, but we don't want to spoil too much about this mid-late game mechanic.
The clan system isn't the only homage to FF XII in Chained Echoes, as two of the in-game demi-human races are clearly inspired by the Bangaa and Seeq races in that game. But none of these homages feel disrespectful or are blatant rip-offs as the developer does an amazing job at making them unique in the developer's own way which is something that only truly talented developers could accomplish!
As for the controls, they are pretty self explanatory and work flawlessly. As for the length of the game, that's actually pretty tricky to estimate, but if you try to power through the main story skipping all side content, the game is around 35-40 hours in length, however if you do all of the side content as well we'd estimate a play-time of around 80-100 hours which is absolutely mind-boggling considering the game's developer is a one-man team!
The graphics in the game are 2-D, but are definitely 32-bit inspired rather than 16-bits and boy does the game look gorgeous, it looks better than most AAA releases did during the 32-bit era and what's more, the game doesn't even experience the slightest bit of slowdown or frame-rate drops. It's clear that the developer made sure that even the Nintendo Switch version of the game was perfectly optimized for the console! The music is exceptional as well with some real bangers, and all of the music fits the game like a glove!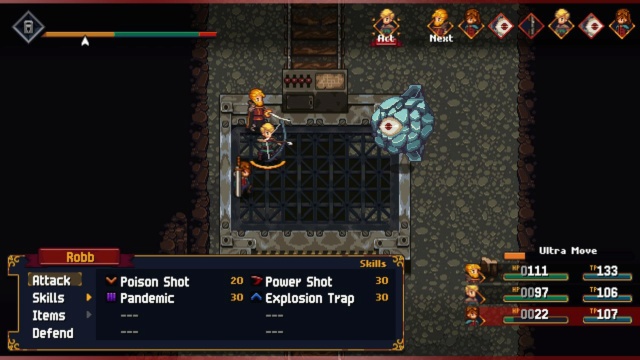 Bottom-Line: With an amazing story, superb gameplay, flawless controls, and a ton of content, Chained Echoes will draw players in from the start, and the gorgeous visuals and top-notch soundtrack will make them feel like they are being drawn into the game's immersive world. Overall we give Chained Echoes for the Nintendo Switch, not only a perfect level of recommendation, but also our choice for January 2023's Game of The Month!
~~~~~~~~~~~~~~~~
Score: ★★★★★★★★★★ 10/10
~~~~~~~~~~~~~~~~
~~~~~~~~~~~~~~~~
#Review
#ChainedEchoes
#Switch
#eShop
#PS4
#PSN
#JRPG
#DECK13
#MatthiasLinda
#PRHound
~~~~~~~~~~~~~~~~
Amufungal, ShounenMania, Warlock in love, Zatchbell, OrionJZed, Kain, Aqua Cherry Blossom and like this post
Permissions in this forum:
You
can
reply to topics in this forum