KeAfan7

Admin

Super Poster!

This member has made a splash by posting over 10,000 messages and comments in our community!

Mega Coinage!

This kind user has earned over 50,000 Coins! Happy posting!
~~~~~~~~~~~~~~~~
Spelunking Ahoy!
~~~~~~~~~~~~~~~~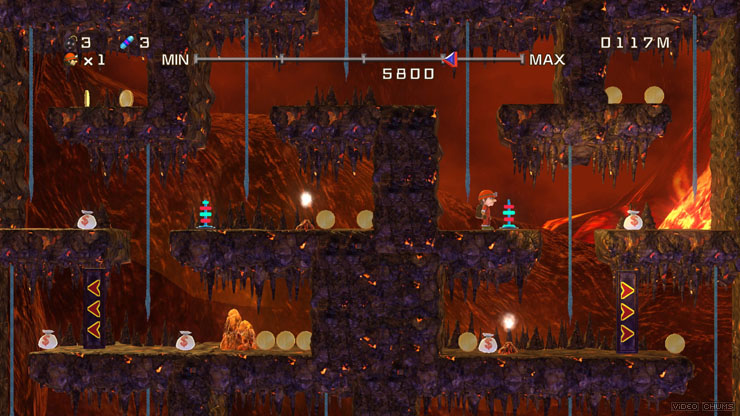 Developed by Tozai Games, published by ININ Games, and public relations by PR Hound, Spelunker HD Deluxe for the PS4 is an action-platformer from the NES era that has been revived on PS4 with optional enhanced graphics, leaderboards, online multiplayer, and several enjoyable new game modes. Is this enough to make the game enjoyable for modern audiences? We think so and here's why:
The gameplay is straightforward enough, collect treasure, avoid enemies and traps, and DON'T FALL! Seriously elevation is deadly in this game and while frustrating at times it isn't unfair. You'll never feel like a death was undeserved, which is a sign of a well-designed game. The myriad of game modes adds a ton of replayability to the game, especially the Championship Mode and the roguelike mode exclusively available on this re-release.
The controls are easy to learn and are quite intuitive while the multiplayer is a ton of fun for players of all ages! The audiovisual presentation is also extremely well-done with great visuals and superb music that fits the game like a glove!
Bottom-Line
:
With great gameplay, excellent controls, and a superb audiovisual presentation, Spelunker HD for the PS4 is a quality remaster of a forgotten retro gem that we highly recommend to all PS4 owners as such we give the game a good to great level of recommendation!
~~~~~~~~~~~~~~~~
Score: ★★★★★★★★¾☆ 8.75/10
~~~~~~~~~~~~~~~~
~~~~~~~~~~~~~~~~
#Review
#MiniReview
#TozaiGames
#ININGames
#PRHound
#PS4
#Retail
#PSN
#Switch
#eShop
#Platformer
#Retro
#Spelunker
~~~~~~~~~~~~~~~~
Staroceancrazy, Kenshin A-Go-Go, Himawari Chan, Elza, Kain and Aqua Cherry Blossom like this post
Permissions in this forum:
You
cannot
reply to topics in this forum