Kain
~~~~~~~~~~~~~~~~
Dragons, Heroes, And Destruction!
~~~~~~~~~~~~~~~~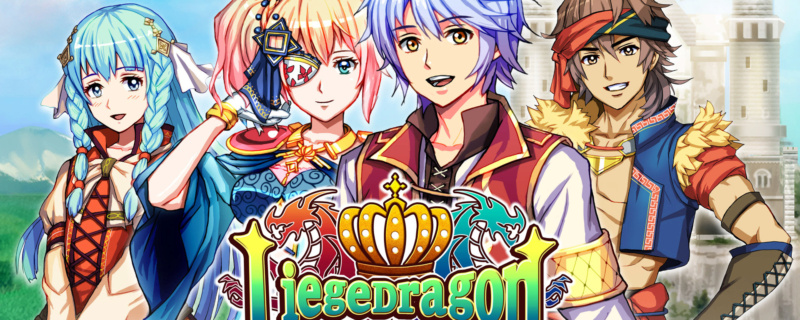 Developed by Hit-Point and published by KEMCO, Liege Dragon is an epic tale of legendary heroes, an ancient evil, and betrayal that will have you on the edge of your seat wondering what's next. If this sounds like good fun, it is so continue reading the review to learn more!
The story in Liege Dragon is one of ancestry, friendship, and betrayal with plot-twists will keep you returning time and time again. The characters are charming and likable, and their personal growth is very apparent over the course of the game's 20-25 hour long story. The gameplay is rather interesting with characters facing hordes of enemies at once. Each enemy cluster loses strength as the cluster gets weeded out as it takes damage which adds a fun layer of strategy to the game. The controls are fully serviceable and the difficulty can be super hard at times which might be off puting to some players.
The graphics are nice enough with good retro inspired 16-bit characters and world and nice visual novel like story scenes which looks amazing. The music is also great with some rockin' chiptunes that will entertain most retro aficionados.
Bottom-Line: With a great story, good gameplay, and excellent audiovisual presentation we give Liege Dragon for the Nintendo Switch and PS4 a great level of recommendation!
~~~~~~~~~~~~~~~~
Score: ★★★★★★★★★☆ 9/10
~~~~~~~~~~~~~~~~
~~~~~~~~~~~~~~~~
#Review
#KEMCO
#HitPoint
#PS4
#PSN
#Switch
#eShop
#RPG
~~~~~~~~~~~~~~~~
KeAfan7, Amufungal, Staroceancrazy, DigiDestined, Kenshin A-Go-Go, Zatchbell, OrionJZed and like this post
Permissions in this forum:
You
cannot
reply to topics in this forum