KeAfan7

Admin

~~~~~~~~~~~~~~~~
CrossDimensional Fun!
~~~~~~~~~~~~~~~~
Developed by Radical Fish Games, published by Deck 13, and public relations by PR Hound, CrossCode is an action RPG set in a simulated VRMMORPG that pays homage to many classic games in the genre. How does it stack up to other simulated VRMMORPG's or action RPG's in general? Continue reading our review to find out!
The gameplay in CrossCode is basically like The Legend of Zelda crossed with a ton of MMO features such as quests, landmarks, fast travel, and other nuances, but the game also focuses on intricate puzzle-solving and some of the puzzles are incredibly difficult even compared to the almighty king of puzzles The Legend of Zelda series. The game's world is quite expansive for a 2-D RPG, but not so big that it becomes a hassle to traverse.
The game is extremely long as well clocking in at a whopping 60-80 hours in length depending on a player's skill level and we mean it when we say this could have been a AAA RPG back during the SNES era, but of course things like MMO's didn't exactly exist during those days, at least not in the capacity that they have existed in for the past 20-22 years so simulated MMO's obviously didn't exist either, but we digress. As for the controls, they are silky smooth, intuitive, and a breeze to learn which is always a good thing!
The audio-visual presentation while decidedly retro has a unique style all its own and is very fitting since every other aspect of the game feels like an absolute piece of art. There is no doubt that this game would have been among the most gorgeous looking games during the 16-bit era and even in the modern era of gaming it still looks stylishly amazing! The soundtrack is extremely varied and there aren't any music tracks that we felt weren't amazing. Overall the audio-visual presentation is as close to perfection as possible!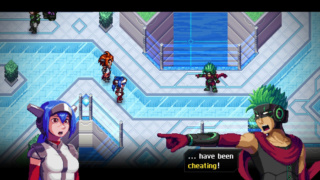 Bottom-Line: With a fantastic story, amazing gameplay, excellent controls, a ton of content, and an absolutely perfect audio-visual presentation, there's just no reason not to add CrossCode to your collection of games be it on PS4 or Nintendo Switch! We give the game a nearly perfect level of recommendation!
~~~~~~~~~~~~~~~~
Score: ★★★★★★★★★½ 9.5/10
~~~~~~~~~~~~~~~~
~~~~~~~~~~~~~~~~
#Review
#PRHound
#Deck13
#RadicalFishGames
#RPG
#Adventure
#SimulatedMMO
#PS4
#PSN
#Switch
#eShop
~~~~~~~~~~~~~~~~
Last edited by Towafan7 on August 14th 2020, 8:59 am; edited 1 time in total
Amufungal, Staroceancrazy, Megatron2000, DigiDestined, OrionJZed, Kain, Aqua Cherry Blossom and like this post
Permissions in this forum:
You
cannot
reply to topics in this forum