Towafan7

Admin

~~~~~~~~~~~~~~~~
Solid Bonds!
~~~~~~~~~~~~~~~~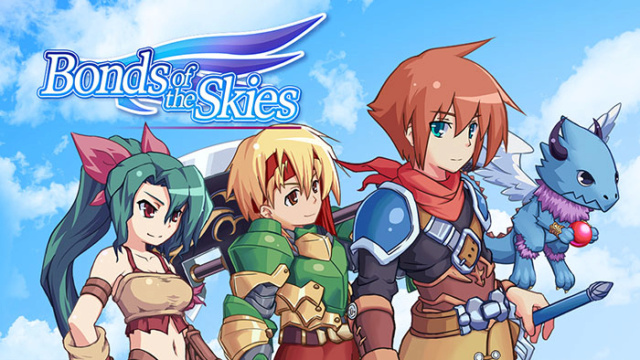 Developed by Hit-Point and published by KEMCO, Bonds of the Skies is a fantastic budget JRPG that will keep fans of the genre entertained for many hours! Is this KEMCO's best game yet? Nope, but it's still a blast to play and here's why: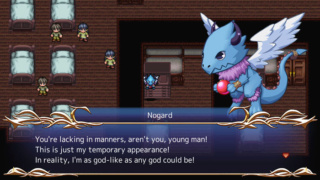 Bonds of The Skies has solid gameplay that is unique in various aspects, of course random encounters are in which we rather enjoy every now and then, battles are relatively straightforward, but there are some nuances such as being able to move characters around in your formation mid-battle without using a turn to increase damage given or save yourself if you're low on health by retreating to the back of your formation.
Elements play a HUGE role in the game and quite frankly make the enemies far too challenging for even intermediately skilled players in many instances, especially later in the game. Luckily we previously reviewed the 3DS version so we knew how to tackle the game this time around! Still if you like a serious challenge you should enjoy Bonds of The Skies.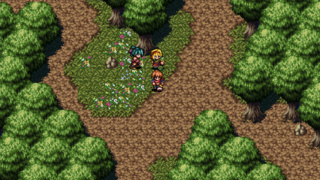 The story is pretty unique as expected from KEMCO so be prepared for a fun romp through the world of Eil, but don't expect any major plot-twists to catch you off guard this time around. Bonds of The Skies is rather short clocking in at around 30 hours in length so don't expect a 100 hour epic adventure.
The controls are easy to learn as expected from a throwback 16-bit JRPG titles which is nice. We also liked the character and enemy designs in Bonds of The Skies. The soundtrack is quite enjoyable as well and really sets the mood for the game!
The Playstation Difference:
The gameplay is more-or-less the same as the 3DS version, however most of the bugs are gone in this port. The game is also crossbuy with the Vita version which also happens to be PSTV compatible which is always great in our opinions!
Bottom-Line: With solid gameplay, excellent controls, and a great audio-visual presentation, Bonds of The Skies for the 3DS is a great game that most fans of the RPG genre should thoroughly enjoy, however the difficulty and short length of the game might be off-putting for some. Regardless we give Bonds of The Skies for the 3DS a good level of recommendation!
~~~~~~~~~~~~~~~~
Score: ★★★★★★★★½☆ 8.5/10
~~~~~~~~~~~~~~~~
~~~~~~~~~~~~~~~~
#Review
#HitPoint
#KEMCO
#JRPG
#PS4
#Vita
#PSTV
#PSN
#Switch
#3DS
#eShop
~~~~~~~~~~~~~~~~
Permissions in this forum:
You
cannot
reply to topics in this forum