Towafan7

Admin

~~~~~~~~~~~~~~~~
Totally Twobular!
~~~~~~~~~~~~~~~~
developed by Exe Create Inc. and published by KEMCO, Asdivine Hearts II is a direct sequel to the original Asdivine Hearts that takes place a couple of years after the events of the first game and is every bit as enjoyable! Continue reading our review to find out why we think this is on par with KEMCO's best release on home consoles to date!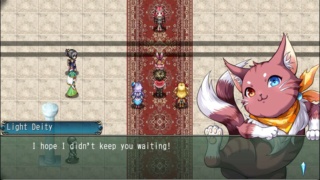 The story in Asdivine Hearts II is quite hilarious at times, but can take itself seriously when necessary as well. The character development is top-notch especially if you count how the characters grow and change across both games in the series. The gameplay is more-or-less the same, although there are some pretty good tweaks that have been made to the game.
The added buddy system is the biggests change and adds more depth to the battles. These buddies aid you in battle and act as support units, boosting power, healing you, etc. The gem system also returns from the first game and it allows you to gain use of spells, boost stats, and add effects to your weapons and defense. Overall it's mostly unchanged, however it feels a bit less important this time around which is somewhat disappointing.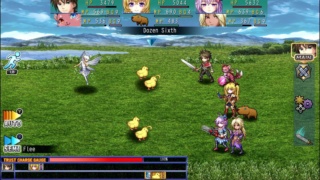 Asdivine Hearts II, much like its predecessor is split between multiple worlds, however the worlds are actually
MUCH
more expansive this time around! The game is also quite a bit longer than most KEMCO published JRPG's clocking in at over 50 hours in length so don't expect to beat the game in a few days time!
The audio-visual presentation is fantastic. It still has a decidedly retro feel to it, but there are much more unique assets and the character models and cutscenes are more detailed. The soundtrack is also quite catchy and fits the game perfectly! Overall the audio-visual presentation is most certainly really good!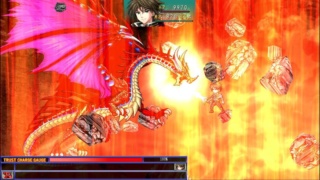 Bottom-Line: With great gameplay, a superb story, and a great retro-style audio-visual presentation, Asdivine Hearts II is an amazing budget JRPG that will knock your socks off! And the impressive amount of content will keep you coming back for more! And lastly the game is also PSTV compatible which is always a good thing in our opinions! Overeall we give Asdivine Hearts II for the PS4 and Vita a nearly perfect level of recommendation!
~~~~~~~~~~~~~~~~
Score: ★★★★★★★★★¾ 9.75/10
~~~~~~~~~~~~~~~~
~~~~~~~~~~~~~~~~
#Review
#KEMCO
#ExeCreate
#JRPG
#PS4
#Vita
#PSN
#Switch
#eShop
~~~~~~~~~~~~~~~~
Last edited by Towafan7 on February 15th 2019, 11:15 pm; edited 10 times in total
Permissions in this forum:
You
cannot
reply to topics in this forum