Towafan7

Admin

~~~~~~~~~~~~~~~~
Reeling Us In Hook, Line, & Sinker!
~~~~~~~~~~~~~~~~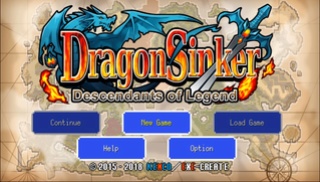 Hit-Point and KEMCO have always developed and published enjoyable JRPG's that are a great value for their consumers, but Dragon Sinker has a certain appeal that hasn't been seen in their previous console releases, but is that enough to award the game a perfect score? Not quite, but it came very close and here's why: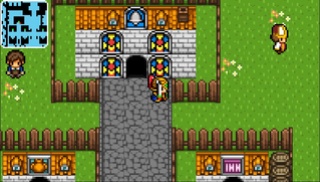 The story is your typical fantasy fare with three races teaming up to beat an enemy none of them can vanquish on their own, but despite being very cliché it works, and is every bit as good as Final Fantasy III (NES) and Final Fantasy V (SNES). Speaking of those two Final Fantasy titles, Dragon Sinker uses a very similar job system to what those two games possessed which is as enjoyable as it sounds on paper.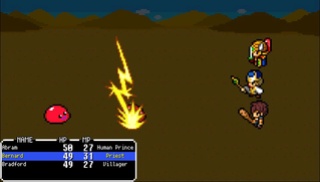 The battles are turn-based as expected and aren't all that complex, but using effective techniques and magic is paramount later on in the game, especially if you're playing on the hard difficulty setting. The game's world is surprisingly large for a game that's essentially a modern NES title and the game is fairly lengthy as well as it can take players 20-25 hours to beat the main story and an additional 8-15 hours to beat the post-game content!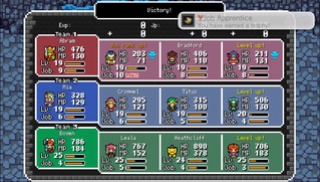 The controls in the game are about as simple as you'd expect so strategy plays a much larger role than your motor skills in this JRPG. One tip we need to share is that you'll want to backtrack and complete every quest in the game as the items and party members/job classes you'll obtain will help out immensely in the post-game content.
Dragon Sinker is also PSTV compatible which is always good news in our opinions!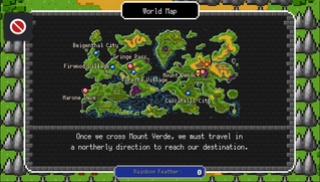 Visually the game is a real treat for retro gamers as not only is the spritework spot-on for an NES era game, Dragon Sinker also has an NES perfect color palette insuring that you'll feel like you've been transported back to the 1980's! Silliness aside, the characters are pretty varied and even change in appearance when you change their job class which is a nice touch.
The soundtrack is also nostalgic and uses genuine 8-bit chip-tunes warts and all and we loved every second of the piercingly brilliant tunes.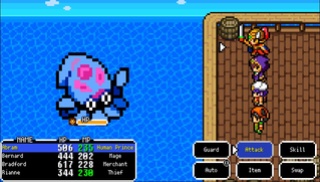 Bottom-Line:
With splendid gameplay and  a nostalgic story, Dragon Sinker will have you hooked from the very beginning, while the glorious 8-bit visuals and chiptunes will remind you of a simpler and more enjoyable era of gaming! Honestly there is virtually nothing that we can complain about in this game and almost everything is done flawlessly as such we give Dragon Sinker for the Vita a nearly perfect level of recommendation!
~~~~~~~~~~~~~~~~
Score: ★★★★★★★★★¾ 9.75/10
~~~~~~~~~~~~~~~~
~~~~~~~~~~~~~~~~
#Review
#KEMCO
#HitPoint
#Vita
#PS4
#3DS
#PSN
#eShop
#JRPG
~~~~~~~~~~~~~~~~
Permissions in this forum:
You
cannot
reply to topics in this forum