ryoutak

Admin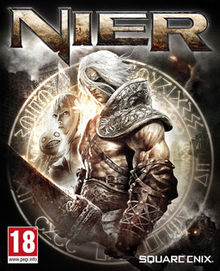 Game: NieR
System: Playstation 3 / Xbox 360
Genre: RPG (Action / Open World)
Version Tested: Playstation 3
Release Date:
Japan: 22nd April 2010
US: 27th April 2010
What is it about?
Your daughter Yonah is diagnosed with an unknown deadly disease called the Black Scrawl and as the caring loving father, you try to find a cure for her. Upon stumbling onto a legendary magical talking book called Grimoire Weiss, you received hints and indication on how to heal Yonah's illness once and for all.
Completion Hours: At least 15 hoursFeatures:
1. Many weapons to collect
2. Upgrade weapons
3. Collect "words" to power up yourself, weapons and magic
4. Fishing
5. Customized buttons
6. Growing your own vegetables
7. Every dungeon is unique with puzzle solving
8. Boar-riding for quick travel
9. Four endings to unlock
Storyline: 9/10
Simplistic, yet complex. Highly interesting, leaving you wanting more from the story.
Gameplay: 8/10
Fun and exciting. Boss battles are fun and innovative.
Sound/Music: 9/10
Hauntingly beautiful. Go get the soundtrack now!
Graphics: 8/10
Slightly mediocre but still good graphics. Don't expect "Final Fantasy"-ish graphics from this game.
Final Score: 9/10
Truly a masterpiece yet an underappreciate game. Get this game now! I promise you that you won't regret it!
Pros:
1. Extremely Fun
2. Uniquely deep story with fun characters
3. Lots of sidequest
4. Fishing and farming
5. Extremely good soundtrack
6. Your emotions will be like a roller coaster. You will laugh and cry.
Cons:
1. Game is too short
2. Replay the game at least 3 times to unlock full story
3. Story is too deep and complex that you might need to look up the lore and explanation online
4. Too much walking – the fast travel is useless
5. Difficult to gather raw minerals to upgrade weapons (Gathering points are random)
6. You can only carry up to 10 for healing items
7. Your emotions will be like a roller coaster. You questioned your existence once you've unlock the second ending.
As always, thank you for reading this review and I hope to see you soon in my next post! Goodbye!
Regards,
Ryou Takehito
Permissions in this forum:
You
cannot
reply to topics in this forum