Towafan7

Admin

~~~~~~~~~~~~~~~~
For The Castle And Glory!
~~~~~~~~~~~~~~~~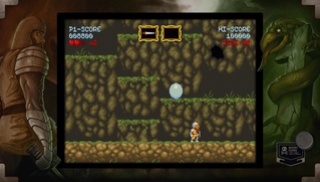 Developed by Locomalito and published by Abylight, Cursed Castilla (Maldita Castilla EX) for Vita is a throwback title that possesses traits and elements of many of the 80's and 90's Arcade greats, such as Ghosts & Goblins, Super Indiana Jones, Rygar, and many more! Is the game worth it though?! We think it's one of the best throwback titles in recent years and here's why: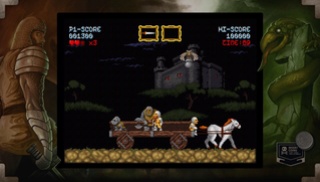 The gameplay in Cursed Castilla is superb to the max, the game is an action-platformer at its core and is not only a nostalgic trip down memory lane, but also provides superior gameplay to that of the titles the game is clearly inspired by! The game is also HARD, and we mean NES HARD! Expect to die alot before learning how to best tackle the game's many challenging stages!
The game has a ton of enemies and challenging bosses to tackle, there are plenty of power ups to be had, but the most interesting aspect of the game are the hazards. Some things that you wouldn't think dangerous are deadly, such as windmill blades in the background. There's even a stage where massive eggs roll by and you can kill them or dodge them, so you decide to dodge them and suddenly you find yourself surrounded by harpy enemies that hatch from those eggs! This clever stage design is just one example of many which really showcases the developer's talent!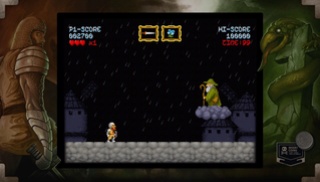 Cursed Castilla is PSTV compatible which is fantastic news! The controls are also easy to learn, but can take awhile to master. The audio-visual presentation is absolutely amazing in a true to history representation of 80's Arcade titles! The chip-tunes are fantastic, the characters and levels look groovy, overall you won't find much better even from the likes of Shovel Knight, though obviously the art-direction is completely different.
Bottom-Line:
With fantastic and challenging gameplay, excellent controls, PSTV compatibility, and nostalgic audio-visual presentation, Cursed Castilla for Vita is one game that no Vita owner should miss out on and because of this, we give the game a nearly perfect level of recommendation!
~~~~~~~~~~~~~~~~
Score: ★★★★★★★★★½ 9.5/10
~~~~~~~~~~~~~~~~
~~~~~~~~~~~~~~~~
#Review
#Abylight
#Locomalito
#Vita
#PSTV
#3DS
#CursedCastilla
#MalditaCastillaEX
#Arcade
#Retro
~~~~~~~~~~~~~~~~
Permissions in this forum:
You
cannot
reply to topics in this forum