ryoutak

Admin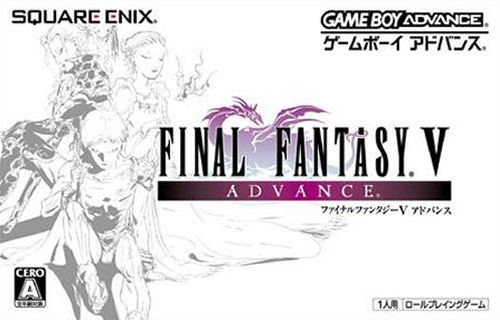 Game: Final Fantasy V Advance


System: Gameboy Advance
Release Date:
6th December 1992 (Japan-Original)
12th October 2006 (Japan)
6th November 2006 (US)
What is it about?
One day, Bartz was chilling in the forest with his beloved chocobo Boko, and suddenly a meteorite crashed near him and he went to investigate. At the meteorite site, he met up with Lenna, Castle Tycoon's princess and Galuf, the amnesiac old man, and decided to investigate the crystals. During their journey, Faris the pirate decided to join their party and together, they soon realized that the crystals are on the verge of breaking and it is up to them to prevent all four crystals' shattering!
Completion Hours: Around 20 to 30 hours
Storyline: 8/10
When it comes to Final Fantasy, there is no doubt that their story will always be entertaining. As a result, it has garnered a huge cult following and still loved by their fans even today. Final Fantasy V is no exception: it has engaging story and characters throughout the whole game. Each character's backstory is explored and everyone's motives are clearly stated. Through this magical adventure you are going to smile, laugh, feel emotional and even get angry! Because of this, you will be left completely satisfied with the game after beating it despite being a short 20 to 30 hour game.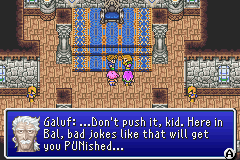 I'm not allowed to make bad jokes here? OMG! Please don't send me to prison!
Gameplay: 9/10
Similar to its predecessors, Final Fantasy V adopts the traditional retro RPG battle system with the use of its trademark Active Time Bar (ATB). What truly makes Final Fantasy V shines is its job system. With over 20 jobs to master (and also given earlier to you in the game), you can highly customize your characters according to your playstyle! You can mix and match your skills with different types of jobs. You want a Knight that can use summons? Go ahead! How about a white mage that can use katana like a badass? Go for it! It is precisely because of this that there is never a dull moment for any of the fights as each battle can be play differently. Levelling jobs is highly addicting as you tried to acquire new skills from a specific job or trying to formulate a new team.
However it takes a long time to fully master a job. It usually takes around 600 ability points (AP for short) to master a job and each random battles usually reward you around 1 to 2 AP for the first half of the game. This in turn would highly encourage you to change your jobs from time to time so you don't just stick to one job all the time.
As for the difficulty, if you play the game normally or casually, the difficulty will rise exponentially during the 2nd half of the game that you will pretty much either run away from most battles or keep seeing that game over screen. It is no wonder: it is a retro RPG afterall! The golden rule for playing a retro RPG is that thou must spend lots of time grinding your level and job level to make the game easier. In conclusion, if you play casually, the game is amazingly difficult that you just want to give up and throw the game away. However, if you power-level yourself the game will become easier and tolerable to complete the rest of the game.
If you guys have not play this game yet, here's a small tip for you guys:
1. When you first get to the Library of the Ancients, make sure to get the "Level 5 Death" spell from a monster called "Page 64" using the Blue Mage job.
2. If things get too tough for you even for normal random encounters, try to grind and master a few of your jobs and then switch to Freelancer. The Freelancer job adopts all mastered job's best stats and skills, making the Freelancer job pretty much the most powerful job in the entire game!
A staple of Final Fantasy, the ATB makes a return here!
Sound/Music: 8/10
Just two words: Nobuo Uematsu. Do I need to say more?
Why are you still here? Oh, you would like me to clarify more.
Although the music are not epic, for the most part they are highly enjoyable and entertaining. Never once have I got sick of the battle theme and went "this again?". The music selected for each dungeon accommodates the dungeon's theme nicely and when you're up against the boss, you just can't help but get pump up to kick the boss' butt! The emotional moments are amplified by the excellent tracks made by Nobuo Uematsu, which you can't help but want to shed some tears. Overall, never a dull moment with the awesome music always up!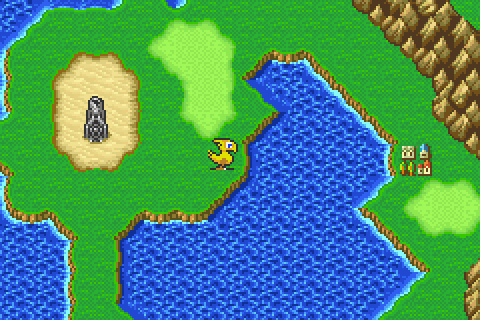 The memorable Chocobo theme is back! Wark!
Graphics: 9/10
As mentioned earlier, Final Fantasy V is a retro game, hence it is no brainer that it has 2d graphics. However, the visual presentation is so amazing that it pleases your eyes easily. Bright and colorful, the world in Final Fantasy V feels like it's alive and believable. Square (now Square Enix) even went through the effort of animating the characters' expressions, making them more vibrant and amusing. Despite being a 2006 game, it is still pleasing to look at the graphics and play through the game.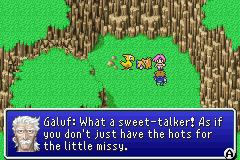 Oh Galuf! (Insert Laugh Track)
Final Score: 8/10
Despite it's shortcoming of low income of AP earlier in the game and the sudden difficulty spike during the mid-point of the game, the game is still fun. I have my own share of frustrations because of this, but when I beat the game, my overall experience has been generally positive. If you don't mind its 2d graphics and the 'necessary grinding', then this game will definitely be an enjoyable journey for you. If you hate 2d graphics and grinding, then Final Fantasy V might not be the game for you. If I have one wish, I really wish the graphics could be updated and enhanced to the PSP versions of Final Fantasy and Final Fantasy II. That would be awesome!
Will I replay the game for a second time?
The answer is yes….. but probably a few years later. I was able to complete the game under 20 hours (that includes grinding hours!) and I really don't mind playing it for a second time again for nostalgia feels since the game can be completed under a short amount of time. For the time being, the game can sit in my shelf and test my patience until the day that I would crave for it's fun job system and I will return to it again. Until then, goodnight Final Fantasy V. I'm glad I could finally complete you after 10 years later when I first played the game back in 2006.
~~~~~~~~~~~~~~~~
Score: ★★★★★★★★☆☆ 8/10
~~~~~~~~~~~~~~~~
Permissions in this forum:
You
cannot
reply to topics in this forum