TheRealSquigley

Admin

A third mini-adventure created using Super Mario Maker's powerful tools
The level creation features of
Super Mario Maker
are truly incredible. Never before would any Mario fan have thought they could create their own unique levels, or even entire worlds, ready to play at any time. With Coursebot, a handy feature unlocked from the moment you begin the game, arranging levels into themed worlds is a snap. By pressing the Play button next to a world, you can play its four stages in order.
Our feature contributor GeekyGamerZack has taken on the task of creating a series of "mini-adventures", each with three worlds covering one of the four style themes of the software, and at long last the third chapter has been completed. In this article, GeekyGamerZack showcases each stage in this brand-new adventure, complete with hints and tips, as well as the opportunity for you to say which of the stages you'd most like to play. Who knows, he might just upload the most requested stages to Course World for others to try for themselves!
***
Super Mario Mini, Vol. III
THEME:
Super Mario World
WORLDS: 3 (12 stages total)
Giving up on the Mushroom Kingdom, Bowser has set his sights on Dinosaur Land, hoping to conquer it and convert it into a brand-new base of operations. What the terrible tyrant turtle hasn't realised, however, is that Yoshi's friends have alerted Mario to Bowser's plans, and once again, the red-hatted plumber is ready to thwart the Koopa Troop before they can finish their conquest!
World 1-1: Welcome Back to Dinosaur Land!
You've arrived in Dinosaur Land, but there's no time for a vacation! After defeating a line-up of Koopa Troopas, rendezvous with Yoshi, who is hiding inside a ? Block. Then make your way underground to evade detection by Bowser, but be careful - this is Monty Mole territory! Alternatively, a pair of wings leads you to a secret part of the tunnel. Can you solve the puzzle?
World 1-2: Spelunking with Yoshi
It's time for you and Yoshi to team up and explore an underground cavern. Beware the Hammer Bro in the middle of the level - those hammers aren't just for show, you know! A hidden block yields a vine which leads to a secret chamber containing a 1-Up Mushroom. Are you able to locate it?
World 1-3: Symmetry Bridge
It's a perfectly-symmetrical wooden bridge, right down to the enemies and items! Grab a Cape Feather and fly upwards for a coin-filled alternative route, but be sure to keep momentum if you don't want to fall out of the skies!
World 1-4: Bowser Jr.'s Red-Hot Castle
Lava Bubbles are the order of the day in Bowser Jr's newest fortress. Make your way across another bridge as you approach the tiny tyrant's room, but beware, or you may just end up in a truly gigantic battle!
World 2-1: Airship Construction Yard
You've stumbled across Bowser's secret construction zone, where he appears to be building a fleet of airships for some unknown purpose. Step on the P-Switch to clear the path of Koopa Troopas, but be quick if you want to find the secret area!
World 2-2: Galoomba Lagoon
It's an underwater adventure! Avoid the Urchins and Galoombas as you make your way through the stage, but beware, as some of them are larger than you might like them to be! An ally may be able to assist with a few of those enemies...if you can find him, that is.
World 2-3: Alfresco Castle Experience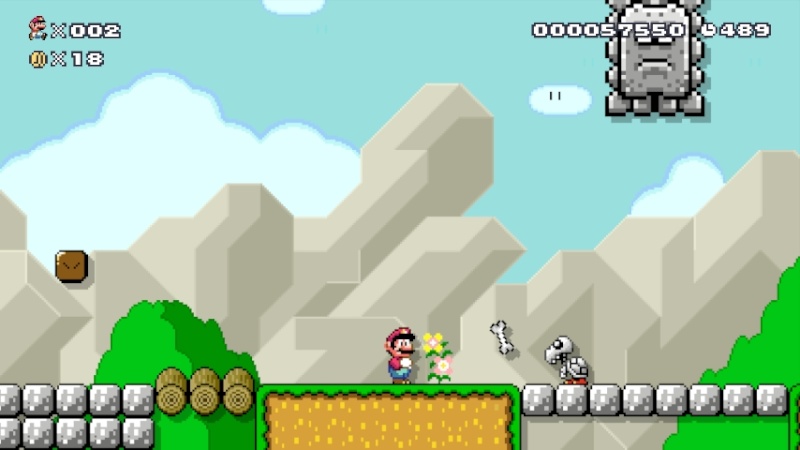 The ever-thoughtful Koopa King has provided you with a refreshingly-different kind of challenge in the form of an open-air castle (though some would argue that he just cobbled it together on short notice). In this area, you'll find Lava Bubbles, Thwomps and a Dry Bones, but be prepared for an equally-inverse journey underground!
World 2-4: Giant Bob-Omb Troop's Airship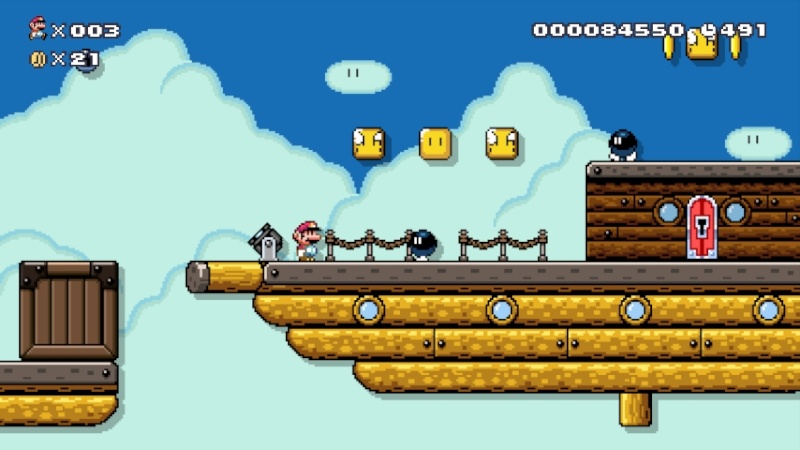 The airships that Bowser was constructing have taken off, and now you must do your best to stop them from causing any trouble. The tyrant seems to be getting even dumber, as he's put a team of Big Bob-Ombs in charge, which may just be the thing that makes Bowser rethink his plans...
World 3-1: Dinosaur Land Zoo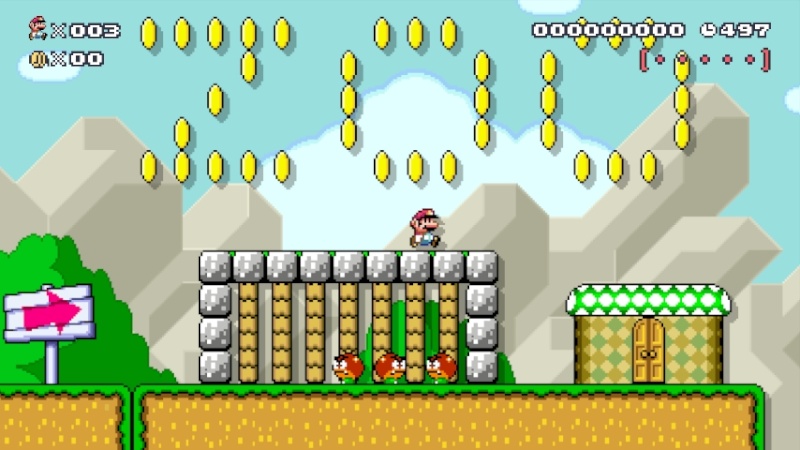 It's time for a tour of Dinosaur Land Zoo, a fun park featuring enclosures of different wildlife such as Galoombas and Jumpin' Piranha Plants. Make your way through five ecosystems split across multiple areas, solving various puzzles in order to access each one. The Aquatic Area hides a surprise, if you're willing to find it!
World 3-2: A Diddley Maze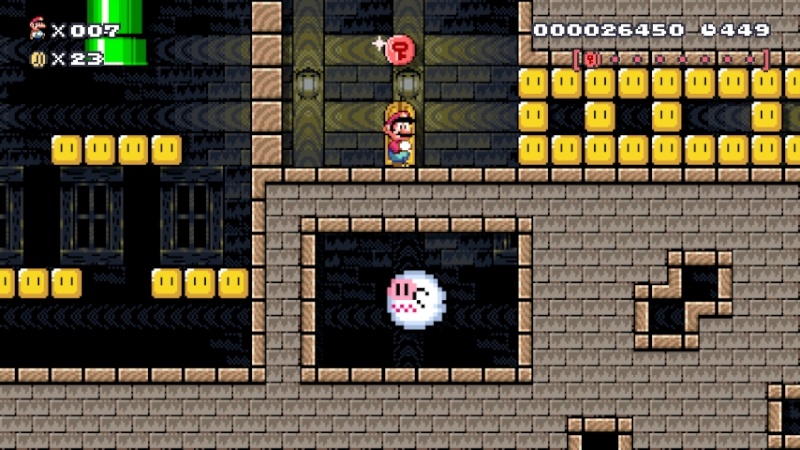 KYEHEHEHEHEH! Welcome to yet another Ghost House! This mansion's a real maze, so try not to get lost. A Warp Pipe in a certain location leads to a hidden chamber where Yoshi is waiting. If you want to find him, just do as Wario does: follow the Coins!
World 3-3: High-Flyin', Barb-Firin' Spinies
Spinies are enough of a pain without giving them wings, and yet that's just what some deranged Koopa scientist has managed to achieve. Paraspinies have the somewhat unsettling ability to fire needles in multiple directions, so be extra careful, especially when piloting a Lakitu's Cloud through a swarm of giant-sized ones!
World 3-4: Bowser's Brutal Castle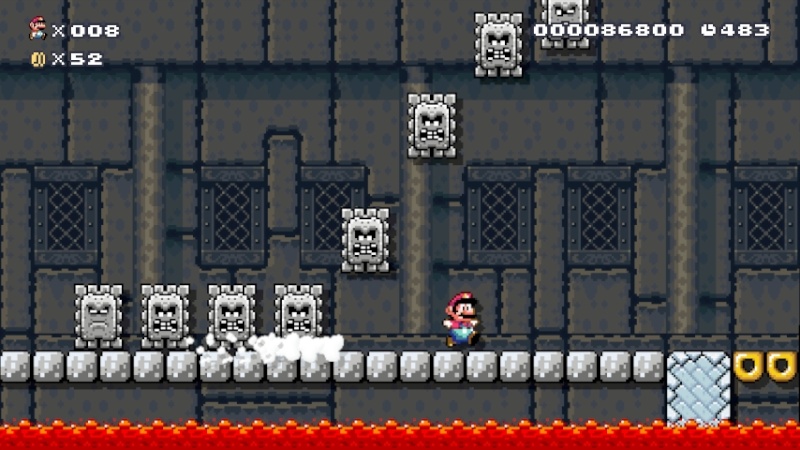 You've followed Bowser back to his castle, and once again it's been upgraded with the newest, most dangerous traps the tyrant can muster. Even with all the new hazards, the objective is still the same: make your way to Bowser's throne room. This time, however, he's enormous AND he has a pair of wings! Hitting him with fireballs isn't going to be easy this time around, and he's packing his own kind of firepower, so maybe you should bring down the axe for an easier victory...
***
So there you have it. It's possible to make entire Mario adventures in
Super Mario Maker
! Which of these stages interest you the most? Would you like to try any for yourself? Let us know in the comments section below!
"See you next time!"
Permissions in this forum:
You
can
reply to topics in this forum