Towafan7

Admin

~~~~~~~~~~~~~~~~~~~~~~~~~~~~~~~~~~~~~~~~~~~~~~~~~~~~~~~~~~~~
Seriously Swell Shmup!
~~~~~~~~~~~~~~~~~~~~~~~~~~~~~~~~~~~~~~~~~~~~~~~~~~~~~~~~~~~~
Developed by Neon Deity Games and published by Choice Provisions Shutshimi: Seriously Swole is a very unique shoot 'em up title that has players take on 10 second waves of ememies as well as bosses and did we mention that it's blisteringly difficult too? Does the game as a whole warrant downloading it? We think so and here's why:
The gameplay is fast paced as you must take on hordes of enemies or a challenging boss in 10 seconds while trying to survive and rack-up points to spend in the shop to power-up your gun-wielding musclebound fish or change the elements of the next stage!
Every playthrough is completely unique which is a great feature of the game so expect plenty of surprises even after your 20th or even 50th playthrough! The difficulty is very unforgiving especially in the unlockable difficulty settings. Luckily, however you don't have to play alone as up to three of your friends can join you for some hilariously insane co-op!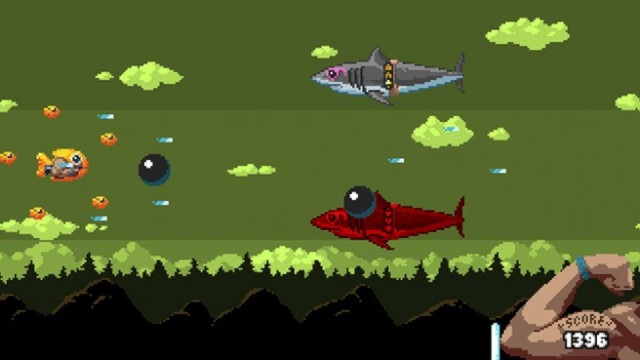 The controls are fantastic and there are tons of different compatible controllers which is great for a game that utilizes co-op gameplay! The game also features Off-TV-Play which is a great feature when playing alone!
The game features two graphics options and BGM options one each that's retro or more modern both options are fantastic in both categories. The visuals are very fluid regardless of on-screen action, and the soundtrack is retro sounding and fits the game really well plus it sounds awesome to boot! Overall Shutshimi has an excellent audio-visual presentation!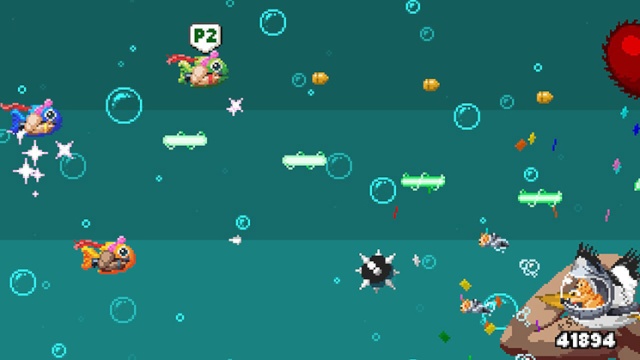 Bottom-Line:
With superb gameplay with top-notch co-op, excellent controls with a ton of controller options, total randomness of the stages that seem completely balanced, and an excellent audio-visual presentation, Shutshimi: Seriously Swole is very close to perfection, however it's not quite there nonetheless the game is still one of the best indie titles released on the Wii U so far this year and has earned a near-perfect level of recommendation from us!
Price: $9.99
~~~~~~~~~~~~~~~~~~~~~~~~~~~~~~~~~~~~~~~~~~~~~~~~~~~~~~~~~~~~
Score: ★★★★★★★★★☆ 9.5/10
~~~~~~~~~~~~~~~~~~~~~~~~~~~~~~~~~~~~~~~~~~~~~~~~~~~~~~~~~~~~
~~~~~~~~~~~~~~~~~~~~~~~~~~~~~~~~~~~~~~~~~~~~~~~~~~~~~~~~~~~~
#Review
#WiiU
#eShop
#Shutshimi
#NeonDeityGames
#ChoiceProvisions
~~~~~~~~~~~~~~~~~~~~~~~~~~~~~~~~~~~~~~~~~~~~~~~~~~~~~~~~~~~~
Permissions in this forum:
You
cannot
reply to topics in this forum