Towafan7

Admin

~~~~~~~~~~~~~~~~~~~~~~~~~~~~~~~~~~~~~~~~~~~~~~~~~~~~~~~~~~~~
Asteroids On Steroids!
~~~~~~~~~~~~~~~~~~~~~~~~~~~~~~~~~~~~~~~~~~~~~~~~~~~~~~~~~~~~
Developed and published by Form Up Studios N.e.o. or Near Earth Objects as the game is known as is a love letter to the classic arcade shooter genre and is clearly heavily inspired by the Atari classic Asteroids!
The game does a good job at keeping players entertained with many modes, including an Endless Mode to rack up some incredibly high scores, a classic Arcade Mode with a set number of stages, three lives, and limitless continues and lastly Yolo Mode "You Only Live Once" which is an unforgiving mode where players are only given one life and zero continues to beat the Arcade Mode!
There's not a huge selection of enemies, but the ones that are there are quite varied. The game also features spreadshot and barrier satellite power-ups which will prove to be very useful when the going gets tough!
The controls are fairly good, though it takes a while to get used to. The Off-TV-Play is also a nice feature that we're always glad to see in a game!
Visually the game looks incredible in a
retro
kind of way! Sure the graphics are minimalistic, however the special effects such as neon explosions, flashes, etc. look fantastic! The audio is quite a treat as well, with a fantastic sound-track and superbly
retro
sound effects you'll feel like you're in a 80's/90's arcade!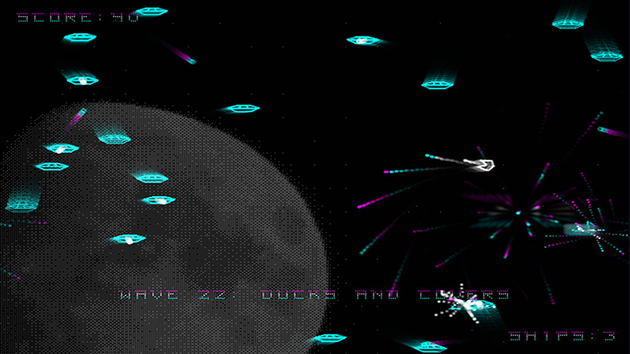 Bottom-Line:
With fantastic gameplay, tons of game modes, and an amazing audio-visual presentation N.e.o. is one fantastic arcade shooter for the Wii U eShop that you shouldn't pass up, and though the controls aren't easy to master, it doesn't ruin the experience in the slightest! Overall we give N.e.o. "Near Earth Objects" a great level of recommendation!
Price: $2.99
~~~~~~~~~~~~~~~~~~~~~~~~~~~~~~~~~~~~~~~~~~~~~~~~~~~~~~~~~~~~
Score: ★★★★★★★★☆☆ 8.5/10
~~~~~~~~~~~~~~~~~~~~~~~~~~~~~~~~~~~~~~~~~~~~~~~~~~~~~~~~~~~~
~~~~~~~~~~~~~~~~~~~~~~~~~~~~~~~~~~~~~~~~~~~~~~~~~~~~~~~~~~~~
#WiiU
#eShop
#Arcade
#Shooter
#Retro
~~~~~~~~~~~~~~~~~~~~~~~~~~~~~~~~~~~~~~~~~~~~~~~~~~~~~~~~~~~~
Permissions in this forum:
You
cannot
reply to topics in this forum