KeAfan7

Admin

Super Poster!

This member has made a splash by posting over 10,000 messages and comments in our community!

Mega Coinage!

This kind user has earned over 50,000 Coins! Happy posting!
Get Ready For Some High Tempo Action!
Developed and published by 2K Sports, NBA 2K13 the first fully featured Basketball game that has been released on a Nintendo sonsole since the GCN era, but how does the Wii U port fare? Is it buggy like many of the other third party Wii U launch titles? Keep reading to find out!
2K Sports has made quite a name for itself in recent years in the eyes of many people by offering far more robust sports titles than EA has in quite sometime! And NBA 2K13 for the Wii U is no exception as it offers a story mode where you can create a player and live the life of an NBA star! Negotiate deals with the GM, star in a movie, chat on twitter, etc. It's a great mode, but the real meat of the game in our opinions is Franchise mode where you run almost all facets of an NBA franchise over the course of several decades to build an unstoppable force in the NBA!
The game had online modes at one point, but the servers have since been shutdown. The Gamepad features allow you to call plays effectively and make substitutions, among other things and really adds to the game, as does the Off-TV-Play!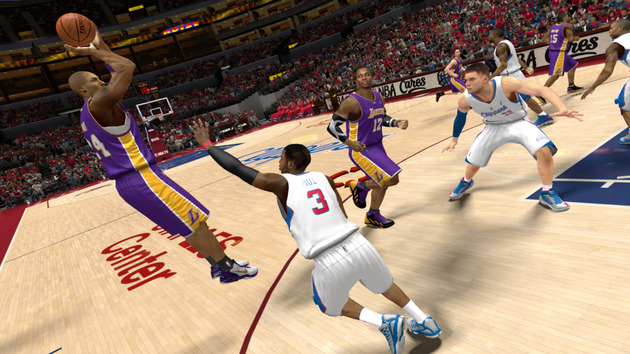 The controls are very smooth and work well, though the game's complex features make it somewhat difficult to master, but it's nothing that'll keep you from enjoying the game!
Visually speaking the graphics are on par with the PS3 version of the game with amazing lighting effects and character models with a wide range of features and expressions!
The halftime show and advertisements between quarters are also fleshed out and really make you feel like you're watching an NBA program on a Television network! The music is quite good as well, though the best aspect of the audio is easily the commentary, especially with the inclusion of NBA great Steve Kerr.
Bottom-Line:
With amazing gameplay, excellent albeit somewhat complicated controls, true to life visuals, and an outstanding commentary crew, NBA 2K13 is, perhaps the best Basketball game that has ever been released on a Nintendo home console and is absolutely, positively deserving of the perfect score we're awarding the game with!
Price: $39.99

Score: ★★★★★★★★★★ 10/10
Permissions in this forum:
You
cannot
reply to topics in this forum