Towafan7

Admin

Big Potential, Tiny Galaxy...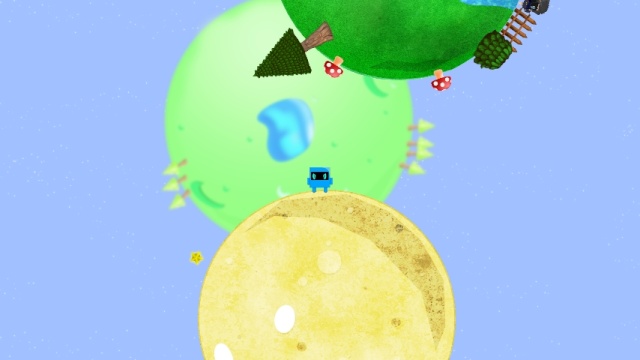 Tiny Galaxy is Arcane Pixel's first Wii U title which the owner Taylor Hajash has boldly compared to Super Meat Boy, and he is right in a sense, the game's many traps and hazards along with a sadistic difficulty level in later stages definitely gives a similar feel to Super Meat Boy, however the game's anti-gravity adds alot of uniqueness to the formula! The rules of the game are simple, you find three golden stars which opens a portal, then reach the portal to beat the stage!
This might sound good in theory, and in fact it is enjoyable in the first two worlds, but that's where things start to go downhill... The heart of the problem is the flawed controls. The standard controls while easy to learn have a severe flaw in which the controls get inverted if you move while jumping between worlds. This can cause a mind boggling amount of undue stress when trying to progress through the game that you might feel like giving up at times.
The game does also have fairly lengthy loading times to reach the title screen as well which can be slightly annoying at times. The Off-TV-Play on the other hand works well in this title.
The graphics are vibrant and colorful and the stages are cleverly designed, while the music isn't memorable, it's still pretty good!
Bottom-Line:
The game had incredible promise, and the first two worlds were highly enjoyable, however several flaws make the game's fiendish later worlds incredibly difficult and frustrating. The Off-TV-Play works perfectly though, and the audio-visual presentation is quite solid overall! Though this game does have some serious flaws we still think that it's worth checking out.
Price: $5.99

Score: ★★★★★★☆☆☆☆ 6/10
Last edited by Rukiafan on July 18th 2015, 7:56 pm; edited 1 time in total
Permissions in this forum:
You
cannot
reply to topics in this forum